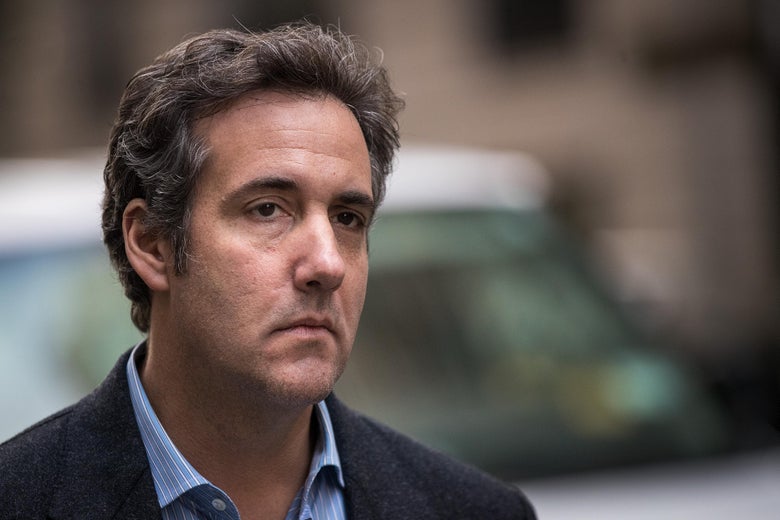 Michael Cohen rocketed out of the safe confines of relative post-campaign obscurity and careened into public view recently thanks to his role in paying hush money to former porn star Stormy Daniels shortly before the 2016 election. Since then, for Cohen, each news cycle seems worse than the last and before you knew it, the world wasn't talking about porn stars anymore, it was wondering about millions of dollars in payments from companies that looked a lot like bribes. Then it was Trump Tower meetings with Qataris, links to Russian oil companies, and payments from Kremlin-linked oligarchs, and all of sudden Michael Cohen was literally everywhere and seemingly responsible for everything. While that's surely not true, it got bad enough that Trump allies started to speculate aloud (and to the president) that the evidence piling up against the Trump lawyer meant he would likely flip and give up the president in return for leniency from prosecutors.
On Wednesday, the news cycle appeared to hit peak-Cohen, with numerous cascading stories throughout the day alleging shady dealings and probing investigations. Here's what we learned:
• Michael Cohen allegedly told Qatari investor Ahmed Al-Rumaihi in 2016, when Al-Rumaihi was running a $100 billion Qatari government investment fund, that he'd have to pay Cohen a personal $1 million "fee" in order to be considered for the Trump administration's planned infrastructure initiative.
• A law enforcement whistleblower came forward to the New Yorker to take responsibility for a leaked financial document called a suspicious-activity report filed by Cohen's bank about his shady transactions because, according to the official, other damning suspicious-activity reports in a Treasury Department database appeared to be disappearing—or being erased.
• The FBI is investigating the circumstances surrounding a $150,000 deal between Cohen and South Korean aerospace firm Korea Aerospace Industries made after the 2016 election.
• A new cache of Cohen's text messages reportedly show the Trump lawyer was actively trying to strike a deal on a Trump Tower in Moscow as late as May 2016 as Trump was wrapping up the Republican nomination. According to the messages, Cohen was also considering a trip to Moscow for high-level meetings with government and business leaders. Cohen told Congress he gave up on the project much earlier in January 2016.
• President Trump's new financial disclosure forms, released Wednesday, included—for the first time—more than $100,000 in payments to Cohen in 2017. The reason for the payment was not disclosed, but its sudden appearance seems to indicate not only that Trump knew about the hush payment to Stormy Daniels, but reimbursed Cohen, meaning both Cohen and Trump have been lying.
Happy Wednesday!
---