In December 2015, as the Trump campaign surged to the front of the Republican pack, Trump's personal physician, one shaggy Dr. Harold Bornstein, released a medical evaluation of then-candidate Trump that sounded like he got his M.D. at Trump University. "His physical strength and stamina are extraordinary," the letter gushes. "If elected, Mr. Trump, I can state unequivocally, will be the healthiest individual ever elected to the presidency." This assessment, of course, doesn't pass the not-being-blind test. And on Tuesday, shocking basically no one, Bornstein fessed up and revealed to CNN that Trump himself dictated the medical appraisal that declared his own test results "astonishingly excellent."
"He dictated that whole letter. I didn't write that letter," Bornstein told CNN. "(Trump) dictated the letter and I would tell him what he couldn't put in there." In retrospect, it's amazing the letter didn't mention "the wall" or any reference to making anything great again. Some real restraint there by Dr. DJT.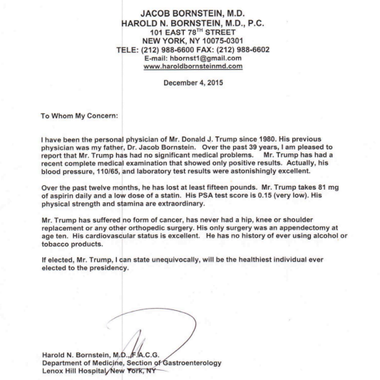 Must be all the cheeseburgers.