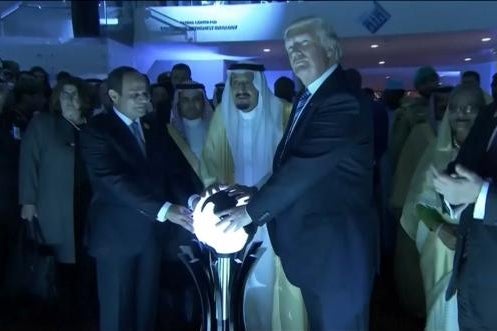 The Associated Press published a damning account Monday of the former top Trump fundraiser and RNC fundraising chair Elliott Broidy and his Lebanese-American business partner George Nader, who offered up access to the White House and Trump himself to the crown princes of Saudi Arabia and the United Arab Emirates in return for a billion dollars in consulting contracts. Both men have criminal record; Broidy, in 2009, pleaded guilty to a felony charge of rewarding official misconduct, a.k.a. bribing officials to win a New York state pension fund investment deal, and Nader was convicted of 10 counts of sexually abusing minors in 2003 and spent one year in jail in the Czech Republic for it. The pair, who met for the first time during Donald Trump's inauguration, teamed up to push anti-Qatar policies for their Saudi and Emirati patrons and expected a financial windfall in return. Broidy had the ear of the president, Nader said he commanded the trust of the crown princes.
"From the start, the men had a two-track mission: to carry out a campaign against Qatar that would curry favor with the princes, and to then turn that success into millions of dollars in defense deals, documents show," according to the AP. "A new cache of emails obtained by the AP reveals an ambitious, secretive lobbying effort to isolate Qatar and undermine the Pentagon's longstanding relationship with the Gulf country." Neither Broidy nor Nader registered as a lobbyist working for a foreign government as required by the Foreign Agents Registration Act (FARA). Nader was an advisor for the crown prince of Abu Dhabi, Sheikh Mohammed bin Zayed Al Nahyan, known as MBZ. Broidy, ludicrously, has maintained he didn't register under FARA because his efforts to steer American foreign policy in opposition to Qatar, a regional rival of both his Saudi and Emirati clients, was his idea and the result of his own personal initiative. "But documents show the lobbying was intertwined with the pursuit of contracts from the very start, and involved specific political tasks carried out for the crown princes—whose countries are listed as the 'clients' for the lobbying campaign in a spreadsheet from Broidy's company, Circinus LLC," the AP reports. "Summaries written by Broidy of two meetings he had with Trump — one of which has not been disclosed before—report that he was passing messages to the president from the two princes and that he told Trump he was seeking business with them."
From the AP:
Broidy and Nader proposed multiple plans to the princes for more than $1 billion of work. One pitch was to help create an all-Muslim fighting force of 5,000 troops. A second was aimed at helping the UAE gather intelligence. A third would strengthen Saudi maritime and border security. Still another was related to setting up counterterrorism centers in Saudi Arabia. In a note to Broidy, Nader said the princes were very happy with the proposed contracts, particularly the crown prince of Abu Dhabi. But first, emails show, they had to focus on the lobbying campaign. They proposed a budget upward of $12 million to "expose and penalize" Qatar and get the U.S. to pressure it to "aid in coercive action against Iran," according to a March 2017 document.
Broidy lobbied members of congress, met with President Trump, and had a retired general listed as a part of the Circinus team publish an op-ed in the Wall Street Journal titled "The Two Faces of Qatar, a Dubious Mideast Ally," which called for the moving of U.S. military assets stationed at an American military base in Qatar out of the country and into the UAE. The effort was enough to win a 5-year, $600 million intelligence contract with the UAE. More was set to come with Saudi Arabia, but it unraveled when Nader was detained upon arriving at Dulles by federal investigators. The attention undid the pair's plans to cash in further with the Saudis.
The Daily Beast reported Monday that Broidy wasn't just selling his so-called intelligence services abroad, he has also been simultaneously selling the Pentagon. "[I]n August 2017 [Circinus] finally received $3.9 million for a contract it had begun bidding on in 2013 with the U.S. Army Intelligence and Security Command (INSCOM)," the Daily Beast reports. "The INSCOM contract—which is for unidentified intelligence services—nearly doubled the company's income for the year."
---