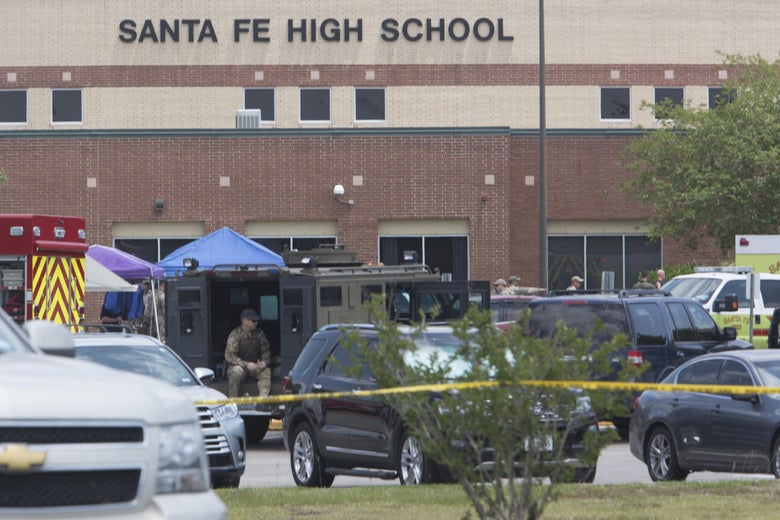 Police have taken a 17-year-old suspect into custody for a shooting at Santa Fe High School in Texas on Friday that left at least 10 dead and 10 more injured.
The suspected shooter, Dimitrios Pagourtzis, is being held without bond on murder charges. Texas Gov. Greg Abbott said at a press conference Friday that officials believe Pagourtzis came to school in a long coat concealing a shotgun and a .38 revolver, both of which appear to be legally owned by his father. Police also say they found explosive devices allegedly constructed by the suspect, including a Molotov cocktail, around the school and in Pagourtzis's home and car.
Pagourtzis began attending Santa Fe High School in 2015, according to his Facebook page, and played football for the school during the 2015-2016 season. He also had made the school's honor roll. Classmates and teachers who claim to have known Pagourtzis told reporters that he was quiet. One student told CNN that Pagourtzis wore a trench coat "almost every day."
The suspected shooter's motives are currently unclear, though authorities have indicated that his social media accounts and a diary may hold some clues. CNN reported that his Facebook page, which has been taken down, featured images of a T-shirt with the phrase "Born to Kill" and of a jacket emblazoned with fascist, communist, Nazi, and religious symbols. He also expressed an interest in the Marine Corps.
Abbott said Pagourtzis told investigators he had planned to commit suicide after the attack.
This post will be updated as we learn more about the suspect.
---