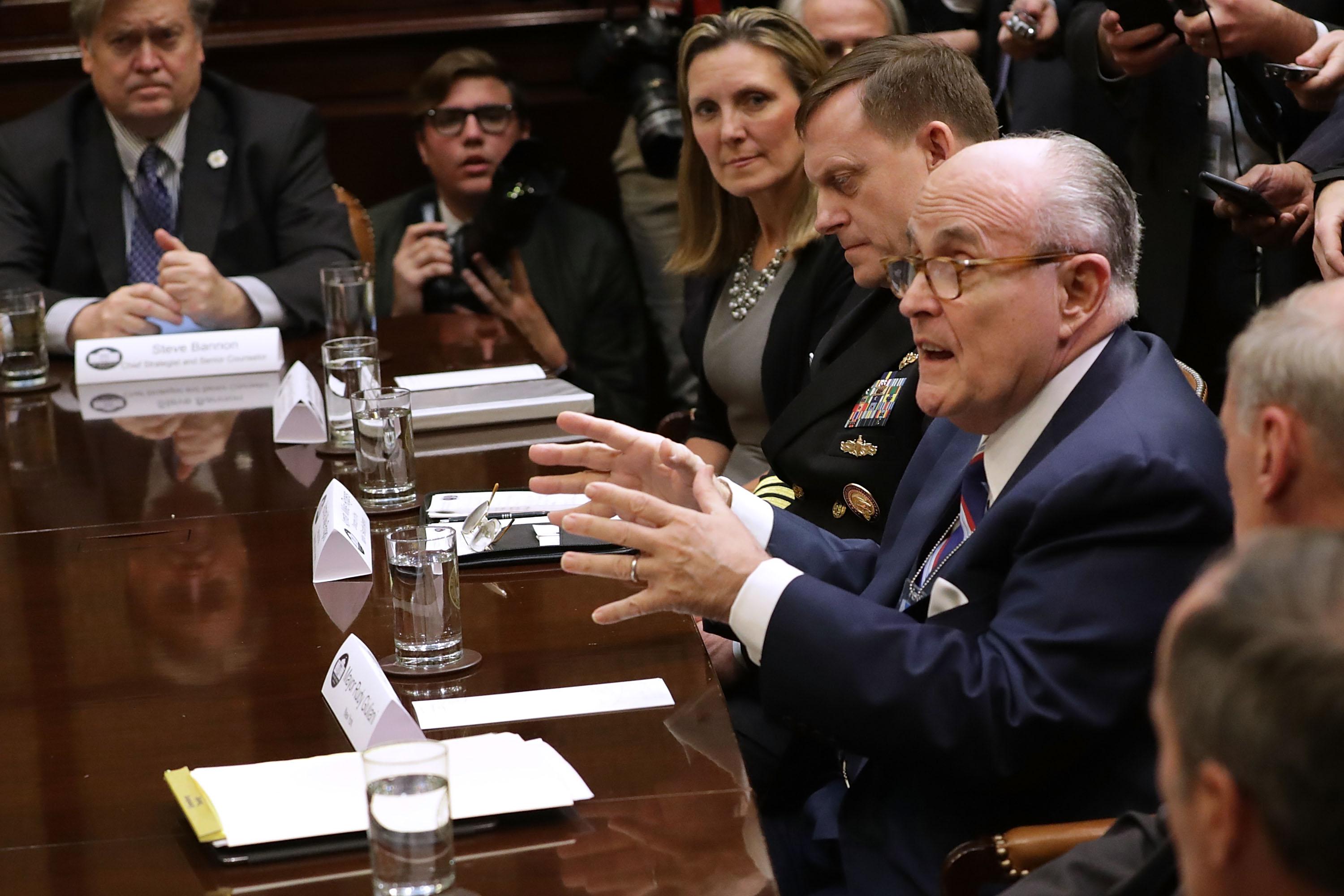 Did President Donald Trump know in October 2016 about a $130,000 payment to silence a story that threatened his election? Did he deliberately conceal that payment from the Federal Elections Commission? Has Trump now approved a legal strategy to acknowledge the payment in order to buy the silence of his personal attorney, Michael Cohen, in the Russia investigation?
These were largely mysteries until Wednesday night, when former New York Mayor Rudolph Giuliani, who has joined Trump's legal team, began a crusade to shield Trump from campaign finance charges. In interviews with Sean Hannity, Fox & Friends, the Washington Post, and others, Giuliani claims that Trump didn't know until recently about the payment made to Stephanie Clifford, alias Stormy Daniels, to hush up her allegations of an affair with Trump a decade earlier. Giuliani and Trump also argue that the payment didn't need to be reported to the FEC because it wasn't related to the campaign. Both claims are preposterous. Here are the facts.
1. Circumstantial evidence indicates the payment was timed to influence the election. According to documents reviewed by the Wall Street Journal, Cohen created a limited liability company on Oct. 17, 2016, three weeks before the election. Ten days later, on Oct. 27, Cohen used that company to transfer the $130,000 to Clifford. The Journal reports that, according to a person familiar with the matter, "with Ms. Clifford's representatives threatening to walk away from the deal, Mr. Cohen said he stopped trying to track down Mr. Trump and used his own funds to wire the payment." Cohen says he took out a home equity line to get the money. That suggests a sense of urgency, if not desperation. What could account for that urgency, other than the election?
2. Giuliani confirms that the payment was timed to influence the election. "Imagine if that [Clifford's story] came out on Oct. 15, 2016, in the middle of the, you know, last debate with Hillary Clinton," Giuliani explained Thursday morning on Fox & Friends. "Cohen didn't even ask. Cohen made it go away. He did his job."
3. The payment was designed in a way that hid its source and purpose. The money paid to Clifford far exceeds what the FEC would allow Cohen to contribute to Trump's re-election. And if its purpose was related to the election, it would have to be reported on FEC forms, even if it came from Trump. It wasn't. Furthermore, Cohen set up the LLC in Delaware, where it's easier to conceal the names of people associated with a company. This masked his connection to the transaction. Cohen had to deal with Clifford's lawyer, but the lawyer says Cohen "represented that [Cohen's] funds were the source of the money." This veiled Trump's role. And in an interview Wednesday night with Sean Hannity, Giuliani said the money was "funneled through a law firm."
4. Giuliani has dropped hints that Trump knew of the payment and its purpose. In a Wednesday night interview with the Washington Post, Giuliani dismissed the transaction as a nuisance payoff, "which is the way they always thought of this. They never thought of it as true … [N]either one of them saw it as a campaign thing; they thought of it as a personal thing." Who is they? It sounds like Cohen and Trump. Giuliani asked the Post, "Was the president really wise to take [the money] out of personal funds rather than from campaign funds? Thank God he did, [or else] he'd get a campaign finance violation they'd try to drum up into a felony or something." If the payment were strictly personal, using personal funds would be obvious. By calling it "wise," Giuliani signaled that using personal funds was a calculation.
5. Cohen tried to contact Trump about the payment. The Journal, citing a "person familiar with the matter," previously reported that in October 2016, "Cohen said he missed two deadlines earlier that month to make the $130,000 payment to Ms. Clifford because he couldn't reach Mr. Trump in the hectic final days of the presidential campaign." This implies that Cohen knew he needed Trump's approval. (Indeed, the New York bar requires client consent.) It's absurd to suppose that after fronting the money, Cohen would have stopped trying to contact Trump about it.
6. Cohen's "retainer" was a sham to launder the payment. Giuliani claims that Cohen used a $35,000 monthly retainer from Trump to cover the payment and that Trump didn't know where the retainer went. On Thursday morning, Trump cited this arrangement to distance himself from the transaction. Cohen "received a monthly retainer, not from the campaign and having nothing to do with the campaign, from which he entered into, through reimbursement, a private contract between two parties," the president tweeted.
Trump didn't acknowledge that he knew about the payment to Clifford. But he must have. The retainer fees didn't begin until 2017, says Giuliani. Why would Trump start paying Cohen that money without being given a reason? Giuliani told the Post that Trump's payments to Cohen came "from his accountant." Did the accountant not account for where the money went? Giuliani also told Hannity, "When I heard of Cohen's retainer for $130,000, he was doing no work for the president. I said, 'Well, that's how he's repaying it.' " If Giuliani knew that Cohen was doing no work for Trump and that the only remaining explanation for the "retainer" was to cover the payment to Clifford, it's hard to believe Trump didn't know these things too.
7. Cohen made noise after the election about getting reimbursed. According to the Journal, "After Mr. Trump's victory, Mr. Cohen complained to friends that he had yet to be reimbursed for the payment to Ms. Clifford." You don't complain that somebody hasn't yet paid you unless you think he knows that he owes you.
8. The cost to Trump was more than he would have ignored. Giuliani told Hannity that Trump wouldn't bother to ask where his retainer fees to Cohen went, because to Trump, $130,000 is peanuts. But after the show, Giuliani upped his estimate to $250,000 and then $460,000. It's hard to believe that a guy who once cashed a 13-cent check would pay 1 million times that amount without scrutiny.
9. Cohen has arranged similar payments before, and in those cases, the clients knew where their money went. Cohen was involved in an August 2016 payment to Karen McDougal, another woman who claimed an affair with Trump. That payment came from the pro-Trump publisher of the National Enquirer, which buried the woman's story. Cohen also negotiated a payment from an RNC official as part of a nondisclosure agreement with the official's mistress. These clients understood what they were paying for. Would Cohen not afford the same courtesy to the president of the United States?
10. Trump has changed his story since last month's raid on Cohen's office. On April 5, a reporter asked Trump: "Did you know about the $130,000 payment to Stormy Daniels?" "No," Trump replied. Another reporter followed up: "Do you know where [Cohen] got the money to make that payment?" "No, I don't know," said Trump. Four days later, the FBI raided Cohen's office and seized his records, ostensibly as part of a bank-fraud case. When Giuliani was asked on Wednesday whether the raid made Trump believe that the Clifford story "would all come out because the information on the payments was in the files," he didn't directly answer. But Giuliani did say that he and other attorneys for Trump "talk to Cohen's lawyers." The New York Times reports that Trump's attorneys clarified his reimbursement of Cohen "in recent weeks … after examining banking records."
11. Trump and Giuliani see Cohen's legal exposure as a problem in the Russia investigation. Trump decried the April 9 raid on Cohen as part of the Russia "witch hunt" and suggested he might fire special counsel Robert Mueller. That was odd, since the raid had been authorized by the U.S. attorney in Manhattan, not by Mueller. Cohen's only known connection to Mueller was his role as a middleman in Trump's business transactions, and potentially pre-election collusion, with Russians. So the only reason why Trump might worry about Mueller, in the context of the Cohen raid, is that evidence unearthed in the raid might be used to flip Cohen in the Russia investigation.
That problem, according to Giuliani, has now been dispatched. If Cohen had paid Clifford himself, Giuliani told the Post, that could "get Cohen in trouble" for violating campaign finance laws. Thanks to Trump's decision to confirm his reimbursement of the payment, Giuliani explained, Cohen's legal jeopardy has been "totally negated." The message to Cohen is: We're protecting you. Now protect us.
Support our journalism
Help us continue covering the news and issues important to you—and get ad-free podcasts and bonus segments, members-only content, and other great benefits.
Join Slate Plus
Join
---