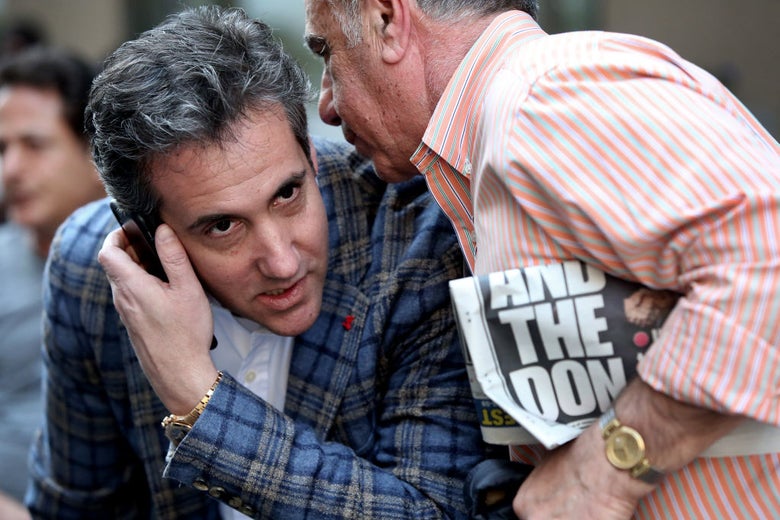 Update, 5:20 p.m.: Well, you can disregard pretty much everything below, as NBC is now saying that federal authorities were actually just monitoring a log of Cohen's phone calls, not wiretapping/recording them. Nevermind!
Original post, 2:04 p.m.: Oh boy:
Federal investigators have wiretapped the phone lines of Michael Cohen, the longtime personal lawyer for President Donald Trump who is under investigation for a payment he made to an adult film star who alleged she had an affair with Trump, according to two people with knowledge of the legal proceedings involving Cohen.
That's via NBC, which also says that "at least one phone call between a phone line associated with Cohen and the White House was intercepted."
Cohen's home and office were raided on April 9 on the orders of federal prosecutors in New York's Southern District whose investigation reportedly involves information provided by special counsel Robert Mueller. It's been previously reported that Trump spoke to Cohen by phone on April 13.
Prosecutors have said that their investigation of Cohen involves potential "criminal conduct" that "largely centers on his personal business dealings." The Washington Post has reported that authorities are seeking to determine whether Cohen committed bank fraud, wire fraud, or campaign finance violations. (There's reason to believe that his October 2016 payment to Stormy Daniels constituted the latter offense.)
Trump adviser/freelance spokesman Rudy Giuliani has already denounced the wiretap as "government misconduct"; what we could be looking at, then, is an extension of the strategy that the Trump legal brain trust seems to have pursued by leaking or allowing the leak of Mueller's questions for Trump—namely, leaking the details of the special counsel investigation in an effort to create the public impression that Mueller and Deputy Attorney General Rod Rosenstein are out-of-control loose-cannon thugs who must be restrained.
---