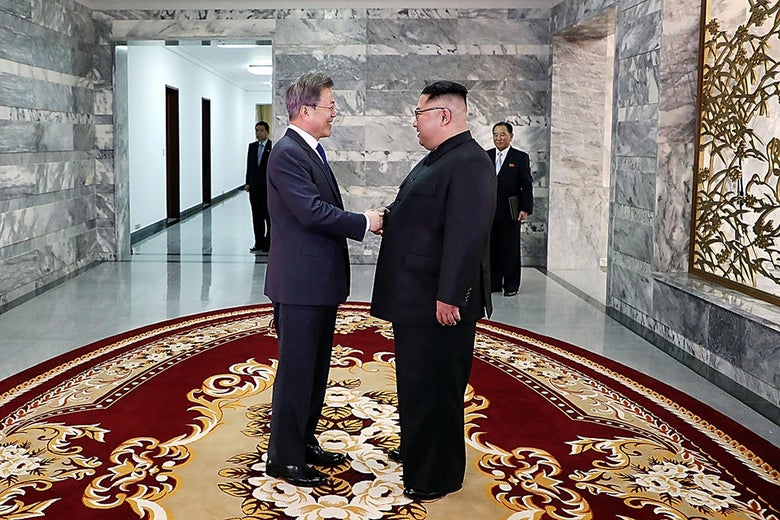 The leaders of North and South Korea surprised the world again on Saturday by holding a meeting at the Demilitarized Zone for the second time in a month.
The surprise meeting took place merely two days after President Donald Trump abruptly canceled the long-awaited summit with North Korean leader Kim Jong-un, only to suggest it could be back on soon enough. White House press secretary Sarah Sanders gave further hints that the summit could actually happen, saying Saturday morning that the administration was still sending a pre-advance team to Singapore to get ready. "The White House pre-advance team for Singapore will leave as scheduled in order to prepare should the summit take place," Sanders said in a statement Saturday morning.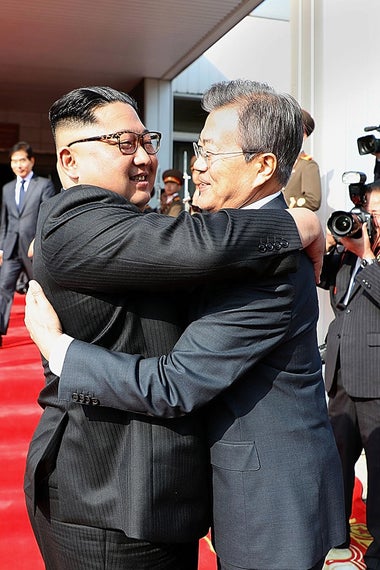 Sanders' statement came shortly after Trump sent out a tweet saying that the United States is having "very productive talks with North Korea" and that the summit could still take place "in Singapore on the same date, June 12th., and, if necessary will be extended beyond that date."
South Korean President Moon Jae-in apparently called for the emergency meeting with the North Korean leader after Trump sent the letter canceling the summit. The decision to cancel the summit left Moon feeling "perplexed" and was "very regrettable," he said. Although there wasn't much information released about the two-hour sit-down between the two Korean leaders, a spokesman for South Korea's president said they "exchanged views about making the North Korea-U.S. summit a successful one." Experts said the two likely discussed how to bring Pyongyang and Washington closer when it comes to nuclear weapons.
That the surprise meeting took place at all seems to suggest just how much Kim needs to salvage the summit with the United States. The New York Times explains:
The measured response to the cancellation, and the extraordinary diplomatic scramble that followed, was a strong reminder, analysts said, that Mr. Kim not only wants a diplomatic deal with the United States. He may need one.

"North Korea can still survive under sanctions, especially if China helps it," said Shin Beom-chul, a senior fellow at the Asan Institute for Policy Studies in Seoul. "But as long as sanctions are there, Kim Jong-un can never deliver the kind of rapid economic growth he has promised for his people."

Mr. Kim's stated desire to continue engaging with Mr. Trump — even after such a high-profile snub — does not necessarily mean the North Korean leader is willing to renounce his nuclear arsenal, the primary American demand.

…

Still, his apparent willingness to continue diplomatic efforts does suggest that Mr. Kim, 34, may be under pressure to satisfy rising expectations in North Korea for economic gains and shake off the painful grip of sanctions.
Support our journalism
Help us continue covering the news and issues important to you—and get ad-free podcasts and bonus segments, members-only content, and other great benefits.
Join Slate Plus
Join
---