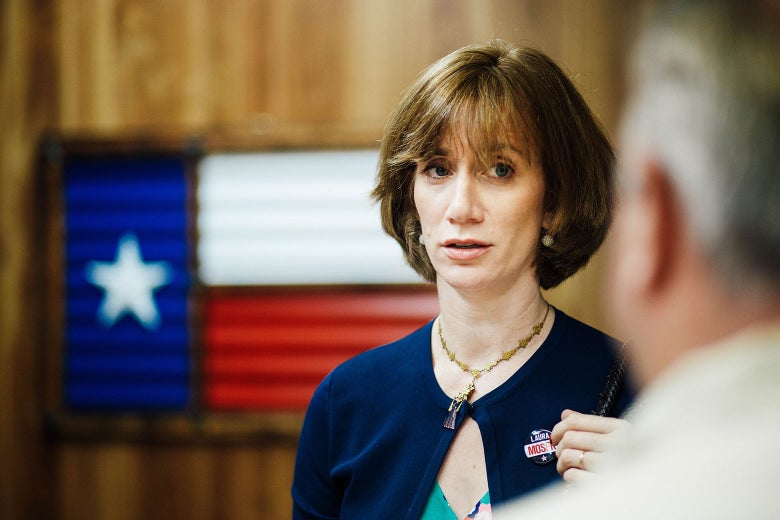 It wasn't pretty, but the Democratic Congressional Campaign Committee did what it set out to do in Texas: Keep progressive journalist-turned-activist Laura Moser from becoming the nominee in a Houston-area race high on the party's midterm wish list. Moser lost Tuesday's runoff in Texas' 7th Congressional District, falling to Lizzie Pannill Fletcher, a local attorney who had the backing of the Democratic establishment. Pannill Fletcher led with nearly 70 percent of the vote in the early returns.
The blowout made for an anticlimactic end to a race that had become one of the first early intra-party battles of this primary season, after the DCCC dumped its oppo-research file on Moser ahead of the March primary, branding her a "Washington insider" who'd rather not live in Texas. EMILY's List spent $250,000 on Fletcher's behalf ahead of the March primary, and Steny Hoyer, the no. 2 Democrat in the House, donated to her via his campaign committee and leadership PAC after she found herself in the runoff.
Before the campaign, Moser, a freelance journalist (who has written for Slate), was perhaps best known on the left for creating Daily Action, a text-message service that helps users "resist the Trump agenda." But she also had needled the DCCC early in her campaign. Last summer, she wrote critically of Rep. Ben Ray Luján (D-New Mexico), the chairman of the group, after he promised that it wouldn't use support for abortion rights as a litmus test.
The DCCC maintains that its highly unusual decision to attack Moser had nothing to do with her ideology, and that it was simply working to ensure the party got the best possible candidate in a district Hillary Clinton won in 2016. But the Bernie Sanders wing of the party rallied to the defense of Moser, who supports Medicare For All and the impeachment of Donald Trump, and she quickly became a cause célèbre on the left, one of the first of the midterm primary cycle. She got a surge in donations, and emerged from a crowded, seven-person field to make the run-off along with Fletcher.
After the primary, however, the DCCC took a not-so-subtle step back from the race, opting against adding Fletcher to its Red to Blue program even as it did so with two other Texans who were in their own runoffs. National progressives and their small-dollar donors mostly shifted their attention elsewhere as the primary season sped up, and Moser's fundraising slowed considerably.
While Moser was happy to seize the progressive mantle, there wasn't all that much daylight between her and Fletcher on policy grounds outside of health care and impeachment. At a recent forum, the moderator reportedly had to interject to ask where the two disagreed. But the stylistic difference between the two was a big one, as it was in several other Democratic primaries on Tuesday. Fletcher's more moderate pitch is aimed at Republican and independent voters who have been turned off by Trump and the national GOP, while Moser was hoping to turn out more of the Democratic base with her proudly progressive calls to action.
It's a similar fight that's played out across the country in early primaries. While the DCCC has so far mostly gotten the candidates it wants—or at least can get behind—there have been a few hiccups, notably in Nebraska, where the Cook Political Report downgraded Democrats' chances on Tuesday after primary voters nominated a proudly liberal challenger. In Houston, the party thinks it's now well-positioned to face Rep. John Culberson in a district he won two years ago by 12 points.
It remains an open question as to whether Moser's supporters will rally behind Fletcher in the general. Though any lingering hard feelings should be limited by the fact the candidates remained largely civil toward each other even in the midst of the national mudslinging. It also won't hurt that Fletcher is key to Democrats hopes of retaking the House.
One more thing
If you think Slate's work matters, become a Slate Plus member. You'll get exclusive members-only content and a suite of great benefits—and you'll help secure Slate's future.
Join Slate Plus
Join
---