Well, well, well: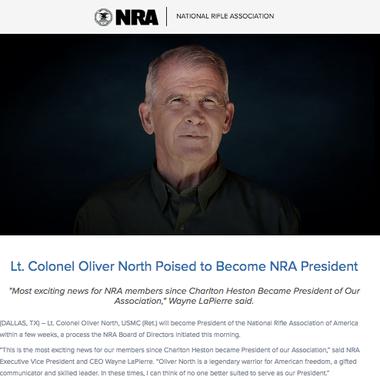 Oliver North's background makes him in some ways the perfect choice for the modern NRA—whose primary activity, as its spokeswoman Dana Loesch* makes clear below, isn't as much Second Amendment lobbying or promoting gun safety as it is conducting a Trump-style cultural-resentment offensive against Americans who support gun control regulations:
(Trump himself spoke to the NRA last Friday; his speech delved into such notable gun-ownership subjects as the Mueller investigation and his margin of electoral victory over Hillary Clinton.)
In another way, though, North is an odd choice, given that the very history that makes him obnoxious to Democrats—his role in brokering illegal missile sales to the Islamist dictatorship in Iran as a National Security Council official during the Reagan administration—puts him at odds with the ascendant right-wing position on whether it's a good idea to provide fundamentalist Muslims in Iran with powerful weapons.
North admitted during congressional testimony in 1987 to having earlier lied to the House Intelligence Committee about Iran-Contra and to having destroyed evidence of the scheme's existence. He was subsequently convicted of related felonies, but they were vacated because of the finding that a witness against North had been influenced by his congressional testimony, which had been given in exchange for the assurance that it would not be used against him in criminal proceedings.
In summary, an individual who lied to Congress about illegal weapons sales to a state sponsor of terrorism is now the president of an organization whose central belief is that legal gun ownership is the key to maintaining a safe country.
*Correction, May 7, 2018: A caption on this post originally misstated that the photo was from the year 2987. It was from 1987. This post also originally misspelled Dana Loesch's first name.