Hawaii's Big Island continues to suffer the effects of the Kilauea volcano May 3 eruption as two new fissures opened up Saturday, piling lava about 40 feet high. The fissures were spewing magma as high as 100 feet in the air as officials warned about the possibility of an "explosive eruption." One of the new fissures was about a mile east of a geothermal energy plant, although officials had already removed some 60,000 gallons of flammable liquids from the plant.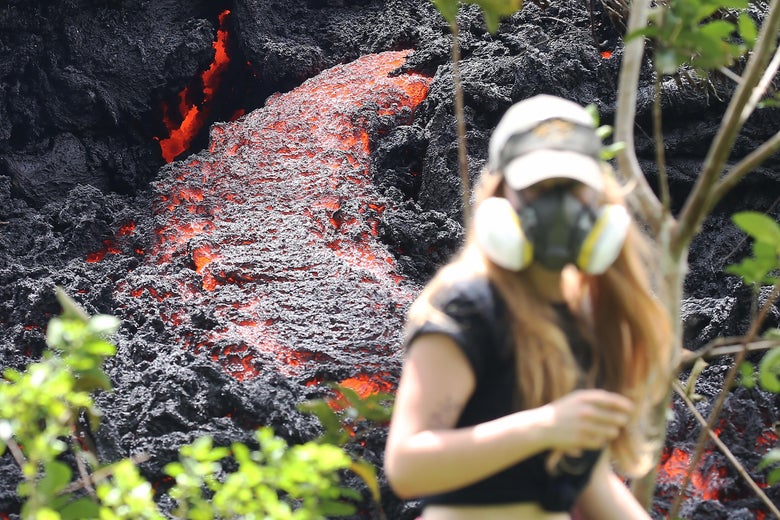 Besides the worries about the fissures, the Hawaiian Volcano Observatory also expressed concern about the possibility of another volcanic eruption on Kilauea. Specifically, the observatory warned of an "explosive eruption at the Halema'uma'u Crater due to the ongoing withdrawal of lava from Kilauea summit lake." An eruption "could generate dangerous debris very near the crater and ashfalls up to tens of miles downwind."
The real danger is that the lava level is dropping inside the volcano. "If it falls below the water table, water will pour onto the lava, generating steam that will likely explode from the summit in a shower or rocks, ash and sulfur dioxide gases," USA Today explains.
For now the vents that have opened up in the ground after Kilauea's eruption "have been oozing relatively cool, sluggish magma left over from a similar event in 1955," notes Reuters. "Fresher magma could now emerge behind it and the volcano is threatening to start a series of explosive eruptions."
President Donald Trump declared a major disaster in Hawaii on Friday, making it easier to get federal assistance to help out the recovery efforts. It remains unclear whether areas affected by the current volcanic activity will ever be able to be rebuilt. "We really don't know the extent of the damage and whether or not people can actually rebuild," Hawaii state Rep. Joy A. San Buenaventura said earlier this week.