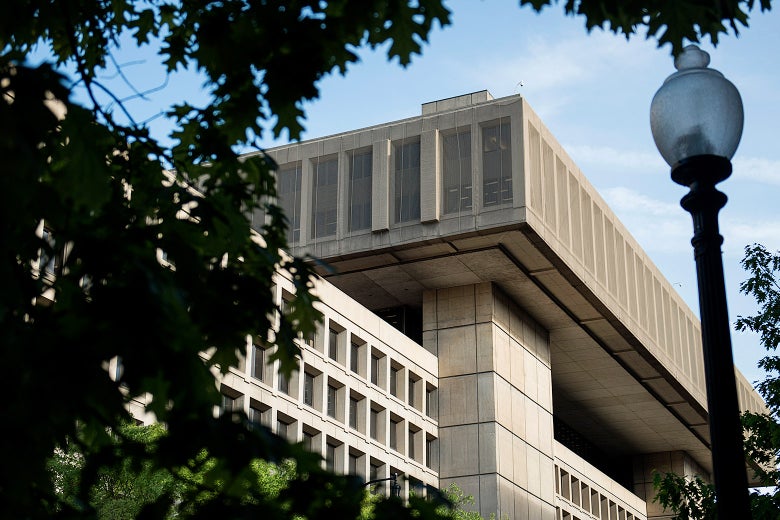 President Trump calls the Russia investigation a "witch hunt." Democrats say just the opposite: They think the FBI tilted the 2016 election by smearing Hillary Clinton while hiding its investigation of Trump's campaign. But partisanship seldom explains an organization as complex as the FBI. This week's New York Times report on Crossfire Hurricane, the FBI's investigation of Russian involvement in the election, explores the dynamics that drove the inquiry. The investigation wasn't a left-wing hoax or a right-wing cover-up. It was a mess of structural biases, idiosyncrasies, ulterior motives, misjudgments, and perverse effects.
Here's what the Times revealed:
1. Many factors relevant to the investigation's fairness have been invisible. Trump says the investigation was out to get him. As evidence, he points to every step taken against him or his aides. He omits the steps that could have been taken but weren't. The Times reports, for example, that FBI officials, to avoid influencing the election, delayed interviewing Trump's aides. They didn't inform the public that they were investigating Mike Flynn, Paul Manafort, George Papadopoulos, and Carter Page.
The FBI also kept quiet about intelligence that indicated the Russian government was supporting Trump. Peter Strzok, an FBI agent whom Trump accuses of bias against him, recommended withholding information about the probe from Obama appointees at the Justice Department because he feared they might leak it. And when the Times wrote about the investigation shortly before the election, "law enforcement officials" talked the paper into downplaying Trump's links to Russia. When you take these factors into account, the degree of scrutiny and publicity Trump received looks pretty modest.
2. Trump and his people brought the scrutiny on themselves. Trump expresses outrage that the FBI targeted his campaign. But the article explains how he and his advisers aroused suspicion. Papadopoulos blabbed that Russia had dirt on Hillary Clinton. Page dismissed FBI warnings that he was being courted for nefarious purposes by his Russian contacts. Trump called on Russia to release Clinton's emails. And when FBI agents were "nearly ready to close their investigation of Mr. Flynn," he "rekindled the FBI's interest in November 2016 by signing an op-ed article that appeared to be written on behalf of the Turkish government, and then making phone calls to the Russian ambassador that December."
3. The FBI's secrecy helped Trump. Trump says the FBI conspired against him by investigating him surreptitiously. For example, it used clandestine subpoenas, known as national security letters. And when the bureau took other measures, such as interviewing the Australian ambassador to whom Papadopoulos had blabbed about Russian dirt, these steps "were shrouded in secrecy," the Times reports. But when you're running for president while under investigation, keeping the investigation quiet is the best you can ask for. You can't accuse the FBI of leaks and political sabotage while complaining that it did its work in secret.
4. There were good reasons for the secrecy. Democrats accuse the FBI of bias for hiding the Trump investigation while publicizing the Clinton investigation. They also wonder why the FBI was slow to pursue investigative steps, such as interviewing Trump's advisers. But a former national security prosecutor told the Times, "There is always a high degree of caution before taking overt steps in a counterintelligence investigation." The key word is counterintelligence. Exposing the Trump probe didn't just risk tipping the election. It risked alerting the Russians and anyone collaborating with them.
5. Investigators tried not to hurt Trump, in part to avoid helping him. According to the Times, some people at the bureau—including former FBI attorney Lisa Page, whom Trump accuses of conspiring with Strzok against him— "advocated a slower, circumspect pace" to the Trump investigation, "especially because polls predicted Mr. Trump's defeat." The slow-it-down camp worried "that anything the FBI did publicly would only give fodder to Mr. Trump's claims on the campaign trail that the election was rigged." That sounds like favorable treatment of Trump. But it was calculated to deprive him of a campaign issue. The rationale was tainted, even if the effects weren't.
6. The "insurance policy" was an argument for propriety. In his now-infamous text message to Page, sent on Aug. 15, 2016, Strzok wrote, "I want to believe the path you threw out for consideration in [then–FBI Deputy Director Andrew McCabe's] office—that there's no way [Trump] gets elected, but I'm afraid we can't take that risk. It's like an insurance policy in the unlikely event you die before you're 40." Trump sees this message as proof of bias against him. But you have to read the message in the context of Page's contrary view, which was that the FBI could afford to go slow on Trump because he would lose the election. Strzok wasn't saying that the FBI should go out of its way to stop Trump. He was saying that the FBI shouldn't count on voters to get rid of whatever investigation-worthy problems Trump and his aides presented. Strzok was saying that the FBI should do its job.
7. One key factor was that then–FBI Director James Comey was kept out of the loop. In his book, his Senate testimony, and multiple interviews, Comey has explained that he wrote his fateful October 2016 letter to Congress, about reopening the Clinton investigation, because he thought that to remain silent about such a move would have been to "conceal" crucial information. This view was idiosyncratic. Deputy Attorney General Rod Rosenstein, for instance, has agreed with Democrats that the FBI has no business making such statements about people under investigation.
Comey's idiosyncrasy was crucial, because it was brought into play only in the Clinton investigation. The Times reports: "Comey was briefed regularly on the Russia investigation, but one official said those briefings focused mostly on hacking and election interference. The Crossfire Hurricane team did not present many crucial decisions for Mr. Comey to make." By keeping information away from Comey, the team bypassed his "concealment" complex. Comey couldn't feel a duty to disclose what he didn't know.
The Times report is unsatisfying to people on all sides. Critics on the right say it whitewashes the FBI's efforts to frame Trump. Critics on the left say it excuses the FBI and the Times' complicity in persecuting Clinton. We'll probably hear these complaints again when the DOJ inspector general's report, which covers the investigation in more detail, comes out. But reports such as these aren't wrong when they don't fit political narratives. Narratives are wrong when they don't fit the facts.
If you think Slate's election coverage matters…
Support our work: become a Slate Plus member. You'll get exclusive members-only content and a suite of great benefits—and you'll help secure Slate's future.
Join Slate Plus
Join
---