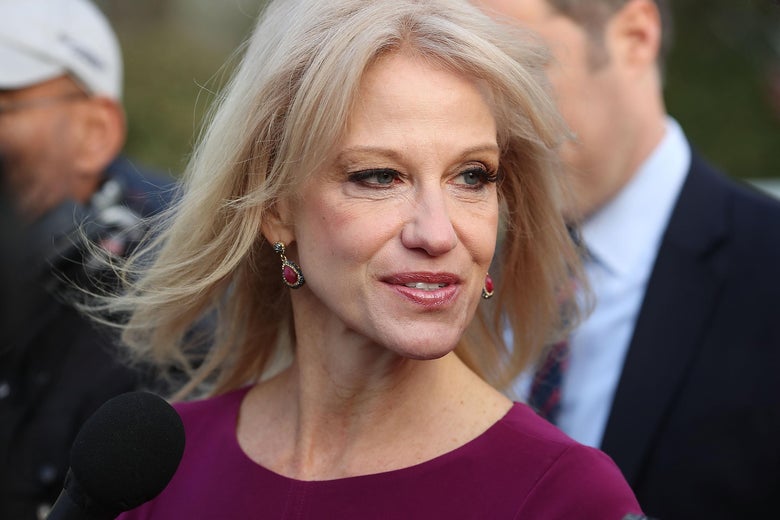 CNN anchor Dana Bash seems to have been caught off-guard when Kellyanne Conway began aggressively pushing back against what the journalist said was supposed to be a "lighthearted question." At the end of a long interview on State of the Union, Bash asked Conway about her husband's seeming predilection to criticize President Trump on Twitter. Specifically Bash referenced a tweet in which George Conway said it was "absurd" for Trump to keep contradicting his aides (he later deleted that tweet).
Conway immediately went on the offensive, first dismissing the importance of the tweets, saying her husband writes about "a lot of things that are also supportive and a lot of things about corgis and the Philadelphia Eagles and sports too." And then she started pushing back, first trying to turn the question into something about Hillary Clinton—while making a show of not uttering her name—and then saying that she found it "fascinating" CNN would even ask the question.
"No. 1 … that woman who lost the election whose name I never see on TV anymore is wrong that women — I think she said white women have to listen to the men in their life to form their own political opinions. Wrong again, lady," Conway said. "Number two, it's fascinating to me that CNN would go there. But it's very good for the whole world to have just witnessed that."
What followed was five-and-a-half minutes of a very tense back-and-forth between Conway and Bash, who defended herself from the implication that the question was sexist. "I would ask you that if you were a man and your wife…" Bash said. "No you wouldn't," Conway interrupted. The White House counselor then went on to imply that Bash had crossed a new line in which spouses were suddenly fair game.
"You just brought him into this," Conway said of her husband. "So this ought to be fun moving forward, Dana." Bash insisted that the question "wasn't critical" and Conway dismissed that interpretation as ridiculous. "It was meant to harass and embarrass," she said, before going on to say that "this is a fascinating cross the Rubicon moment." At that point it's clear Bash can't believe what she's hearing. "Well, that certainly was not intended to cross any Rubicon," she said. But the back-and-forth continued, with Conway seemingly taking offense when Bash said it can be "hard" for two adults in a relationship to have different opinions.
George Conway's Twitter account, meanwhile, continued to show just the dynamic Bash talked about. He retweeted a message by the New York Times' Maggie Haberman that pointed out the "striking" contrast between a photo taken at Barbara Bush's funeral and the "weekend-long tweetstorm from current @potus." He also retweeted something about "epic cat fails."
---