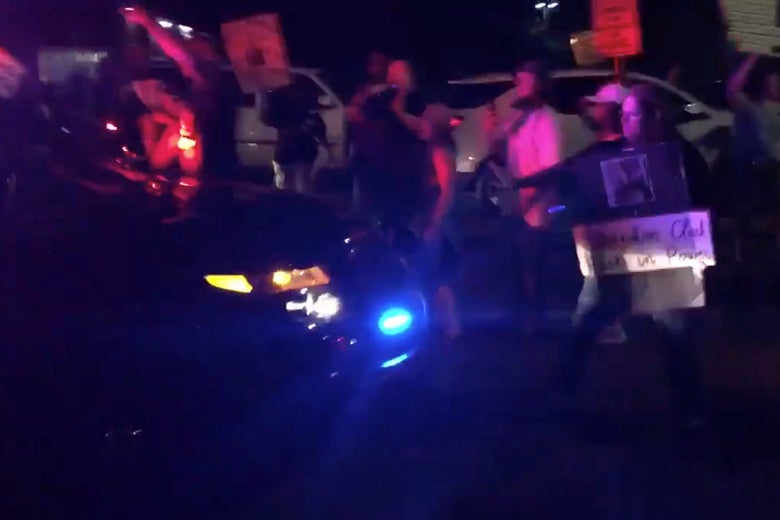 A police vehicle in Sacramento, California hit one of the protesters who were demonstrating against the police killing of Stephon Clark on Saturday night. Video taken by a local ABC affiliate and a legal observer clearly shows how a Sacramento County Sheriff's Department vehicle hit the protester and quickly left the scene. Wanda Cleveland, a 61-year-old local activist was taken to the hospital, where she was treated for her injuries and released with bruises on her arm and the back of the head. "He never even stopped. It was a hit and run. If I did that I'd be charged," Cleveland said at the hospital. "It's disregard for human life."
Protesters had taken to the streets again Saturday night to protest against the March 18 killing of Clark, an unarmed black man who was shot to death by police. An independent autopsy released earlier in the week found that the officers shot Clark eight times, including six in the back. Video from the Saturday night demonstration shows how a group of protesters were marching on the street when they suddenly surrounded a Sacramento County Sheriff's Department vehicle. The cruiser turned on its lights and siren and another cruiser then pulls up behind it. "Back away from my vehicle," a deputy repeatedly says into the loudspeaker before slowly pulling forward and leaving the scene. But when the sheriff's vehicle that was behind it followed suit, it struck Cleveland and never stopped.
The Sheriff's Department issued a news release early Sunday morning essentially acknowledging that a police vehicle struck the protester but emphasized that "the collision occurred while the patrol vehicle was traveling at slow speeds." The statement also noted the cars were damaged by "vandals" among the protesters. "During the incident, the Sheriff's Department vehicle sustained scratches, dents, and a shattered rear window," noted the statement by spokesman Sgt. Shaun Hampton. "The damage to the vehicle was not a result of the collision involving the pedestrian but was caused by vandals in the crowd."
The video, however, seems to tell a different story as the police car appears to accelerate before striking Cleveland. Witnesses also witnessed an acceleration by the cruiser. "He was really upset and he accelerated," Phuong Le, a friend of Cleveland's, said. "He didn't get everyone to comply and move, so he just hit her." ABC10 posted a long video of the protest on Facebook that includes the incident and aftermath (around the 47-minute mark).
---