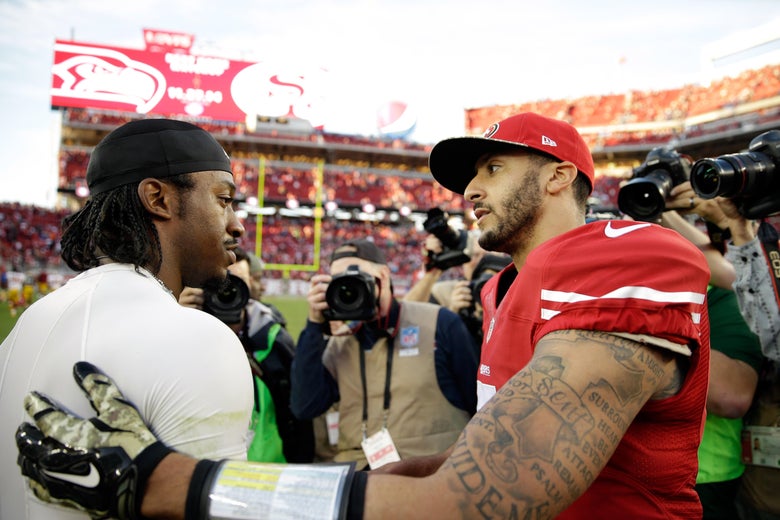 Last year, before Colin Kaepernick filed a grievance suit against the NFL alleging the league and/or teams colluded to keep him off the field, Sports Illustrated published an article offering some team executives' anonymous justifications for why the former San Francisco 49ers quarterback and civil rights activist couldn't get a job. In essence, they said his style of play wasn't a great fit for most teams, with multiple anonymous executives comparing Kaepernick's situation to that of Robert Griffin III.
"I understand the Kaepernick deal, why it's news, but nobody's talking about RG3?" one executive said. "The problem that RG3 has getting a job is the same as Kaepernick for a lot of teams."
"Why isn't there a debate about RG3?" offered another.
The argument, essentially, was that so long as Griffin—purportedly a similar "style" of quarterback as Kaepernick—couldn't get work, then it was no big deal that Kaepernick remained unsigned.
Well:
As my colleague Josh Levin noted last year, Griffin III has been a demonstrably worse quarterback than Kaepernick in recent years. Levin writes that in 2016, the last time either man played in the league, "every advanced stat in existence shows [Griffin] was one of the worst quarterbacks in the NFL." Indeed, aside from his brilliant first year in the league, the rest of Griffin's NFL career has been marred by injuries and terrible performances. And yet, Griffin III now has a job and Kaepernick—who was a respectable starting quarterback in 2016—does not.
It's particularly noteworthy that Griffin III signed with the Ravens, one of the teams that is apparently under scrutiny in the collusion grievance Kaepernick filed against the NFL last fall. According to someone familiar with the matter, Ravens general manager Ozzie Newsome and head coach John Harbaugh are both scheduled to be deposed this week in that arbitration proceeding. Houston Texans owner Bob McNair, who compared protesting NFL players to "inmates" in a "prison," was reportedly deposed in the case last month. With regard to Newsome and Harbaugh, Ravens director of public relations Patrick M. Gleason told Slate: "Legal proceedings of this nature are confidential and cannot be commented on publicly."
As I noted last year, there are good reasons the Ravens would be under scrutiny. The team publicly batted around the idea of signing Kaepernick last summer. Ravens owner Steve Bisciotti said at the time that he "[didn't] like" the fact that Kaepernick had protested by kneeling during the national anthem. According to an interview Ray Lewis gave around that time, the team had been on the verge of signing Kaepernick when the quarterback's girlfriend, Nessa Diab, sent a tweet that appeared to mock Lewis and Bisciotti. ESPN reported the same day Diab sent that tweet that Bisciotti had been resistant to signing Kaepernick (the Ravens denied this report), and there's no evidence Diab's tweet was sent before the Ravens decided not to offer Kaepernick a contract.
Griffin III has since said the Ravens offered him a job last year, but he turned the team down because it "wasn't the right fit." If Griffin is telling the truth, and there's no reason not to believe him, that makes the anonymous executives in the Sports Illustrated story look even more full of it than they already did.
For his part, Harbaugh offered glowing praise when discussing Griffin on Wednesday.
"We felt like we needed a No. 2 quarterback. I feel like we got a steal," Harbaugh told reporters. "I felt like he really wanted to be here, be a Raven."
Now that Griffin is officially on the team, it would make sense for Harbaugh and Newsome to be asked in their depositions about the timing of his and Kaepernick's negotiations with the Ravens last year. Their answers could help determine whether Kapernick wins his grievance case against the league.
---