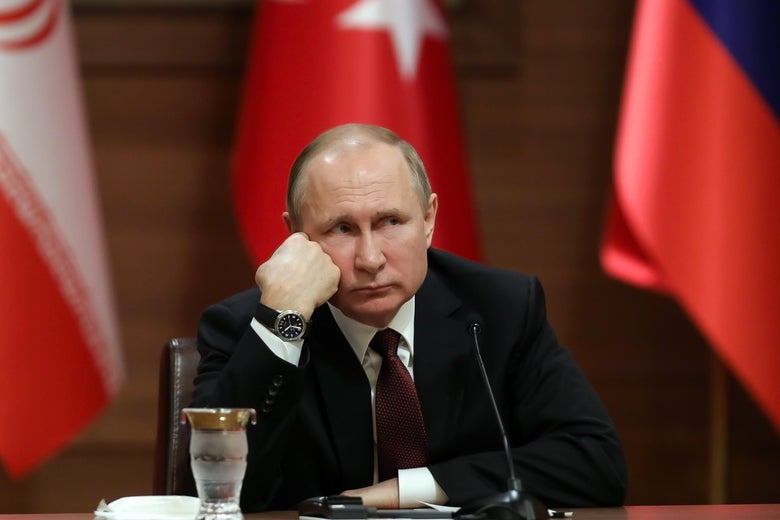 Russian President Vladimir Putin Warned Sunday that any further airstrikes by Western countries on Syria would "lead to chaos in international relations," according to a statement from the Kremlin. Putin reportedly uttered those words during a phone conversation with his Iranian counterpart, Hassan Rouhani. During the call, both leaders agreed "that this illegitimate action has seriously damaged the prospects for a political settlement in Syria."
Putin issued his stark warning as the U.S. ambassador to the United Nations, Nikki Haley, said that new economic sanctions on Russia would be unveiled on Monday. "Russian sanctions will be coming down, Secretary Mnuchin will be announcing those Monday if he hasn't already and they will go directly to any sort of companies that were dealing with equipment related to Assad and chemical weapons use. And so I think everyone is going to feel it at this point. I think everyone knows that we sent a strong message and our hope is that they listen to it," Haley said on CBS' Face the Nation referring to Treasury Secretary Steven Mnuchin.
Speaking on Fox News Sunday, Haley said Moscow is responsible for allowing the government of Bashar al-Assad to use chemical weapons without having to worry about any consequences at the United Nations. "Assad knew that Russia had its back, Assad knew that Russia would cover for them at the United Nations, and Assad got reckless, and he used it in a way that was far more aggressive," she said. "We have to be conscious of the fact that we can't allow even the smallest use of chemical weapons."
Assuming it all goes down like Haley said it would, the sanctions set to be unveiled Monday would mark the third round against Russia imposed by President Donald Trump's administration over the past four weeks. The New York Times breaks it down:
Last month the administration targeted Russian companies and individuals for intervening in the 2016 election and mounting cyberattacks against Western facilities. It followed that this month with penalties against Mr. Putin's inner circle, singling out some of Russia's richest men and top government officials.

The administration also expelled 60 Russian diplomats and intelligence officers and closed the Russian Consulate in Seattle in response to the poisoning of a former Russian spy living in Britain.
Haley had warned Saturday that the U.S. remains "locked and loaded" to respond to any further use of chemical weapons in Syria, but U.K. Foreign Secretary Boris Johnson seemed to throw cold water on the idea that any further strikes were imminent. "The overwhelming purpose, the mission, was to send a message," Johnson said. "Finally the world has said enough is enough." Johnson emphasized that there was "no proposal on the table" for more airstrikes.
---