This invitation, to a "Poverty Party," asked guests to come to the home of D.W. Tripp in Athens, Pennsylvania, in February 1896. Held at the tail end of the Gilded Age, this "POVErTY SOSHUL" promised "yellocutin, speakin peaces and singin songs," and a prize for "the most disreast lookin man individual, also ths woman what look ekally as bad." The proceeds of the party would go to "the erecshun of a noo Universalist Meetin House." This invitation, sent at a time of great income inequality, when the suffering of immigrants in cities and black Americans in the post-Reconstruction South was particularly acute, shows how some people in the middle and upper classes of the Gilded Age regarded the poor they lived alongside.
From the dialect used on the invitations, to the plain food served at the event, a poverty party established social distance between the celebrants and the lower classes whose shoes they were stepping into for a night. "Mush and milk was served in tin cups with tin spoons," Mrs. Herbert B. Linscott wrote of one poverty party in her 1905 book Bright Ideas for Entertaining, adding a parenthetical—"borrowed for the party"—to make sure you know that she doesn't expect her readers to actually own tinware. A 1907 book on entertaining by Ellye Howell Glover recommended that a "poverty party" should offer "corn meal mush in crockery bowls, served with a bountiful supply of cream and sugar, brown and white bread sandwiches, apple and pumpkin pies, coffee in tin cups, doughnuts, and cookies"—on a table set with no tablecloth, and decorated only with paper napkins and flowers.
These occasions allowed rich and middle-class people to dress down and enjoy it. Linscott's suggested invitation included rules for party garb: "Every womin what kums must ware a Poverty dress and apern, er something ekelly erpropriate, an leave her poodle dorg to hum." (I know, this stuff is hard to read. But these invitations are such interesting ephemeral examples of the Gilded Age's passion for the use of "humorous," "colorful" dialect in literature; I must include it.)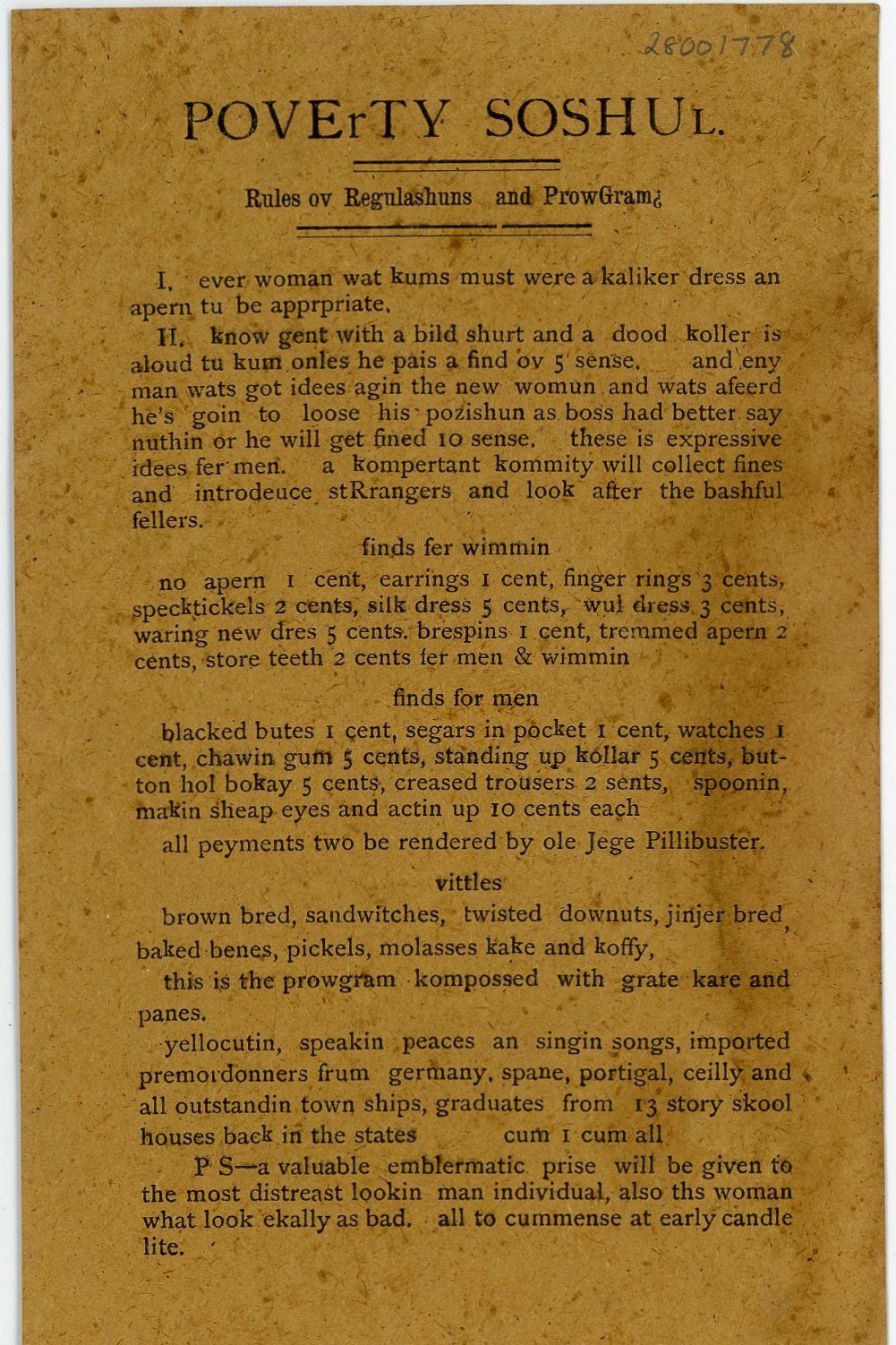 At fundraisers, like the one Tripp threw, hosts imposed fines on those who came dressed with excessive fanciness. The Chester Methodist Episcopal Church of Chester, New York, in an invitation for a poverty party in 1900, announced that men would be fined for coming with "oiled hair or wacksed mustash," "sigars in pocket," or if they were "karrying a kane." Women would be fined for wearing a "wool dress," a "hat with flours or fethers," or a "boka" (bouquet).
Design historian Beverly Gordon hypothesizes that "dressing down," as people did at poverty parties, "must have brought on the same kind of titillating feeling that was activated by putting on an exotic or otherwise risqué outfit." Gordon adds that "males were more likely to agree to come in costume to a 'tramp,' 'poverty,' or 'rag' party than they were to most other types; they seem to have been more comfortable appearing as raggedy than as picturesque."
By 1900, the magazine of the St. Louis Republic thought the theme was already passé: "Nearly everyone knows about 'poverty parties' and 'tacky parties' where the guests are arrayed in the most absurd old clothes they can find." But a party at the home of one Estelle Brauckmann—a surprise "planned by some of Miss Brauckmann's friends to celebrate her return from a six months' absence in the East"—was different.
The magazine singled out this particular poverty party because the guests "spoke to each other in delightful Irish brogue, the very accents of which make one good-humored and kindly." Talking like an Irish person seemed to assuage people's inhibitions and anxieties: "There were no wall flowers; nobody was jealous because some other man was talking to his girl. There was a smile on every face."
Brauckmann's party had aftereffects for the lives of actual "poor" people: "Maids of different nationalities are in great demand of the households of those who attended the party, and the young ladies and gentlemen of those families are studying character dialect with the same assiduousness that French, Spanish, and German are studied by those who contemplate foreign trips," the Republic wrote. One wonders what these "maids" must have thought of their young employers' sudden interest.
This report of the loose and fun atmosphere at Estelle Brauckmann's welcoming-home party highlights the most disturbing aspect of the Gilded Age's poverty parties. Well-to-do guests enjoying the social release of dressing down and speaking in dialect demonstrated what has to have been a core belief of theirs: that people in poverty, free of the constraints of polite society, were having more fun.
The practice of "poverty parties" was not without its contemporary critics. In her Good Times for Girls, a 1920 book of activities for teenagers published a few decades after the parties first became popular, author Mary Eliza Moxcey cautioned: "It will be wise to use this [poverty party concept] only as a preliminary to some real service that will alleviate poverty. … Care must be taken that the guests are not made to feel that poverty is something to be played at and taken lightly. … there should be outlet provided for the sympathy aroused for those who have been deprived of what should be theirs."
The poverty party has had an afterlife, thanks to Southern sororities and fraternities. Historian Anthony James' essay about fraternities and traditionalism at Southern universities in the post-WWII era, when GI Bill enrollment changed the socio-economic makeup of the student body, argues that at universities like Alabama and Ole Miss, "poverty parties" and "unemployment parties" "reinforced notions of Greek privilege." Poverty parties thrown by these richer undergrads of the '40s and '50s retained some of the characteristics of their early-20th-century forebears—"prospective dates to the 1950 Ole Miss Kappa Sigma 'poverty party' received invitations on old brown paper bags," and at an 1947 "unemployment party" at that university, guests "stood in a bread line to get hot chocolate and doughnuts."
Nor has the tradition completely died out. Sara Bir, blogging on HuffPost, found a mention of a "poverty party" in an anthology of ideas for parties published in 1973 by the sorority Beta Sigma Phi. As recently as 2015, according to one blogger, a fraternity at the University of Missouri held a "Poverty Party," with guests wearing clothes from Goodwill and posting Instagrams: "Just a couple of kids living the double-wide dream."
Thanks to historian and curator Mitch Fraas, who recently shared the D.W. Tripp and Chester Methodist Episcopal Church invitations on Facebook.