Hundreds of people attended a funeral Saturday for a Palestinian journalist in Gaza who was killed by Israeli fire while he was covering a demonstration at the Gaza border on Friday. Videos and photos show that Yasser Murtaja, 31, was wearing a blue and white flak jacket labeled "PRESS" across the front and was holding his camera when he was shot just below the armpit. He was one of six journalists injured during the Friday demonstrations. The Israeli military vehemently denied it targeted journalists but could not explain Murtaja's death. The Israeli Defense Forces "does not intentionally fire on journalists. The circumstances in which journalists were hit, allegedly by IDF fire, are unknown to us and are being examined," an IDF spokesperson said.
"We were filming as youths torched tires. We were about 250 meters (820 feet) from the fence," freelance photographer Abu Amra told Reuters. "Israeli forces opened fire and injuries began. Yaser and I ran to film when suddenly Yaser fell to the ground."
At least nine Palestinians were killed and 491 others were wounded by Israeli troops in what was the second mass protest at the border in eight days. This time protesters sought to cloak themselves by burning lots of tires and using mirrors to reflect the sun into the eyes of soldiers. The Israeli military justified its response by saying that "several attempts have been made to damage and cross the security fence under the cover of the smokescreen created by the burning tires that the rioters ignited." The Israeli army estimated that some 20,000 people participated in the Friday protest, which was about half of the size of last week's demonstration. Hamas says the fear of smoke inhalation from the burning tires likely kept many people away from the protest.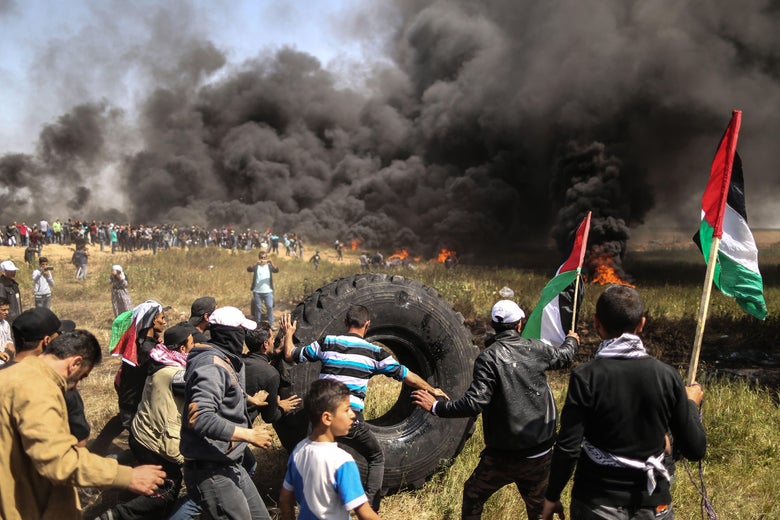 The deaths from Friday's protest mean that at least 31 Palestinians have been killed by Israeli fire since last week, according to the Associated Press count. Hamas, the militant group that rules Gaza, has called for a series of protests until May 15, which Palestinians know as "Nakba Day" or "Day of Catastrophe," marking the day after the date of Israel's 1948 founding.