Last week, the Trump administration announced plans to add a new question to the U.S. census. In 2020, the nationwide survey will ask people to mark down whether they are citizens—a seemingly minor change that will have far-reaching implications on legislative redistricting and, thus, U.S. politics and policy for years to come. For one glimpse of the ripple effect of redistricting on everyday life, look to Ohio, where legislators have passed a host of restrictive policies on abortion in defiance of voters' actual views on the subject.
The state is generally regarded as politically purple, a proverbial toss-up in presidential elections. Donald Trump's 8-point margin of victory in 2016 was the widest in nearly three decades. Before Trump, Barack Obama won the state twice, and George W. Bush won it twice before that.
But at the state level, Ohio has emerged as a conservative force on the issue of reproductive rights, putting itself at the vanguard of extreme anti-abortion legislation. In late 2016, the state Legislature passed what's known as a "heartbeat bill"—a ban on all abortions performed after six weeks' gestation, before many women even know they're pregnant. If Gov. John Kasich hadn't vetoed it in favor of a 20-week ban, it would have been the most extreme abortion restriction in the country. Earlier this month, a federal judge blocked an Ohio law that would have subjected doctors to felony charges if they perform an abortion sought because the fetus has a high probability of being born with Down syndrome. Ohio restrictions on medication abortions passed in 2011 have resulted in more doctor's visits, more side effects, and greater need for medical intervention for women who choose this otherwise very safe route. And according to a 2013 law, a woman who wants an abortion in the state must submit to an ultrasound. If the ultrasound detects fetal pole cardiac activity, her doctor must ask if she'd like to listen to it or see the image.
Now, the Ohio state Legislature is considering a law that would require abortion clinics to give fetal tissue a formal burial or cremation. The bill mirrors those previously passed in Indiana and Texas, both of which were later blocked in court. Twenty legislators have also signed on to a total abortion ban, without even an exception to save the life of the pregnant woman. If passed and signed by the governor, women who get abortions and doctors who perform them could be charged with aggravated homicide, a capital offense. Few people in the modern anti-abortion movement are willing to argue that women should be put to death for getting abortion care. Twenty of them are serving today in the Ohio state Legislature.
There's little evidence that Ohio voters as a whole hold such deeply held views against abortion. Obama captured the state twice, running as a proudly pro-choice candidate, while Bush also won twice running against a woman's right to choose. The state elected a pro-choice U.S. senator, Sherrod Brown, in 2006, and an anti-choice U.S. senator, Rob Portman, in 2010, then re-elected Brown in 2012 and Portman in 2016. According to a 2014 Pew survey, Ohio voters are evenly split in their views of abortion rights, and 63 percent of Ohioans polled in 2015 said they'd be less likely to support a presidential candidate who wanted to ban all abortions. The same poll found that voters in the state opposed by a 14-point margin the recently passed law banning abortions related to Down syndrome.
So, how did Ohio become home to some of the country's most extreme anti-choice legislation? The answer seems to be a combination of partisan engineering and a one-woman wrecking ball who has forced vulnerable Republican legislators to heel on the issue.
When I put the question to Kellie Copeland, the executive director of NARAL Pro-Choice Ohio, she gave a rueful laugh and responded with one word: "gerrymandering." Republicans currently hold supermajorities in both chambers, with about three-fifths of state lawmakers identifying as anti-choice. "The people in the Legislature, for the most part, they don't look like the population, they don't think like the population," Copeland said. "The gerrymandering has been so bad in Ohio that I think it's actually disenfranchised voters, because the politicians have picked their constituents instead of the other way around." Even people in Ohio who oppose abortion rights don't usually support full-on bans, she continued, especially without exceptions for rape, incest, and the health of the pregnant person. Their elected representatives, on the other hand, do.
This legislative session, both chambers comprise the largest one-party majorities in the state's history. Republicans hold 24 seats in the 33-seat Senate and 66 in the 99-member House. The party first claimed a supermajority in 2012, but the bigger shift came in 2010, when the Democrats lost a whopping 13 seats in the House, handing control of the chamber to Republicans in the crucial election before the state maps would be redrawn. Anti-gerrymandering advocates place much of the blame for this power shift on REDMAP, a wildly effective Republican strategy that flipped a number of statehouses from blue to red ahead of the 2011 redistricting process by launching dark-money campaigns against no-name state legislators or those who'd assumed their seats were safe. When it came time to set the new Ohio state legislative districts in 2011, the Republicans were in control, and they drew the map to their liking.
According to a Dayton Daily News analysis, there were only 20 competitive state House districts out of 99 in the new 2011 map, and only seven competitive state Senate districts out of 33. The one Democrat on the board responsible for drawing the map said at the time that it "quarantined" Democrats into just one-third of the state legislative districts despite the fact that those voters made up around half the state's population. (The state's congressional map includes a gerrymandered district so famous it now has a name: the Snake on the Lake, which runs from Cleveland to Toledo on the shore of Lake Erie. In one spot, two portions of the district are connected only by a bridge over the water.)
"A natural consequence of really safe elections is … our state reps and our state senators only really have to worry about the primaries," said Catherine Turcer, the executive director of Common Cause Ohio, an advocacy group that works on redistricting reform. "And if they only have to worry about the primary, they're much more likely to go to the extremes, because they can easily be primaried on the left or primaried on the right. It leads to extreme dysfunction." Turcer said Republican legislators in Ohio, safe in red districts and trying to fend off further-right primary challengers, have become preoccupied with pro-gun and anti-abortion legislation while neglecting important issues that better lend themselves to bipartisan solutions, such as improving schools and addressing Ohio's infant mortality rate, one of the 10 worst in the nation.
Conservative activists have been eager to exploit that dynamic. The most conspicuous has been Janet Porter, a prominent right-wing activist who runs Faith2Action, an organization that has been so aggressive in its crusade that the Southern Poverty Law Center has labeled it a hate group. Porter was dubbed "the architect of the 'gay conversion' campaign" by the New York Times in 1998 (she was Janet Folger at the time), and she was in the national spotlight again last year, when she defended Senate candidate and accused child molester Roy Moore on CNN by congratulating pregnant anchor Poppy Harlow on her "unborn child." Moore would "stand for the rights of babies like yours in the womb," Porter said, "where his opponent will support killing them until the moment of birth."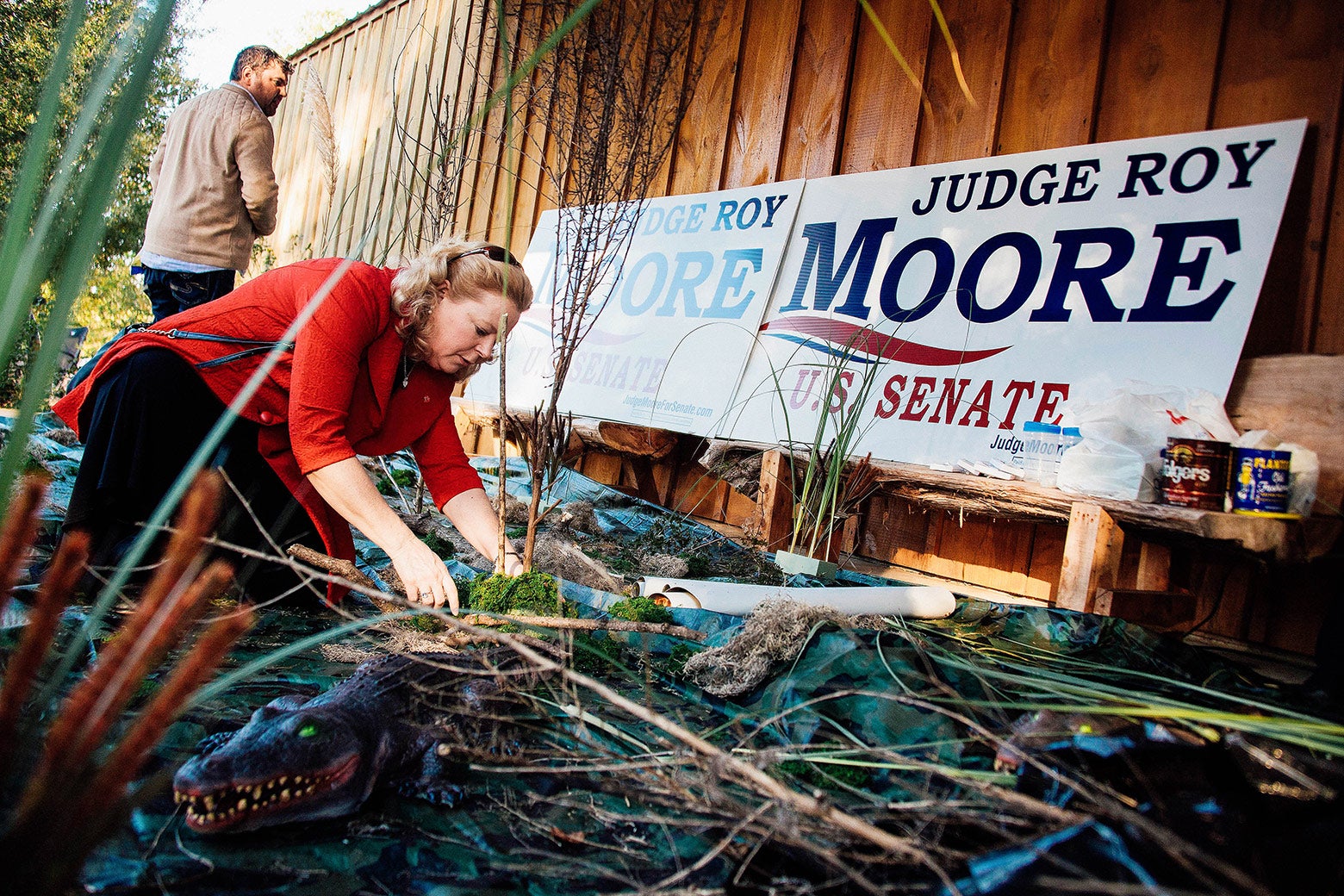 In Ohio, Porter pushed for the state to become the first to ban the procedure anti-abortion activists call "partial-birth abortion." She also wrote and aggressively lobbied for the "heartbeat bill" that kept popping up in the Ohio Legislature for years before making it to the governor's desk in 2016. (Last year, she convinced Rep. Steve King of Iowa to introduce the same legislation in Congress.) Kasich's veto of the "heartbeat bill" seemed to allay fears about a total abortion ban in the state, but Copeland, the Ohio NARAL director, cautions against dismissing the proposal as an impossibility. She believes lobbying from NARAL and other reproductive rights advocacy groups helped convince Kasich that signing the six-week abortion ban would have been bad for his future career.
But Kasich's term is up in January, and a pitched primary for the Republican nomination to replace him has seen both front-runners moving further to the right. Ohio Attorney General Mike Dewine has been a vocal fan of Jeff Sessions, and Lt. Gov. Mary Taylor backed the successful bid of a far-right Trump supporter, Jane Timken, to replace the more moderate chairman of the state Republican Party. Both candidates appear to be battling over who can be the least accommodating of abortion rights. Taylor has already said she would have signed the six-week abortion ban; Dewine recently signed an amicus brief supporting the Trump administration's efforts to force undocumented teenagers to carry unwanted pregnancies to term. "Some people aren't taking this [total abortion ban] bill that seriously," Copeland told me. "But when you look at it through that lens, I don't know how you can't."
And even if the next Ohio governor thinks it politically imprudent to sign a complete abortion ban, the Republican Party could still pass it with its veto-proof majorities in the Legislature.
Those majorities appear to be safe, for now. The League of Women Voters of Ohio found that only two of the 99 state House races turned out differently than the political index predicted in the 2012 race, and only three did so in 2014. In 2014, House Republicans got 57 percent of the total votes in the state but won 66 percent of the seats in the House. That 9-point vote-to-seat gap increased to 10 points in the 2016 election. An Associated Press report estimated that the map, as drawn, gave Republicans five more state House seats than they would have gotten with a neutrally drawn map. A 2014 report from University of Chicago law scholars named Ohio's state legislative map as one of the worst in the country, an example of "uncommonly severe gerrymandering." "The mapmakers, in many ways, have had more say in who gets elected than the voters in Ohio," said Catherine Turcer of Common Cause Ohio.
That may change after the 2020 census, when new districts will be drawn. Turcer is currently traveling the state to gin up support for the Fair Districts = Fair Elections amendment, a redistricting reform measure that would require support from three-fifths of the entire Legislature, including 50 percent of the minority party, to certify a district map for the full 10 years. (Otherwise, it would expire after four.) In a rare feat of bipartisanship, the Ohio state Legislature approved the measure with near-unanimity, and voters will determine its fate on their primary ballots in May. In 2015, voters approved the reform initiative for state legislative redistricting; the new ballot measure will apply the same standards to congressional redistricting.
The 2015 ballot initiative was a monster success for Turcer and her peers—Ohioans approved the measure in all 88 counties, with 71.5 percent voting in favor overall. Turcer says she's cautiously optimistic about the May vote, which, with its impact on congressional seats, will have national implications. "I'm hopeful, because no matter what, we are a purple state. And if we all vote as a whole on something, we look for bipartisan, reasonable solutions," she said. "We're tired of one party marginalizing the other. We'd like to participate in real elections."