Before Monday's hearing in a case related to the federal raid of his office and hotel room, Donald Trump adviser/lawyer Michael Cohen's attorneys indicated that Cohen had three clients in 2017: Trump, Republican fundraiser Elliott Broidy, and a mystery third person who wished to remain anonymous.
Given that Cohen's work for Broidy involved a Playboy model, an extramarital affair, and an alleged abortion—and that his work for Trump involved similar alleged themes, minus the abortion—it stood to reason that the third client had good reason to want to remain anonymous. Well, the name of the third client was just disclosed. And … yes. My God:
That's right, the same Sean Hannity who has been complaining about the investigation into Trump's potential legal misconduct—in which Cohen was a key figure even before the Stormy Daniels story broke—for more than a year without mentioning that Cohen is his lawyer. (Update, 4:40 p.m.: One of his lawyers.) Here's how he reacted to the Cohen raid: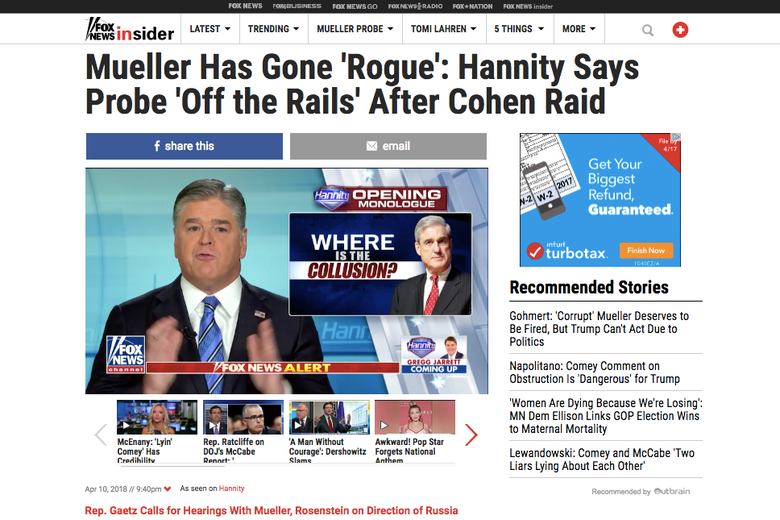 Lol. LOL! Aside from the sheer shock value, it is interesting to consider how this fits into previous reporting regarding Cohen's tight professional relationship with the publisher of the National Enquirer, which, like Hannity, has given Trump very favorable coverage and has been aggressive in attacking his political rivals. For all the talk that emits from the right wing about liberal media bias, we appear to be learning here about a right-wing/media alliance that involves not just bias but literal legal and business partnerships.
Also, for what it's worth:
And:
We'll see! For what it's worth, Hannity's statement—at least to this layperson, though Internet lawyers agree—would seem to be inconvenient to Cohen, who is currently trying to prove to a judge that some of the materials seized in the raid should be protected by attorney-client privilege despite the degree to which the bulk of his work for Trump, at least, evidently involved brokering business transactions and performing public relations tasks rather than providing legal services.
This post has been updated with new information.