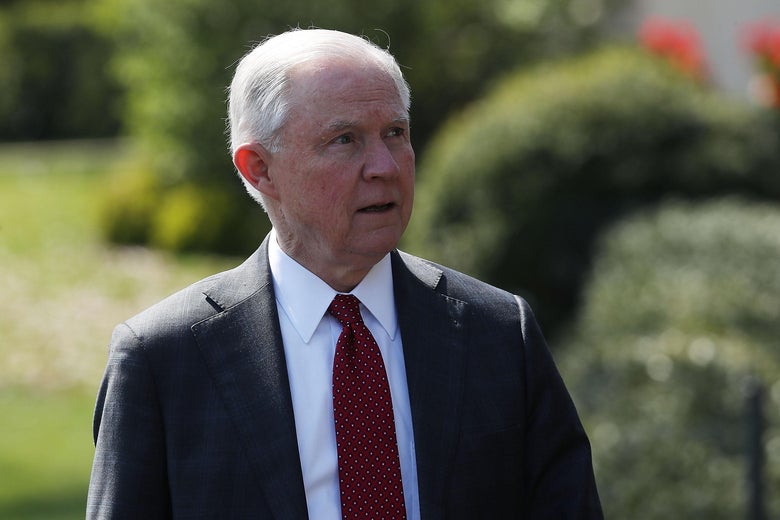 Attorney General Jeff Sessions told White House counsel Donald McGahn last weekend that if President Trump fired his deputy, Rod Rosenstein, he may have to leave his job, the Washington Post reports. Sessions gave the warning as the Trump's fury at Rosenstein soared after the approval of the FBI raid on the president's personal attorney, Michael Cohen.
Although he couched it in uncertain terms, Sessions' warning "underscores the political firestorm that Trump would invite should he attempt to remove the deputy attorney general," notes the Post. If Sessions were to leave, others would certainly follow, potentially creating "a moment of profound crisis for the White House."
It also isn't clear exactly how seriously Sessions meant his words to be taken. One source familiar with the conversation told the Post that Sessions didn't really mean it to sound like a threat, but merely to express the "untenable position that Rosenstein's firing would put him in." Plus it seems Sessions is none too happy about the way Trump has been treating Rosenstein but really can't do much about it considering he's not exactly in great terms with the president.
The Post piece contains a little interesting detail that gives insight into how Trump treats members of his administration. We already knew that Trump liked to refer to Sessions as "Mr. Magoo" but now it turns out he also has a nickname for Rosenstein. Trump reportely likes to call the deputy attorney general Mr. Peepers, who was a character from a 1950s sitcom.
---