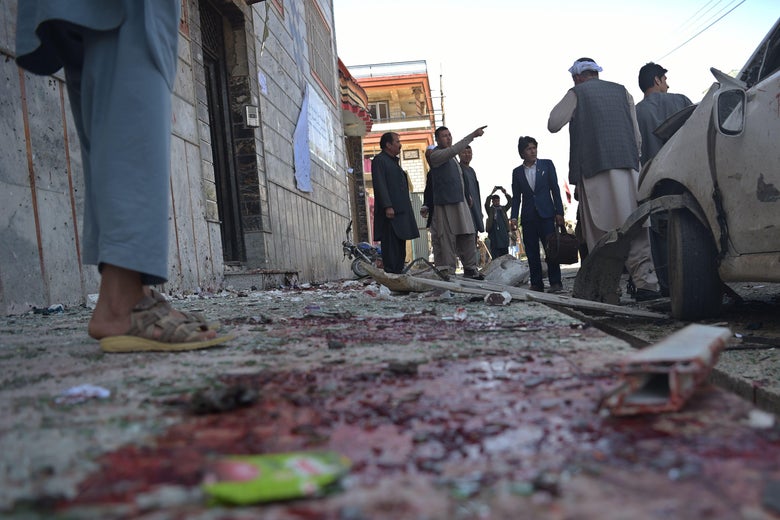 A suicide bomber struck a voter registration center in the Afghanistan capital on Sunday and killed at least 52 people. More than 100 were injured in the attack that targeted people who were waiting outside the center in Kabul. ISIS immediately claimed responsibility for what was the deadliest attack yet that seemed to specifically target preparations for the long-delayed parliamentary elections that are scheduled to take place in October. In a message, ISIS said "our martyrdom brother" targeted Shiite "apostates."
"They all wanted to vote," Afghan shopkeeper Ali Rasuli, 26, told the AFP. Rasuli was standing at the end of a long line of people waiting to pick up their national ID certificates when the blast went off. All those people in line were merely following the instructions form government officials who have been pushing people to register at more than 7,000 polling centers across the country.
Sunday's bombing was the deadliest in Kabul since an ambulance stuffed with explosives blew up and killed nearly 100 people.
The Afghan government quickly condemned the attack but insisted it shouldn't deter from the goal of going forward with the elections. "Our resolve for fair and transparent election will continue and terrorists won't win against the will of the Afghan people," Afghanistan's chief executive Abdullah Abdullah wrote on Twitter. U.S. Ambassador John Bass said the Kabul attack was "senseless," adding that it "shows the cowardice and inhumanity of the enemies of democracy and peace in #Afghanistan."
---