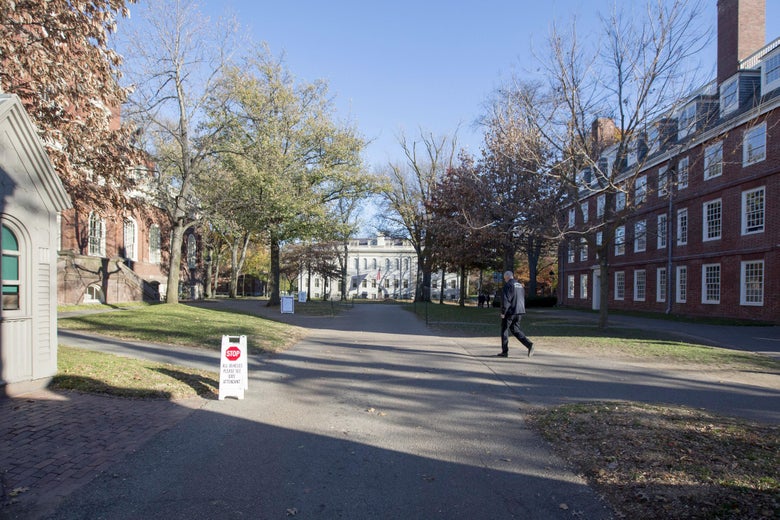 A black Harvard student who was found wandering around naked and irrational was struck down by police and repeatedly punched Friday night, according to a video that circulated on social media after the incident, sparking another outcry about police violence against black men.
At least seven people called police to alert them about the 21-year-old student, identified as Selorm Ohene, according to the Washington Post. According to police, an acquaintance of his said he had taken drugs earlier that evening.
In the video, police can be seen confronting Ohene. According to NBC Boston, an officer can then be seen punching the student in the stomach while pinning him down. In a photo published by NBC, Ohene left a small pool of blood on the street after his arrest. According to the Harvard Black Law Students Association, other students heard Ohene screaming for help. He was charged with disorderly conduct, indecent exposure, resisting arrest, and assault.
In a statement emailed to the university community on Monday, Harvard President Drew Faust called the incident "profoundly disturbing" and promised to work with the city of Cambridge to discuss concerns Harvard students and staff had about the city's police. "A Harvard student was in obvious distress, and we need to understand how that came to be and whether we could have interceded earlier and more effectively," she said. "We have been witness to the use of force against a member of our community, which, regardless of circumstances, is upsetting and compels the search for a deeper understanding."
Cambridge's mayor agreed that the incident was "disturbing," according to the Boston Globe, and said police were conducting an internal review. But police have defended their response, according to the Post, and Cambridge's police commissioner said in a Monday news conference that the officers had tried repeatedly to calm Ohene down and that he had responded with "opposition and hostility," moving toward the police with clenched fists. Striking the student was warranted, he said, because Ohene was "flailing, kicking" and the officers could not grab his arm in order to handcuff him. The six officers involved remain on duty.
---