Four former presidents, three former first ladies, and the current first lady were part of a group of some 1,500 people who gathered at St. Martin's Episcopal Church in Houston for the invitation-only funeral service of former first lady Barbara Bush, who died Tuesday at 92. Her husband, former president George H.W. Bush and her oldest son, former president George W. Bush, sat at the front of the church. Former presidents Bill Clinton and Barack Obama, along with former first ladies Hillary Clinton and Michelle Obama, were seated in the same pew with First Lady Melania Trump.
"She was our teacher and role model in how to live a life of purpose and meaning," former Florida governor and 2016 presidential candidate Jeb Bush, who was one of three eulogists Barbara Bush selected herself before dying. Jeb Bush got lots of laughs when he joked about his mother's way of not mincing words to get her way. "She called her style a benevolent dictatorship, but honestly it wasn't always benevolent," he said.
Jon Meacham, who wrote a biography of George H.W. Bush, uttered what will likely be the most quoted line from the funeral, calling Barbara Bush "the first lady of the greatest generation." Susan Garrett Baker, the wife of George H.W. Bush's secretary of state Jim Baker, praised Barbara Bush's warmth. "What the world may not have seen was what an amazing, caring and beautiful friend that Bar was to so many of us," she said during her eulogy. She also called her "the secret sauce of this extraordinary family."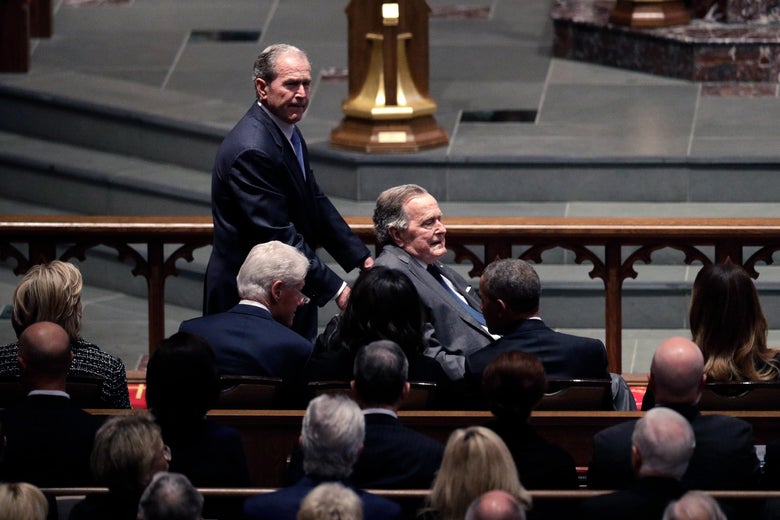 President Donald Trump didn't go to Houston because he allegedly didn't want to "avoid disruptions" out of respect for the Bush family. Yet the New York Times' Maggie Haberman pointed out on Twitter that "having @potus there was not something the Bushes wanted." Trump did take to Twitter to say that his "thoughts and prayers are with the entire Bush family." Minutes before the funeral service was set to start Trump said he was "heading to the Southern White House to watch the Funeral Service of Barbara Bush. First Lady Melania has arrived in Houston to pay our respects.
Will be a beautiful day!"
When the service ended, Bush's grandsons served as pallbearers as George W. Bush pushed his father on a wheelchair right behind it.  The family then drove to the grounds of the George H.W. Bush Library and Museum at Texas A&M University, where Barbara Bush was buried next to her daughter Robin, who died of leukemia when she was three years old.