On Jan. 24, it was announced that former White House adviser and Breitbart chairman Steve Bannon had accepted an invitation from University of Chicago business school professor Luigi Zingales to participate in a debate on campus. "I can hardly think of a more important issue for new citizens and business leaders of the world than the backlash against globalization and immigration that is taking place not just in America, but in all the Western World," Zingales wrote in a statement. "Whether you agree with him or not (and I personally do not), Mr. Bannon has come to interpret and represent this backlash in America."
Zingales and university administrators have, predictably, spent the past several weeks dealing with a backlash of their own. Over 1,000 alumni, more than 100 faculty members, the executives of student government and nearly a dozen student groups have voiced their opposition to the event in various mediums. "[W]hen speakers who question the intellect and full humanity of people of color are invited to campus to 'debate' their worthiness as citizens and people, " a faculty open letter read, "the message is clear that the University's commitment to freedom of expression will come at the expense of those most vulnerable in our community." Off-campus, many have scorned those protesting the invitation. "The school has a long tradition of valuing free speech and thought, recognizing that a university is — wait for it — a place of ideas and learning," the Chicago Tribune's editorial board wrote after the announcement. "The 'cure' for repellent ideas, school President Robert Maynard Hutchins said generations ago, 'lies through open discussion rather than through inhibition.' "
As both the faculty letter and the Tribune alluded to, the University of Chicago has for many years cultivated a reputation as a bastion of free speech and academic freedom, which, in its rendering, encompasses both a right to free expression in academic settings and a professed commitment to political neutrality in nearly all matters. University officials have long taken immense pride, for instance, in the university's refusal of student demands to divest from South Africa during apartheid in the 1980s. In 2014, the university convened a Committee on Freedom of Expression, which issued a report that declared "it is not the proper role of the University to attempt to shield individuals from ideas and opinions they find unwelcome, disagreeable, or even deeply offensive." Two years later, the university brought that stance to bear on the national debate over political correctness on America's campuses when Dean of Students John Ellison sent a letter to incoming students affirming both the university's commitment to free expression and its opposition to ideological "safe spaces."
The letter was met with broad and ecstatic praise from prominent voices in the press, who—like the Tribune—have come to see Chicago as a corrective to the protest movement that reputedly rules over other college campuses. The Wall Street Journal named Chicago "the free speech university" in a February profile of University President Robert Zimmer, who was himself called "America's Best University President," in an October New York Times column by alumnus Bret Stephens. Readers expecting a piece so named would make reference to research or academic work accomplished under Zimmer's tenure were surely disappointed—it did not. Such an omission would have been odd 10 years ago. It's unremarkable today amidst a discourse that suggests the sum total of a university's value as an intellectual institution is reducible to its willingness to host controversial speakers like Bannon, or the white nationalist Richard Spencer, who Zimmer said was welcome to speak at Chicago in the months after the "safe spaces" letter.
By that standard, the University of Chicago has excelled under Zimmer, having burnished its image as a free speech redoubt at a time when colleges are asking students to plunge themselves into ever-increasing debt to attend putatively unique institutions. The free-speech ethos has become a central part of the university's branding to prospective students and has been cited by donors as they shower the school with hundreds of millions of dollars in new funding. That image has also managed to overshadow changes afoot in both campus and academic life at the university, and it has signaled a shift in our collective understanding of what it means to be an intellectually serious university.
The elevation of Chicago's free speech posture has come, perhaps not coincidentally, on the heels of a remarkable leap in the university's prominence and prestige. Ten years ago, the University of Chicago was ninth in U.S. News and World Report's ranking of American universities. Today, it's ranked third—tied with Yale and a notch above Columbia, MIT, and Stanford. This constitutes a remarkable jump into the very top tier of a list characterized by and respected primarily for its stability. The story of its climb begins in 2006, when the university announced it would begin accepting applicants through the Common Application system used by hundreds of colleges nationwide. At the time, the decision was taken by many students, faculty, and alumni as indicative of a shift in the university's culture. Chicago had until that point exclusively taken submissions through a form that had been called the "UnCommon Application" which featured light-hearted and notoriously odd essay questions: In 1997, for instance, applicants were asked to propose a theory of Elvis sightings incorporating "the metric system, the Mall of America, the crash of the Hindenburg, Heisenberg's uncertainty principle, lint, J.D. Salinger, and wax fruit." Chicago's retention of the UnCommon Application as a supplemental form did little to quell protests on campus and in the pages of student paper the Chicago Maroon, where an editorial that fall warned that the adoption of the Common Application could signal Chicago's transformation into a "generic elite private university."
These changes took place under Robert Zimmer, who became president of the college in the summer of 2006 and spoke frequently about bringing in new applicants. For years, the university's academic reputation stood as a challenge to the notion that the selectivity of peer colleges such as Harvard and Yale said anything meaningful about the quality of education being offered. During the early 1990s, the university accepted over 70 percent of applicants willing to brave Midwestern winters and a Core curriculum dense with Great Books to join the university's community of scholars. Boosting the rate of applications has lowered Chicago's acceptance rate, one of the metrics U.S. News & World Report uses to determine its rankings. By 2007, the rate had declined to 40 percent. Two years later, the school hired a direct-marketing firm to overhaul its outreach to prospective students, and by 2017, the incoming class included over 27,000 applicants, who were accepted at a rate of just 8.7 percent. (Full disclosure: I was a member of the undergraduate Class of 2015.) Granted, the university's move to the Common App has diversified its incoming classes, which have also grown in size in tandem with Chicago's reputation amongst high school counselors and administrators at other institutions. The opinions of both collectively constitute over 22 percent of U.S. News' ranking score. "You listen to cocktail parties in certain circles," higher education analyst Jeffrey Selingo told Chicago magazine in 2013, "and you'll hear 'The University of Chicago is really on the rise.' "
Those same circles have been talking up Chicago's messaging on speech in recent years. As of January, thirty-four colleges and universities have adopted or affirmed the statement on free expression drafted by the school's Committee on Freedom of Expression, thanks in part to the work of the Foundation for Individual Rights in Education, a campus speech advocacy group that has campaigned for colleges to sign on to Chicago's resolution since 2015. In October, the university hosted 66 college presidents and provosts for a conference on free speech. According to documents obtained by the Maroon, the university initially planned to extend an open invitation to the "presidents and provosts from all US colleges and universities" and have former law professor Barack Obama deliver the keynote speech. The conference was closed to the press.
At other institutions, the need to grab the interest of potential applicants, high school counselors, and peer administrators alike has also fueled the proliferation of wild and costly projects like lazy rivers and spas at major colleges across the country. Chicago's ambitions in this regard have been more modest but no less expensive. In 2016, the university shuttered five dormitories and moved residents to a new, $148 million megadorm called Campus North. It has since has rolled out plans for a new 1,200-student megadorm with another dining hall and a new high-rise conference center. In 2016, the university projected a cost of $3.9 billion in total for its capital projects in Chicago and on its campuses overseas. Much of the recent spending has been financed by debt, which has attracted the scrutiny of credit ratings agencies. The university's credit was downgraded by Moody's in 2014 and by Standard & Poor's in 2016. Efforts at cost control led to cuts to academic budgets in 2016, and internal budget documents published by the Chicago Maroon included a warning that tuition dollars should not be "mismanaged" with excessive investments in "innovative" and "small" classes.
On campus, the administration's financial management has been sharply criticized by both faculty and students, including activists behind the campaign for a graduate student union. That unionization drive succeeded last year after an arduous fight in which the university contested the idea that graduate are employees with the right to unionize in the first place. Its case, simply put, was that the teaching, tutoring, and research graduate students do—all functions absolutely central to the academic life of any major university—aren't actually work. In fact, during National Labor Relations Board hearings, the university's attorneys issued a standing objection to every use of the word "work" to describe the labor of graduate students. "They are not working," university attorney Zachary Fasman interjected at one point. "They are teaching." In another exchange, Fasman argued that the graduate students couldn't be considered a real asset to universities because their research experiments often failed—as valuable and informative experiments obviously often do. In another, current executive vice provost David Nirenberg claimed that graduate students grading papers for professors was "not a relief" that could be considered helpful labor.
It seems reasonable to ask given all this—the rankings chase, the building spree, the devaluing of academic labor—whether the University of Chicago is, as some fear, turning into something rather like a "generic elite private university." More would likely be asking if the university weren't so successful in maintaining, in spite of it all, its reputation as a distinctive intellectual haven.
The school's free speech messaging has been central to that success, cementing a distinct identity for the university not just in the press and among the broad public, but among donors as well. "People I know really feel proud that Zimmer articulated those views so eloquently," billionaire alumnus and donor Joe Mansueto—namesake of one of the university's library buildings—told Crain's Chicago Business last month. "These are bedrock principles for the University of Chicago." After Ken Griffin announced a $125 million gift to the university in November, Quartz's Oliver Staley reported that the hedge fund CEO made the donation in part "because the university has been outspoken in its resistance to safe spaces and trigger warnings, eschewing policies on other campuses which Griffin sees as threatening free speech. In September, the American Enterprise Institute's Michael Rubin advised readers against making contributions to any other elite university. "[T]hose wishing to support universities' core missions can donate instead to institutions such as the University of Chicago," he wrote, "whose president has stood firm against the social and political trends buffeting so many other elite campuses."
Q&As with professional bigots like Steve Bannon, Milo Yiannopoulos, or Richard Spencer have not, traditionally, been experiences considered central to American college education, but they are increasingly what America's responsible adults—philanthropists, pundits, and parents of students—seem to want. The Ellison letter decrying "safe spaces" has proven particularly seductive in that regard. "You could call it a letter of warning: At Chicago, dear students, we put freedom of expression above tender feelings," read an editorial in the Chicago Sun-Times shortly after the letter was published. "You might also call it an invitation: Join us in a thrilling, if not always comfortable, exchange of ideas."
But, as is generally the case in national coverage of campus controversies, the flurry of articles and op-eds that followed the missive didn't sweat the details. When Ellison sent his letter, the university ran, and continues to run, a safe space program that, according to the university's Office of LGBTQ Student Life, "challenges oppression and provides support for LGBTQ students" in "welcoming physical spaces." Luckily for the university, the generally unremarked upon existence of its safe space program, and initiatives like the creation of a Bias Education and Support Team responsible for addressing "expressions that cause hurt or discomfort," suggest that P.C.-critical students, parents, pundits, and others can be wooed and wowed without ditching politically correct policies that have helped it reel in minority and activist students in its drive for applications. The latter group has, naturally, been put off somewhat by the university's recent posturing, but Chicago has done a rather impressive job thus far of having things both ways.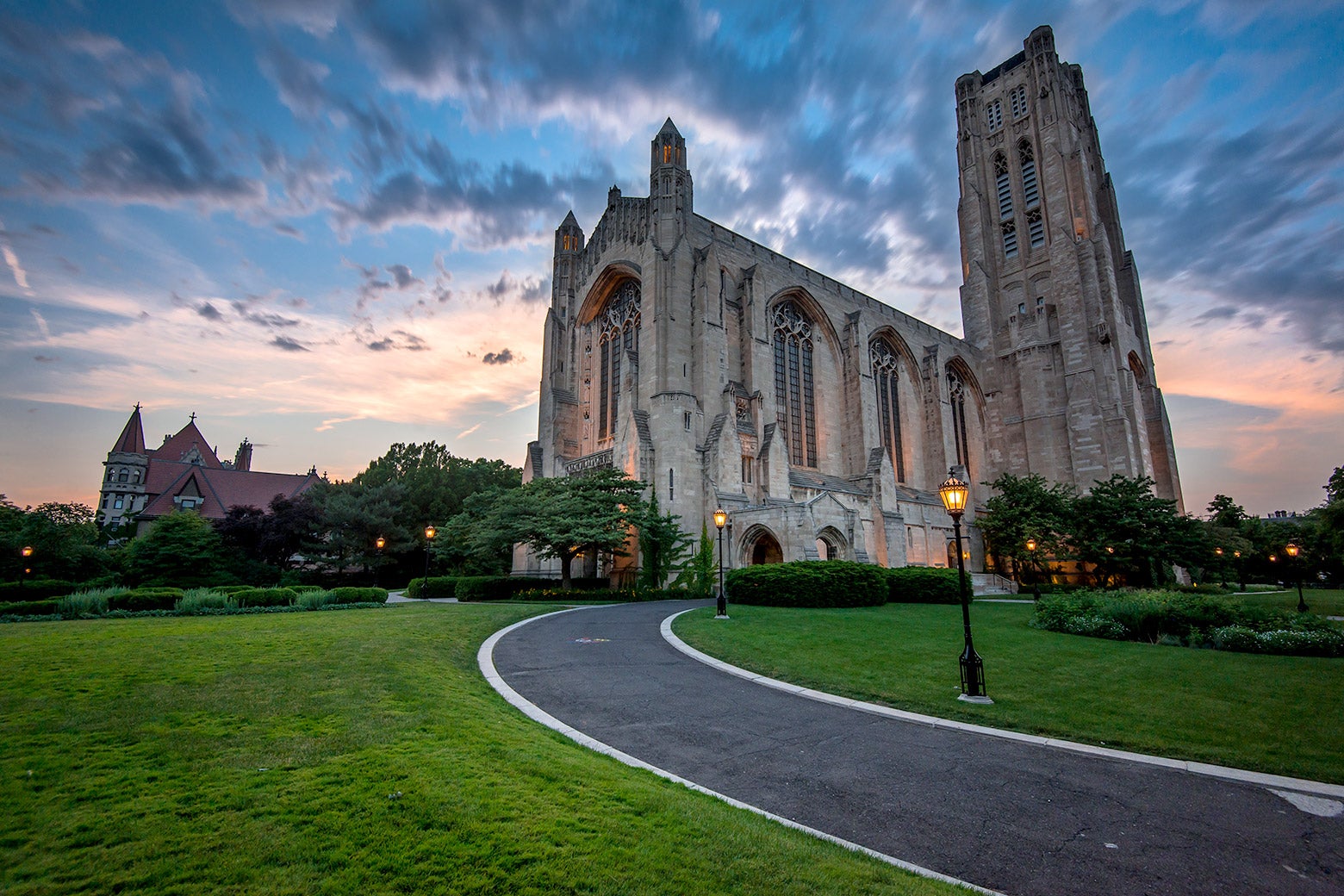 Even the university's speech advocates harbor a hazy, rarely admitted intuition that there are, in fact, practical and ethical reasons to turn away certain speakers and ideas. Last February, President Zimmer told the Wall Street Journal that he would undoubtedly permit white nationalist and university alumnus Richard Spencer to speak on campus if he were invited. In August, Spencer emailed law professor Geoffrey Stone—a First Amendment scholar and prominent free speech pundit—asking for an invitation. Stone had chaired the 2014 Commission on Freedom of Expression and had written previously that the "core obligation of a university is to invite challenge to the accepted wisdom." But Spencer—a walking, talking challenge to accepted wisdom if ever there was one—had his request for an invitation denied. "From what I have seen of your views," Stone replied, "they do not seem to me at add anything of value to serious and reasoned discourse, which is of course the central goal of a university."
In refusing Spencer, Stone said he would have defended the right to host such an event if someone else had taken Spencer up on his offer. But if it is true, as Stone has also written previously, that "spirited debate is a vital necessity for the advancement of knowledge," then educators at a university clearly have a responsibility not only to reject censorship but to strive to actively bring in, for discussion and debate, people advancing ideas the majority might consider unserious or unreasonable. The discursive rhetoric of speech advocates routinely implies that students can find, in views they deem ugly or distasteful, either learning opportunities or opportunities to strike argumentative blows against their moral opponents. Surely, both would have been true of an event featuring Spencer.
A similar hedge can be found in Zingales' response during a town hall in February to a student who asked whether he would have invited Adolf Hitler. "I think I would distinguish early Hitler from later Hitler," he replied. "I think it would have been very useful to know ahead of time what he was about." If it is true that there may have been good strategic or intellectual reasons for students to hear the views of an early Hitler and additionally true, as Zingales has said, that inviting Bannon is worthwhile because his views have gained wide currency, then it obviously follows that Hitler would have also merited an invite during a period when his ideas and his regime were actually upending and reshaping the Western world. Zingales' distinction can only be explained by a moral rejection of what "late Hitler" was doing—namely, slaughtering 6 million Jews. But the rules of the corner Zingales, Stone, and other critics of speech restrictions have painted themselves into frowns upon rejecting speakers simply because they are distasteful in some way. Zingales might not want to believe his arguments would have allowed Hitler to stage a Nuremberg on Lake Michigan. But that is precisely the logical extension of the arguments he's advanced in the case of Steve Bannon.
These equivocations reveal both opaque ethical boundaries and a sense that universities have a stake not only in the proliferation of ideas in the abstract, but also in the content of those ideas. That stake not only permits, but necessitates certain restrictions on speech—in classrooms, in journals, and throughout the academy, as the legal scholar and literary theorist Stanley Fish argued last year in an essay for the Chronicle of Higher Education. But the requirements of academic life are increasingly being overshadowed, in our notions about higher education, by the spectacle of controversial, high-profile speakers and other parts of what Fish called in his essay "the extracurricular scene."
"It's show business," wrote Fish. "A university would still be one if all it contained were classrooms, a library, and facilities for research. A university would not be one if all it contained was a quad with some tables on it, a student union with a food court, an auditorium and a bowling alley, a gymnasium with a swimming pool and some climbing walls."
Openness to professional racists and provocateurs, just as extraneous to academic life traditionally conceived as all the rest, remains the preoccupation of pundits who know very little and care still less about the actual state of American higher education—education here meaning not making students party to grunts and belches of white nationalists and contemporary phrenologists, but teaching, studying, research, and yes, debate amongst credentialed peers and students being trained in academic discourse. In his column on Robert Zimmer, Bret Stephens argued that free speech is "our salvation from intellectual mediocrity." Really, one could do considerably worse, in crafting a picture of "intellectual mediocrity," than sketching the puffy visage of Steve Bannon, a man whose primary accomplishment has been his work elevating a reality television star to leadership of the free world. Whatever else is happening to the university administratively, Chicago is still an institution that employs some of the best professors, lecturers, researchers, and former professionals in the world. Bannon's last conceptual heavy lift was devising a cockamamie conspiracy theory to defend a pedophile running for United States Senate.
Of course, Bannon and his former site Breitbart are best known as entry points into the ideology of the alt-right, whose missionaries have been stepping up efforts to recruit new followers on campus. A recent report by the Anti-Defamation League found that white supremacist propaganda had been distributed at 216 colleges between September 2016 and January 2018. In December 2016, University of Chicago officials announced that neo-Nazi stickers had been found on campus at locations including the Center for Identity and Inclusion, a meeting place for minority and LGBT students. A few days later, the group Atomwaffen Division claimed that it had visited and placed the stickers on campus. The group has, in recent months, been connected to five murders and a planned bombing. A more politically correct university might have, in light of this, questioned the prudence of publicly welcoming events that could draw a far-right element looking to fight with protesters or seeking recruits to their cause—like a Richard Spencer gig or, with Bannon, an appearance from a man whose primary contribution to American political discourse has been the promotion of a kind of soft-focus white nationalism. But the University of Chicago has clearly risen above such concerns.
In January, Zimmer reiterated his opinion on allowing Spencer and speakers like him to come to the university, during a CBS Sunday Morning segment on political correctness that aired just days before the Bannon invitation was announced. "Part of the way we operate is that we're a place where there's constant open discourse, constant expression, constant argument," he said. In a statement about the Bannon event, the university has declared it will uphold "the values of academic freedom, the free expression of ideas, and the ability of faculty and students to invite the speakers of their choice." The show must go on.