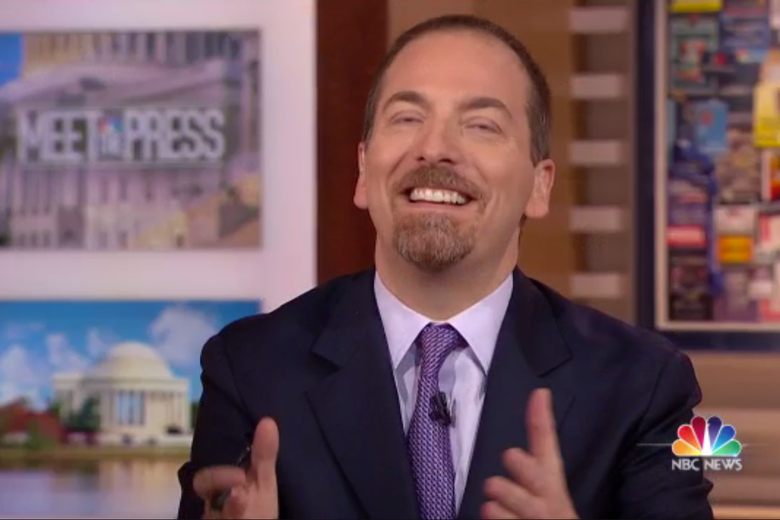 When NBC's Chuck Todd tried to get a straight answer out of Commerce Secretary Wilbur Ross on President Trump's announcements of tariffs on steel and aluminum he got a great example of Trumpian logic. At one point the words coming out of Ross' mouth were so hard to believe that Todd seemingly couldn't help but laugh.
It all began when Todd pointed out that many Republicans and business leaders were against the new tariffs. "Should we believe this is actually going to happen?" Todd asked during an interview on Meet the Press. Ross didn't hesitate and said that "you have to take the president at his word." Why is it that we should believe a president who has never been shy about changing his mind? "He made campaign promises," Ross said. "He's pretty well proven so far he intends to keep his campaign promises."
Todd let that obvious lie go but he really wanted to focus on the details. Are the new tariffs going to be implemented in the percentages Trump outlined? Ross would not give a straight yes-or-no answer. "Whatever his final decision is is what will happen," Ross said. So Todd read a little between the lines: "Meaning this isn't a done deal."
Ross pushed back at Todd's obvious conclusion but with a quote that is likely to go down in infamy as an example of the strange times we're living in. "I didn't say that. I just said what he has said he has said. If he says something different, it'll be something different. I have no reason to think he's going to change," he said.
That's when Todd seemingly couldn't hold it in any longer and laughed out loud. "What does this mean? You just said, 'Well, he may say this, and he may say that'." Ross was not having it and told Todd he was mistaken. "I said he is the one who makes the decision," Ross said. "He has made a decision at this point, 25 and 10. If he for some reason should change his mind, then it'll change. I have no reason to believe he's going to change his mind."
Lest anyone think this is a normal exchange between a public official and a journalist, Todd took to Twitter to comment on the interview. "Perhaps this should be a pinned tweet," he wrote.
---