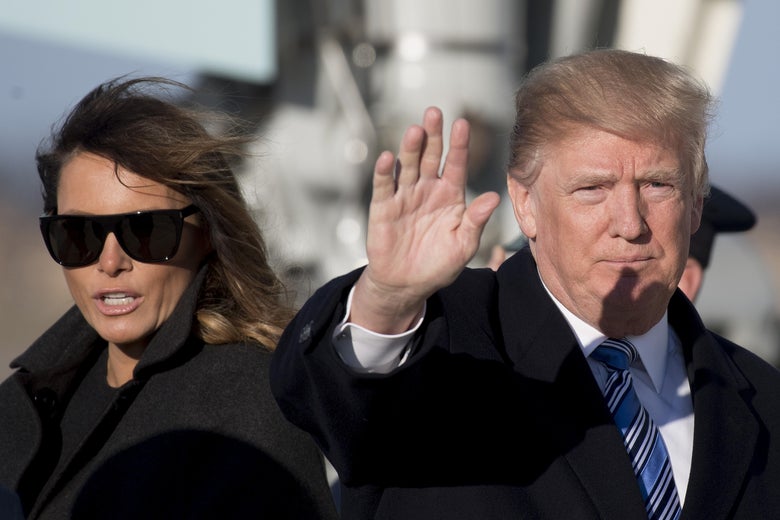 President Donald Trump has apparently decided that the best way to deal with allies who are disconcerted by his recent moves on trade is to threaten them via Twitter. In what very much looked like an effort to set the stage for a trade war, Trump essentially dared members of the European Union and others to retaliate against his moves. As European and Canadian leaders expressed shock over the decision to impose tariffs on steel and aluminum imports, Trump on Saturday threatened to hit European auto companies with tariffs as retaliation to any retaliatory moves.
With a series of tweets from Mar-a-Lago, Trump seemed to respond to foreign leaders who had expressed shock at his tariffs and vowed to respond in kind. Earlier in the week, Canada for one had vowed "to take responsive measures to defend its trade interests and workers." And shortly after Trump boasted that trade wars are "easy to win" European Commission President Jean-Claude Juncker warned the bloc could start targeting a variety of iconic U.S. products, including Levi jeans and bourbon whisky. "None of this is reasonable, but reason is a sentiment that is very unevenly distributed in this world," Juncker said.
Trump made it clear he would not give in to threats and was ready to push back. "If the E.U. wants to further increase their already massive tariffs and barriers on U.S. companies doing business there, we will simply apply a Tax on their Cars which freely pour into the U.S.," he tweeted. The United States imposes a 2.5 percent tariff on importing foreign cars and a 25 percent tariff on trucks and commercial vans whereas the European Union applies a 10 percent tariff on car imports, details the Washington Post.
In a separate tweet, Trump seemed to explain the reasoning behind his moves on trade, essentially saying that the United States keeps getting the short end of the stick. "The United States has an $800 Billion Dollar Yearly Trade Deficit because of our 'very stupid' trade deals and policies," Trump wrote. "Our jobs and wealth are being given to other countries that have taken advantage of us for years. They laugh at what fools our leaders have been. No more!"
This is not the first time Trump has displayed an unusual obsession with European car manufacturers, often focusing his ire on Germany, the biggest European exporter of cars to the United States. Last year, he threatened to impose a 35 percent border tax on imported automakers. "The Germans are bad, very bad. Look at the millions of cars that they sell in the US. Terrible," Trump allegedly said at a closed-door meeting. "We're going to stop that."
---