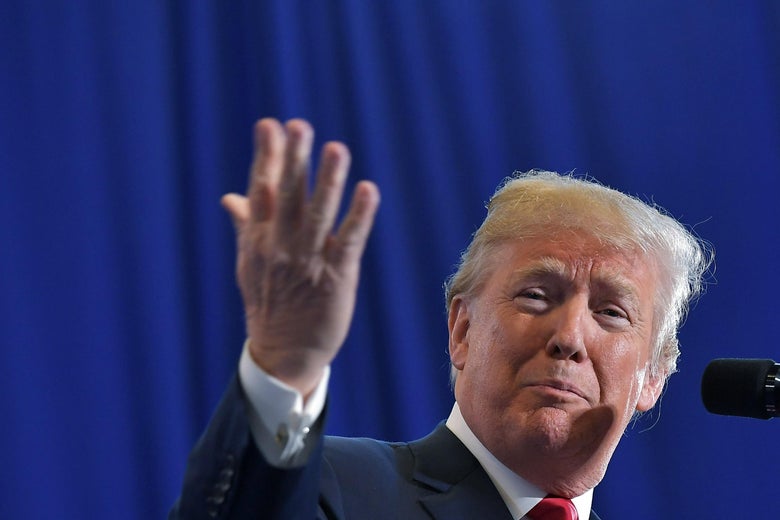 President Trump's strategic approach to the possibility of sitting down for an interview with Special Counsel Robert Mueller has vacillated from folksy "why not?" to "why on earth would I do that?" There's also been a healthy dose of: "ask my lawyers." Those lawyers, while taking a more cooperative approach to the administration's interactions with Mueller's team more generally, when it comes to the president of the United States sitting down with Mueller to discuss all things Russia, they've tried to minimize Trump's exposure. One problem: Trump's penchant for lying could, understandably, be problematic for his legal defense and, therefore, the future of his presidency. In order to further minimize the scope of a potential interview, Trump's lawyers have submitted "written descriptions that chronicle key moments under investigation," the Washington Post reported Monday.
From the Post:
The written materials provided to Mueller's office include summaries of internal White House memos and contemporaneous correspondence about events Mueller is investigating, including the ousters of national security adviser Michael Flynn and FBI Director James B. Comey. The documents describe the White House players involved and the president's actions… The records do not include Trump's personal version of events but provide a narrative of the White House view, the people said. Trump's lawyers hope the evidence eliminates the need to ask the president about some episodes.
Investigators have told Trump's lawyers the thrust of their questions fall into two categories: "What did he do?" and "What was he thinking when he did it?," according to the Post. The exact nature of Trump's sit-down continues to be negotiated, but appears to be increasingly likely to happen, barring Trump firing the special counsel. Mueller reportedly sent a list of questions to Trump's lawyers it was reported last week as part of the deal-making.
Support our journalism
Help us continue covering the news and issues important to you—and get ad-free podcasts and bonus segments, members-only content, and other great benefits.
Join Slate Plus
Join
---