The Impeach-O-Meter is a wildly subjective and speculative daily estimate of the likelihood that Donald Trump leaves office before his term ends, whether by being impeached (and convicted) or by resigning under threat of same.
33-year-old Democrat Conor Lamb has, for now, won the election to represent Pennsylvania's 18th Congressional District in Congress. Even if a recount reverses the proverbially razor-thin margin of victory that he is proverbially clinging to, Lamb has demonstrated that Democrats could win this fall in many districts in which Hillary Clinton took what polling experts refer to as "a major-league ass-kicking" in 2016.
PA-18 is 96 percent white and hasn't been represented by a Democrat in years, and Lamb's win points to a number of positive trends for his party:
• Working-class Trump voters being willing to vote for a Democrat who emphasized his bona fides as a union man and defender of the safety net without bending too far right on social issues. (Lamb says he personally opposes abortion and opposes an assault weapons ban—but doesn't support expanding legal restrictions on abortion and does support universal background checks on gun sales.)
• More affluent suburban voters continuing a shift towards the Democratic Party that also took place in 2017 elections in Virginia and Alabama, a phenomenon which seemingly involves both economic issues and Trump's general cultural revoltingness.
• Republicans in general failing to turn out to vote in the same number as Democrats. Part of winning elections is convincing swing voters to pick you over the other guy; part of it is turning out your "base" at a higher rate. The "enthusiasm gap" right now favors the party that isn't encumbered by a widely unpopular president who spends most of his energy cultivating a feud with the FBI.
In other words, the Democrats are probably going to pick up about 100–150 seats in the House this fall, at which point the GOP will be desperate to dump Trump like the proverbial albatross and will participate in impeachment proceedings with an enthusiasm that frightens him into proverbially fleeing the country on a midnight plane to the United Arab Emirates.
Probably.
Today's meter is up big time! (Four points.)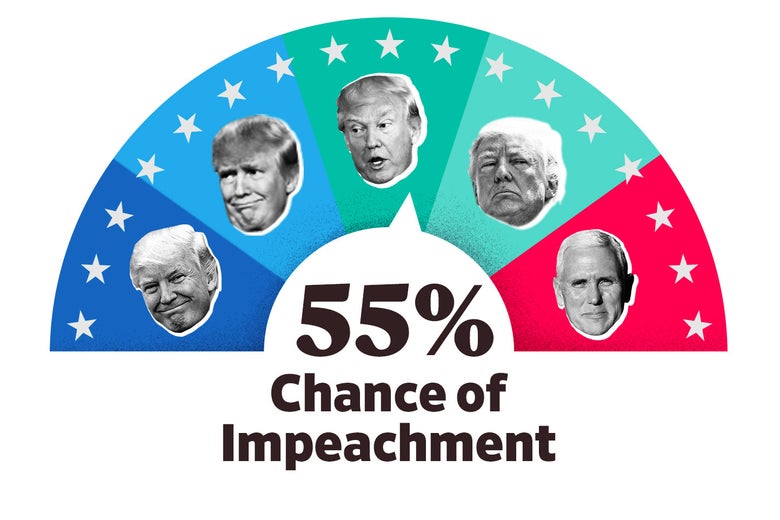 *Correction, March 14, 5:48 p.m.: This post originally described Lamb as pro-choice.