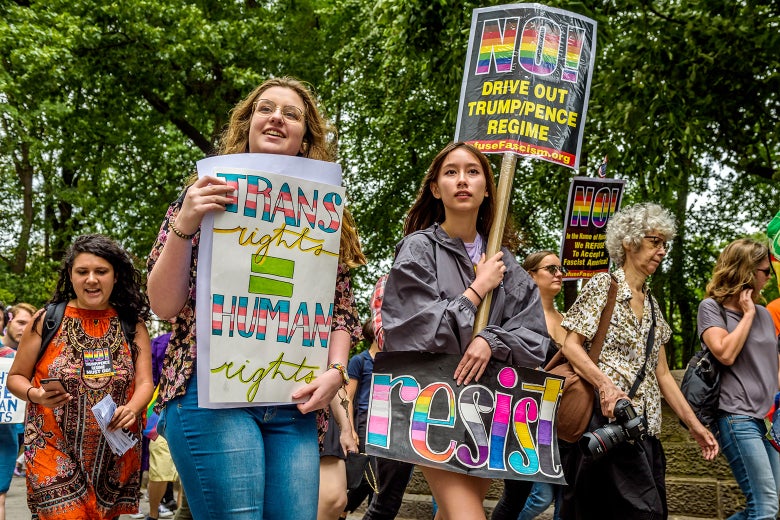 Donald Trump's presidency has been disastrous for transgender Americans. The Trump administration has passed a slew of anti-trans policies, rolling back protections in education, health care, housing, and employment while attempting to ban trans military service. But even as the president tries to reverse LGBTQ equality, much of the country is moving in the opposite direction, expanding trans rights in defiance of federal hostility. Just this past week, multiple states pushed their laws forward to better accommodate transgender rights. In fact, this might have been the best week for the rights of gender minorities since Trump took office.
Start with New Jersey. On Tuesday, the state Senate passed a bill making it much easier for transgender people to change their birth certificates. Under current law, trans people born in the state could not alter the gender on their birth certificate without proof that they had undergone gender confirmation surgery. But not all trans people feel that surgery is a necessary component of medical transition. The new bill allows trans individuals to correct their birth certificate by simply declaring, under penalty of perjury, that they are switching the listed sex in order for it to conform "with that person's gender identity." It also lets gender nonconforming people change their sex to "undesignated/non-binary." A separate bill that secured Senate approval on Tuesday requires death certificates to match the individual's gender identity.
The Legislature passed similar vital records measures twice under Republican Gov. Chris Christie, but he vetoed the legislation both times. Tuesday's birth certificate bill passed by a 30–7 margin; the death certificate bill passed 32­–4. Both are widely expected to sail through the General Assembly. Democratic Gov. Phil Murphy supported these policies during his campaign and should sign the bills once they reach his desk.
On the same day, the state Senate also passed a bill establishing a task force to study and curb anti-trans discrimination in health care, education, housing, employment, and public safety. The measure passed unanimously and is on track for similarly swift approval from the General Assembly and governor.
Among states, New Jersey is already ahead of the pack when it comes to trans rights. Once these proposals become law, it may vie with California for the title of trans-friendliest state. Like New Jersey, California already bars LGBTQ discrimination and conversion "therapy." But it also prohibits the gay and trans "panic defense," which allows murder suspects to defend their actions in court by claiming that their victims' identity triggered their violent acts. Illinois is the only other state to ban this defense, though New York may soon forbid it as well.
New Jersey, California, Illinois, and New York, meanwhile, all prohibit "conversion therapy" for minors, along with six other states and the District of Columbia. Two more states may soon join that list: New Hampshire and Washington. In February, the New Hampshire House of Representatives passed a bill barring licensed therapists from trying to counsel minors into changing their sexual orientation or gender identity—a damaging and discredited practice.
The state Senate should pass the bill in March, and Republican Gov. Chris Sununu has said he'll sign it. A state House committee also approved a measure on Tuesday outlawing anti-trans discrimination in housing, employment, and public accommodations. A similar bill suffered a narrow defeat in the House last year, but advocates believe they may now have the votes in both chambers.
Washington state's conversion therapy ban is approaching the finish line as well. Both houses of the Legislature had passed bills proscribing the practice as of Wednesday. Once they're reconciled, Democratic Gov. Jay Inslee plans to sign the ban.
Even North Carolina, whose Republican-controlled Legislature is notoriously transphobic, inched forward on LGBTQ equality this week. The state's vital records agency instituted a new rule on Thursday to allow gender neutral death certificates, providing an option for "Parent Name" instead of simply mother and father. Its policy accommodates individuals with same-sex parents or at least one gender nonconforming parent. That may be a baby step, but it comes less than two years after the state provoked a national outcry over its anti-trans bathroom bill.
Internationally, trans rights are on the march as well. On Thursday, the European Parliament adopted its annual report on "the situation of fundamental rights in the EU." The report "condemns all form of discrimination" against LGBTQ people, urging member states "to adopt laws and policies to combat homophobia and transphobia." It also condemned conversion "therapy" and encouraged EU countries to let trans people change their gender markers quickly and easily, without any surgery requirement or medical intervention. The Parliament declared that trans people are not "mentally ill" and exhorted member states to guarantee "stigma-free" health care for LGBTQ people. This report is not binding law, but it's an extremely influential policy statement that reveals that the EU now interprets its human rights charter to encompass trans equality.
In light of that sweeping resolution, the U.S. might seem to be falling behind peer nations on LGBTQ rights. In many ways, of course, we are, thanks to Trump—and, in particular, his contested ban on transgender troops. (That unjust policy, however, remains on hold by court order, and transgender Americans can currently enlist and serve openly in the armed forces.) Moreover, many red states are still resisting progress, or even moving backward, on LGBTQ issues. Millions of sexual and gender minorities in America still lack basic legal protections.
The fight is far from over. But in New Hampshire, New Jersey, Illinois, and Washington, Republicans worked with Democrats to pass trans-friendly reforms with little to no backlash from their base. Trump may be staunchly opposed to trans rights, but in the states, Republicans are learning to embrace pro-LGBTQ measures. The country is moving past transphobia, and this administration can't hold it back forever.
Support our journalism
Help us continue covering the news and issues important to you—and get ad-free podcasts and bonus segments, members-only content, and other great benefits.
Join Slate Plus
Join
---