On Wednesday morning, students from thousands of schools across the country staged walkouts to protest gun violence. Most participating students left their classrooms at 10 a.m. for 17 minutes—a minute for each person killed in the mass shooting at Marjory Stoneman Douglas High School in Parkland, Florida, one month ago. Several wore bright "safety orange" clothes and accessories.
Unfortunately, a number of high schools cancelled or postponed their planned walkouts after receiving anonymous violent threats related to the protests. In Broughton High School in Raleigh, North Carolina; Hackensack High School in Bergen County, New Jersey; D.C. Everest high school in Weston, Wisconsin; Mukwonago High School in Wisconsin; and Romeoville High School in Illinois, protests were cancelled or postponed because of threats, sometimes in instances in which the threats were found not to be credible, out of an abundance of caution. Other schools—Bradley-Bourbonnais Community High School in Bradley, Illinois, and those of Goochland County Public Schools in Virginia—found threats not credible, and the students still walked out. In one instance, Shikellamy High School's protest in Pennsylvania was cut short because of the threat of a drive-by shooting. Clearview Regional High School and Clearview Middle School in Gloucester County, New Jersey, were closed entirely because of an anonymous threat.
Otherwise, the protests appeared to have gone off relatively smoothly. One notable exception appeared to have come from Chicago, where it seems a couple students were arrested but not detained.
There appear to be at least two instances in which individual students participated alone in the walkout, despite the possibility of suspension or other punishment.
The protests were student-led and remarkably coordinated, even among the youngest participants.
Students nationwide got involved:
Below is a dispatch from Coby Fein, a 9th-grader at Brooklyn Friends School and son of Slate writer Dahlia Lithwick:
Today more than 3,000 schools participated in a national walkout against gun violence. Students gathered at Borough Hall in Brooklyn at 10 a.m., demanding action from the government on gun control. I haven't been feeling very hopeful, but it gave me hope to see so many kids organizing and protesting. PS I'm not an actor. I'm just a concerned student.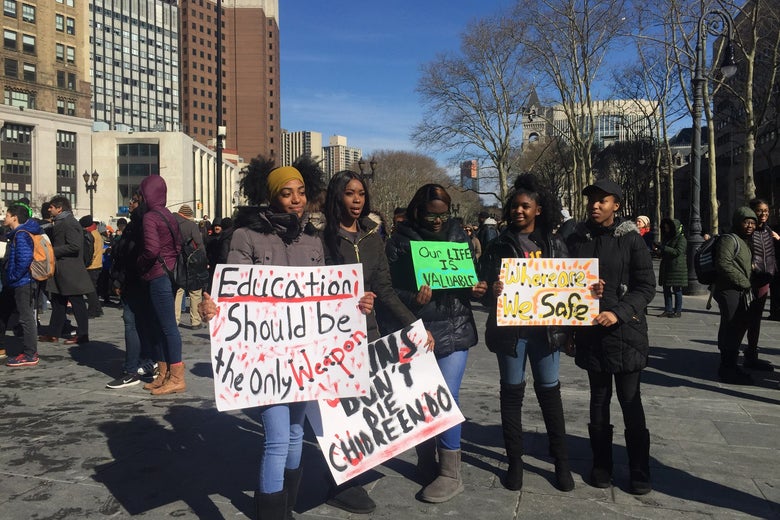 Many expressed their message in other forms of protest.
A number appeared to stage die-ins to remember the students killed at Parkland and elsewhere.
In D.C., protesting students brought their energy to the White House.
And they then took it to the U.S. Capitol.
There appears to have been activism among a group of parents, as well. Here's a protest in Winston-Salem, North Carolina:
As a result, politicians in D.C. favoring gun control spoke out.
Students in other parts of the country also were met with solidarity. Here's the scene at the University of Virginia:
And the movement, as a whole, found national messages of support from media companies.
The Marjory Stoneman Douglas High School, whose students started this movement, had its own moment.
There also appeared to have been a small number of counterprotests.
A map posted by the Women's March Youth Empower, which prompted the walkouts, indicates the scope of the movements, with 3,136 protests planned. (Each of the dots on the map, the website notes, is not necessarily a school-sanctioned walkout and might have been marked by participating students.)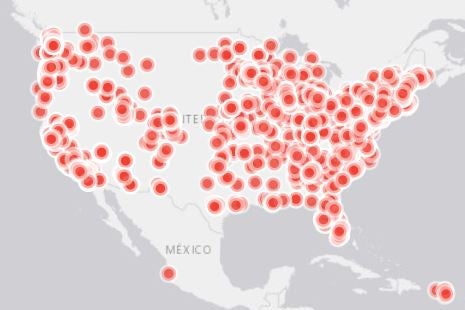 This is an updating story.