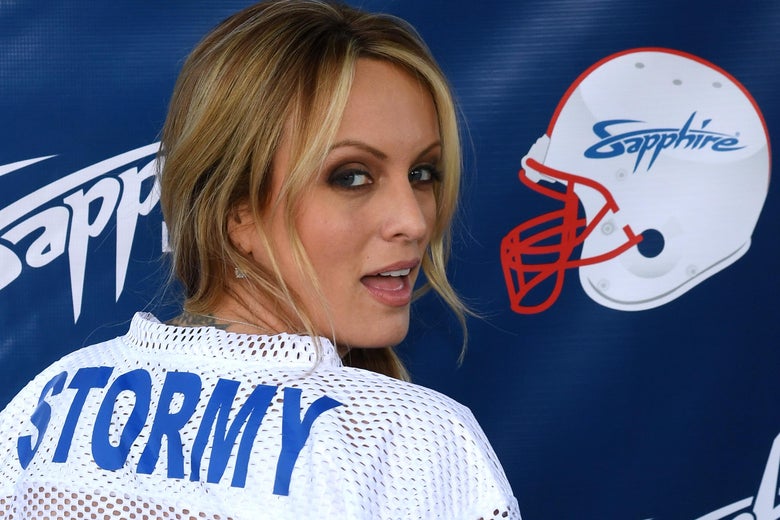 Adult film star Stormy Daniels could have changed the course of American history. Daniels threatened to call off a nondisclosure agreement about an alleged affair with Donald Trump shortly before the election because she did not receive a promised payment, according to the Washington Post. The paper got its hands on an email that an attorney for Daniels, whose real name is Stephanie Clifford, sent to Trump's personal lawyer on Oct. 17, 2016, effectively saying that the nondisclosure agreement was no longer valid.
"Please be advised that my client deems her settlement agreement canceled and void," lawyer Keith Davidson wrote in the email. Daniels received her $130,000 payment 10 days later, and the story about the affair she allegedly had with Trump around the time his wife Melania gave birth to their son stayed out of the public eye until January of this year. The timing of the payment is eyebrow-raising considering it happened at the time when Trump was engulfed in controversy following the release of the tape in which Trump bragged about grabbing women "by the pussy."
At first, Trump's attorney Michael Cohen denied the reports of the payment as a "false narrative." He later clarified that he paid Daniels with his "own personal funds," insisting neither the Trump Organization nor the Trump campaign were a part of the transaction. But the news of the payment has still led to complaints with the Federal Election Commission amid claims that it violated campaign finance laws because it should have been reported as an in-kind contribution. "The fact that this payment was made immediately before the presidential general election strongly supports Common Cause's claim that the payment was about the election and to influence the election," said Paul S. Ryan, vice president of policy and litigation at Common Cause.
---