In a turn of events that surprised absolutely no one, President Vladimir Putin easily cruised to a huge victory in Russia's presidential election, assuring the strongman another six years at the helm of the world's largest country. The victory means Putin will be in power at least until 2024. The Central Election Commission said that Putin won 76.1 percent of the vote with around 80 percent of the vote counted.
There were lots of reports of ballot-box stuffing and forced voting. Videos posted on Twitter purported to show instances of fraud and poll workers blocking cameras with balloons. But none of those reports will do much to undermine Putin's huge victory that he said he interpreted as a vote of confidence on his leadership. Considering the outcome was never in doubt, many said the real number to watch was turnout to see whether many Russians simply ignored the election. Early numbers put turnout at a respectable 60 percent. But opposition leaders say the turnout figures are being inflated.
Opposition leader Alexei Navalny was barred from running in the election, where none of the actual candidates ever posed a threat for Putin. Communist Party candidate Pavel Grudinin, for example, was the one who garnered the most votes but doesn't appear to have been able to break the 15-percent mark.
Talking to supporters in Moscow, Putin said voters had "recognized the achievements of the last few years" and he called on them to "maintain this unity." He also led the crowd in repeated chants of "Russia!" Speaking to reporters afterward, he laughed off questions about whether he would run again in six years. "What you are saying is a bit funny. Do you think that I will stay here until I'm 100 years old? No!" he said. Putin will be 71 by the time his term ends in 2024.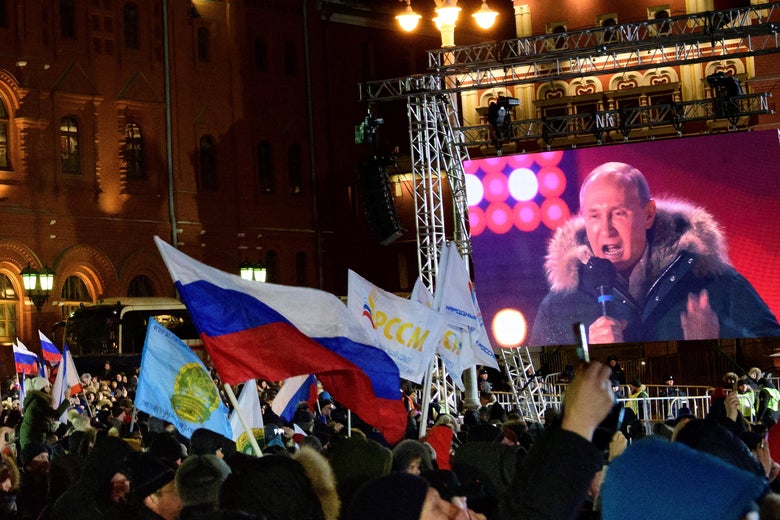 In his conversation with reporters, Putin also offered his most detailed comments yet on the accusation that he ordered the poisoning of a former double agent on British soil earlier this month. "It's complete nonsense to imagine that anyone in Russia could resort to such tricks ahead of the presidential elections and World Cup," Putin said. "It's unthinkable." Putin's campaign spokesman, Andrei Kondrashov, was a bit more blunt, saying that the current tensions with Britain helped boost turnout. "We need to say thank you to Great Britain because they again misread the Russian mindset," he said.
For now it seems pretty safe to assume that there will be rising tensions with the West. The Washington Post explains:
In the weeks leading up to Putin's reelection to six more years in power, the president hardly campaigned and offered few concrete plans for major domestic reforms. He did, however, awe Russians with displays of fantastic new weaponry while state-controlled television intensified a drumbeat of reporting about the threats allegedly posed by the United States and its allies.

The unified story line: Russia is under attack, and it needs a strong leader to survive.

"This is a consolidated response to the pressure that is currently exerted on Russia," the co-chair of Putin's electoral headquarters, Yelena Shmelyova, told the Interfax news agency after the results came in. "There is a view that this unfairness is growing even stronger. This is our common response to it."

As Putin assembles his next government in the coming months, he'll need to manage the competing interests of a ruling elite angling for influence in a post-Putin era that will someday arrive. The result, many analysts say, is that as infighting over the country's domestic course continues at the top, Putin will have an interest in intensifying the conflict with the West.