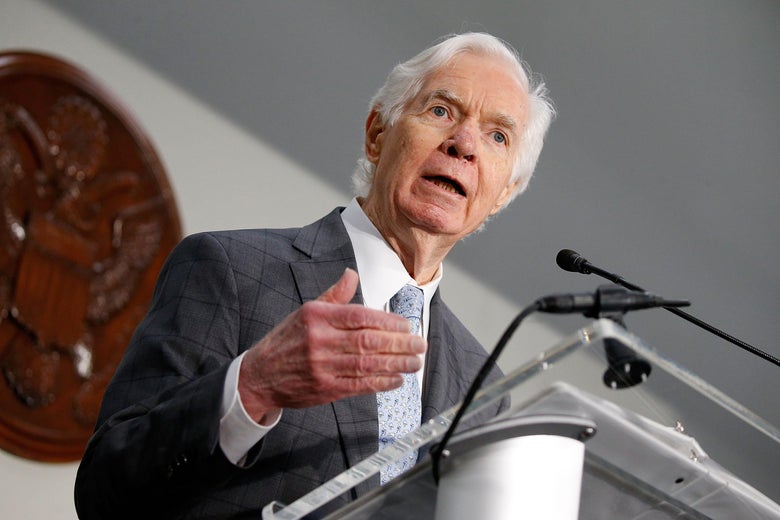 Sen. Thad Cochran, the 80-year-old chairman of the powerful Appropriations Committee, announced Monday that he will retire on April 1 due to his deteriorating health. The Mississippi Republican's current term runs through January 2021, but his age and recent health concerns had prompted plenty of speculation that Cochran would step down sometime this year.
"My top concern has always been my constituents in Mississippi," Cochran said in a statement.
"My hope is by making this announcement now, a smooth transition can be ensured so their voice will continue to be heard in Washington, D.C."
Cochran, who is currently the longest-serving member of Congress, had largely gone MIA from the Senate last year. He introduced only two bills in 2017, both of them minor, and had reportedly stopped meeting with his fellow senators about substantive legislative matters. He also missed about a month of work in the fall while recovering from a urinary tract infection at his home—an absence that Donald Trump repeatedly and awkwardly kept misattributing to Cochran being in the hospital.
Cochran's departure will leave Republicans with control of only 50 seats in the upper chamber—but only temporarily. Mississippi Gov. Phil Bryant, a Republican, will appoint a temporary replacement, who will then hold the seat until a special election is held in November to fill the two-plus years remaining in Cochran's term. While Roy Moore reminded us to never-say-never, Republicans will be heavily favored to keep the seat in the special election, which will be held on Election Day. The state hasn't been represented by a Democrat in the U.S. Senate in about 30 years, and Mississippi hasn't voted for a Democrat for president since 1976.
Cochran's exit is arguably great news for Mississippi's other senator, Roger Wicker. Wicker is up for re-election this November, and had been expected to face a spirited primary challenge from hard-line conservative Chris McDaniel, a state senator who nearly beat Cochran four years ago in a nasty primary fight of their own. But just last week McDaniel suggested that he might instead run for Cochran's seat if it were to open up this year, and he again left that door open in a statement Monday evening that noted that, while he is currently focused on his campaign against Wicker, "all options remain on the table."
But McDaniel might not coast to the Senate. Majority Leader Mitch McConnell—who was savaged by McDaniel during his last run against Cochran—had already begun urging Bryant to appoint himself, if Cochran were to resign, according to the Washington Post. That could set up a replay of last year's Republican primary in Alabama, where Roy Moore triumphed with an outsider campaign over McConnell's preferred candidate.
Support our journalism
Help us continue covering the news and issues important to you—and get ad-free podcasts and bonus segments, members-only content, and other great benefits.
Join Slate Plus
Join
---