Hundreds of thousands of protesters poured out of Metro stations, clogged buses, and streamed down streets to gather on a stretch of Pennsylvania Avenue on Saturday for the March for Our Lives demonstration, calling on Congress to pass new gun control measures. It was a sunny day, reminiscent of the balmy January day more than a year ago, when 500,000 protesters swelled the city's streets for the Women's March on Washington. It was a similarly energetic and vast crowd—possibly the largest single-day protest in the city's history. It was a diverse and creative mix of people—some wore orange, some wore $1.05 price tags, some wore T-shirts from the march or signs counting down the number of days to the midterm elections. As celebrities, shooting survivors, and activists took to the stage, the crowd would cheer and then, when the National Rifle Association was mentioned, boo. Occasionally, roaring chants of "vote them out" broke out, before dying quickly as attention turned to the next precocious activist.
Many of those who attended said they came because they were inspired by the students of Stoneman Douglas High School in Parkland, Florida, where a shooting on Feb. 14 killed 17 of their classmates and spurred a group of students to begin this gun-control movement. On the bus on the way to the march, a group of women from upstate New York held signs in support of Emma González, one of the Parkland students who emerged as a leading voice in the movement. "I'm voting for her for president," one of the women said.
Others said they were motivated by frustration and fear. Sally Stein, a grandmother of four from Gainesville, Florida, said she was worried about her grandchildren. She traveled from Florida with her husband, Jerry, to make a statement beyond her vote. "We come from a gerrymandered district, so we feel that our vote, and the votes of the people around us are not represented," she said. She didn't say she was confident the march would change anything, but, "at least it's something we can do."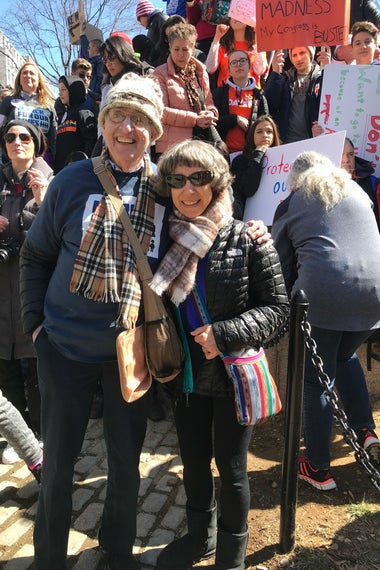 A group of teenage boys who participate in a program that teaches high schoolers about medicine said they were there to learn about, and remind people of, gun violence as a medical problem and a race issue. "Most people come up here for the school shootings, but I'd like to also let them know we are impacted by this as well, as the black community," Adrian Phillips, a 15-year-old from Ron Brown High School said. Marlon Gudiel, a 17-year-old from Woodrow Wilson High School, added that he wasn't optimistic that things were changing for the better. "There's still black kids being shot by the police," he said.
The group was there in part to support the Parkland students, the director of the program, Malcolm Woodland, said. But they were also there because boys of color are more likely to die by gun violence, he said. "You may think that this isn't totally for us," he said. "But when anybody has a discussion about gun violence, we have to be at the table."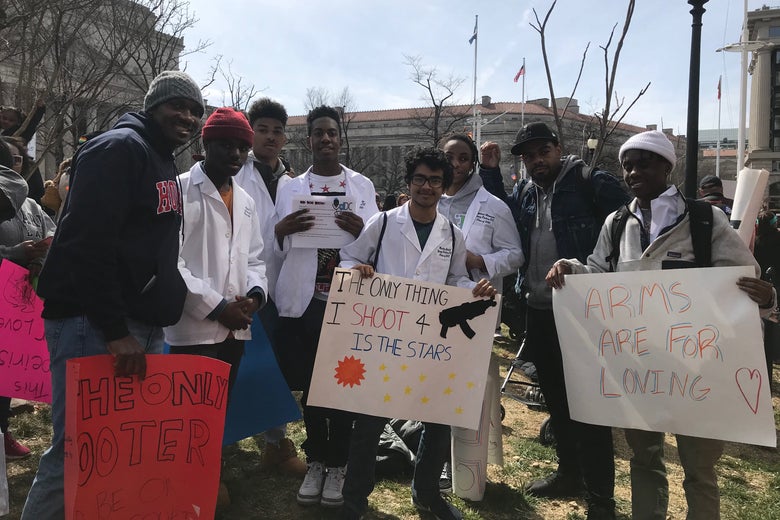 The sheer volume of support on display on Saturday gave some hope that their message would be heard. Victoria Vazquez, a sophomore at George Washington University, said she was skeptical that the rally alone would make a big difference but that she was optimistic that the movement would maintain momentum. "It's definitely a step in the right direction," she said. "It's getting hard for political figures to just to ignore this.
"I really like the fact that they're having so many high school students and people of the younger generation speaking," she said. "The primary demographic that this is affecting is school-aged kids. So I think it's very important for these kids to have their voices heard on a national platform."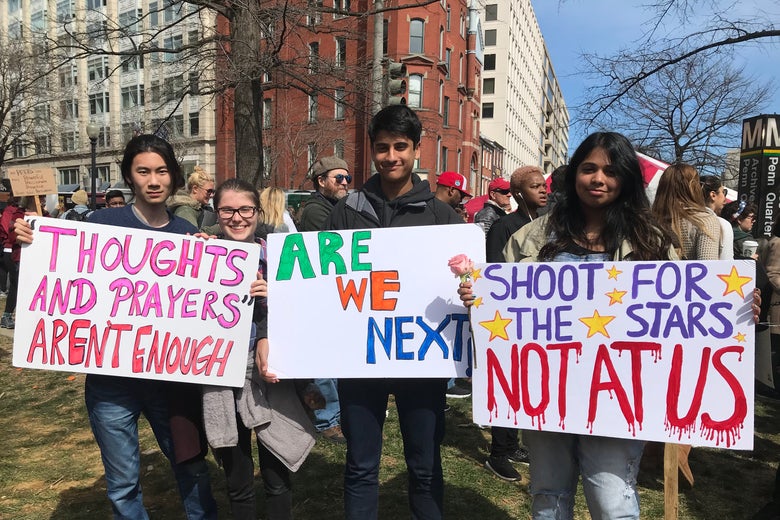 One group of high school students from Virginia said they felt empowered from hearing those voices. But they were also aware that the movement was not universally popular in their hometown. Three of the students were from Norfolk Academy, a private school where, they said, they were some of the only students to participate in the nationwide school walkout on March 14, even though the school mandated the walkout be an apolitical vigil.
Pooja Mahesh, a 15-year-old Norfolk Academy student, said that after she saw the Parkland students' activism, she began planning a group of students at her school to discuss gun control and DACA and write letters to local legislators. "We're going to try to make it happen and reach out to people and try to get people to vote, even if we can't," she said. "Now we know teenagers can do things and make differences."
"Yeah, look around, a large percentage of people here are students and children," Peter Pan, a 17-year-old from Cape Henry Collegiate School in Virginia Beach, said. "This is when we realize the power is in the next generation."
Like other high school students at the demonstration, they said they wanted to remind adults who were watching that teenagers can have informed opinions. "We know what's right, and we know what's wrong," Mahesh said. "And guns are very obviously morally incorrect."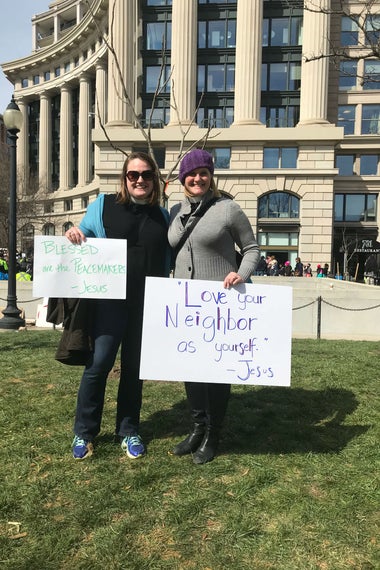 Chloe Brennan, an 18-year-old senior at Aberdeen High School in Maryland, said she thought the demonstration would make a difference. "Politicians will hear us and know something is wrong with our country right now," she said.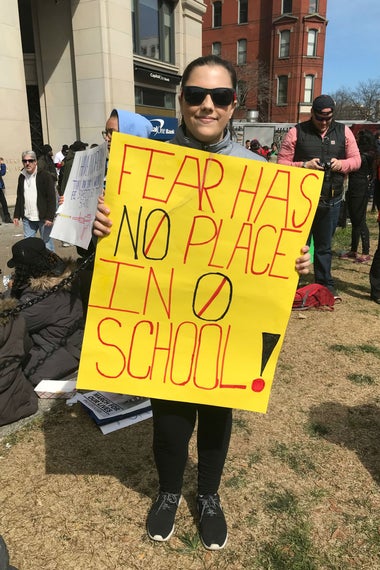 Brennan will be voting for the first time in the midterms. She will keep her two siblings, freshmen in high school, in mind when she votes, she said. She knows which of her legislators support gun control and which don't. "What happened in Parkland," she said. "It needs to stop."