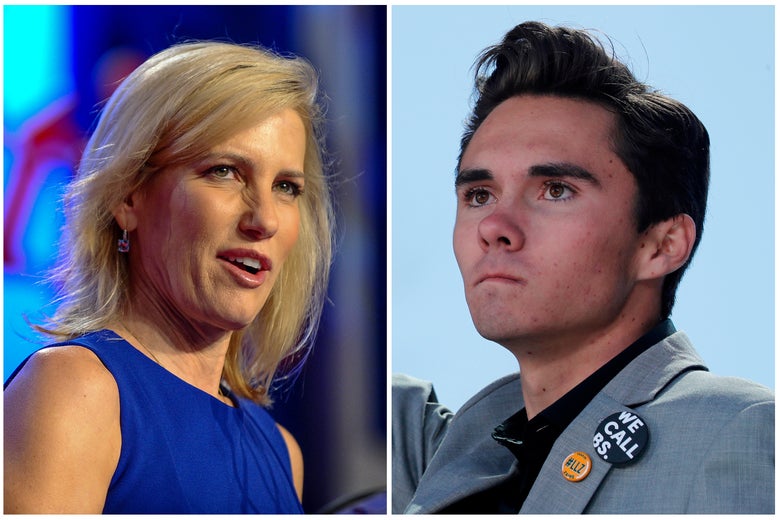 Fox News host Laura Ingraham is taking a vacation next week as advertisers continue to pull their spots from her show after she wrote a snarky tweet about Parkland school shooting survivor David Hogg. "Fear not. We've got a great lineup of guest hosts to fill in for me," Ingraham told viewers. A Fox News spokesperson insisted the vacation had already been planned but it comes at a time when at least 17 major companies have fled her show after she mocked Hogg, saying he "whines about" his rejection from four California colleges.
Hogg responded to her mockery by calling on followers to pressure advertisers to remove their ads from Ingraham's show. And many did just that, including Nestle, Johnson & Johnson, TripAdvisor, and Expedia, to name a few. Variety pointed out that on Friday "the only blue-chip advertiser to appear over the course of the hour-long broadcast was IBM."
When advertisers first started to boycott, Ingraham issued a lukewarm apology. "On reflection, in the spirit of Holy Week, I apologize for any upset or hurt my tweet caused him or any of the brave victims of Parkland," she tweeted.
Hogg quickly took to Twitter to respond to Ingraham's break. "Have some healthy reflections this Holy Week," he tweeted.
There is precedent for Fox News to use vacation as a prelude to a departure. Last year, Bill O'Reilly announced a vacation before Easter weekend just as advertisers were pulling out of his show following a report of sexual harassment allegations. He was fired eight days later.
---