William Strampel was the dean of the College of Osteopathic Medicine at Michigan State University until taking medical leave in late 2017. In his role as dean, Strampel supervised Larry Nassar, who has been effectively sentenced to life in prison for sexually abusing minors and possessing child pornography. Now Strampel, who is 70 years old, has been arrested on charges of groping, harassing, and soliciting sexual material from female students.
Strampel is charged with "misconduct in office" and criminal sexual conduct based on the testimony of four female medical students who say he made crude, suggestive, and threatening sexual comments to them during one-on-one encounters and, in two cases, groped them. Here's a police affidavit's account of what happened to the first alleged victim, who was meeting with Strampel to appeal a test score:
8. During this meeting, Strampel told V-1 that she would not perform well enough to continue in medical school and denied her appeal. Strampel then spoke about meeting with 20-to-30-year-olds and said that some of his friends had sexual relations with women that age. According to V-1, who was 26 years old at the time, Strampel then suggested that 26-year-old women can "put out" for 20 minutes with an old man, after which he would fall asleep, and in return the women would get the benefit of a free vacation. V-1 felt intimidated, not only by the sexual nature of the conversation, but by the fact that Strampel had begun referring to 26-year-olds, women her very age.

9. During that meeting, Strampel also commented without prompting on the difficulty of sending nude photos. He told V-1 that if he ever caught her taking nude photographs, she would be in trouble. V-1 interpreted these statements as a request to send him nude photographs in exchange for special consideration with respect to her education at the College.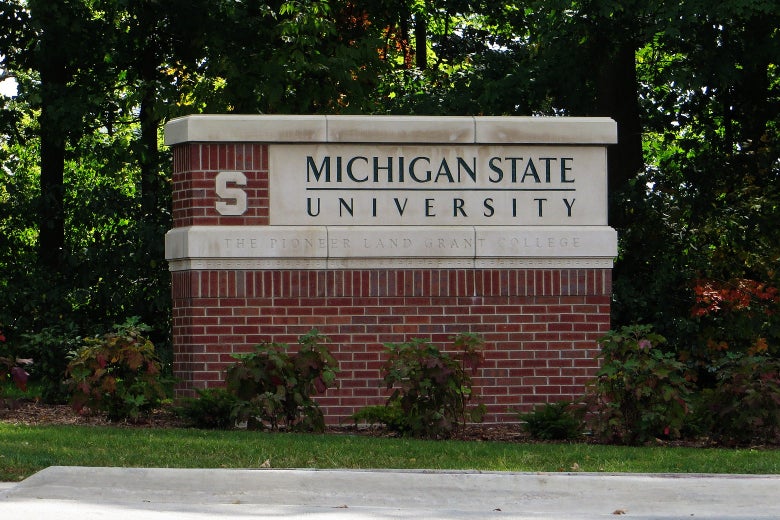 Strampel allegedly asked a second female medical student to "turn around in a circle twice so that he could observe her body" during one-on-one meetings in which he also instructed her to dress more provocatively and "to be submissive and subordinate to men." He is also alleged to have groped the second victim's "left buttock" during a school event and to have referred to her as "eye candy" after staring noticeably at her crotch and chest during a luncheon.
Here's part of the account of the third alleged victim, who met with Strampel to discuss a failed exam:
18. V-3 retook the exam and, when she fell one point short of a passing grade, was required to meet with Strampel again. He … asked her what her "Plan B" was since she could not cut it in medical school. He suggested that she become a centerfold model, telling her about another female medical student who became a stripper to pay for medical school.

19. On the subject of her test performance, Strampel agreed to do what he called a "favor" and let her take the exam a third time. In return, Strampel said, V-3 would be required to do anything for him. If he called on the weekend and told her to come to his house, she would have to do it. If he asked her to come "weed the garden," she would have to do it. Given the context, V-3 understood that she was being asked to do anything he wanted sexually in exchange for the favor.
A fourth alleged victim says Strampel groped her "right buttock" at a school event.
The affidavit filed against Strampel says sexual material was discovered during a "forensic examination" of his Michigan State computer:
That forensic examination uncovered approximately 50 photos of bare vaginas, nude and semi-nude women, sex toys, and pornography. Many of these photos are what appear to be "selfies" of female MSU students, as evidenced by the MSU clothing and piercings featured in multiple photos. … Also discovered on Strampel's work computer were pornographic videos and a video of Dr. Larry Nassar performing "treatment" on a young female patient.
(The affidavit doesn't state what grounds prosecutors have to believe that the Nassar video was kept for prurient purposes, as seems to be implied.)
Strampel is also accused of a "neglect of duty" charge related to his failure to enforce conditions that were imposed on Nassar after a 2014 Title IX investigation conducted by Michigan State. That investigation (incorrectly) concluded that Nassar had not abused patients but stipulated that he should follow a set of rules for "sensitive" treatments that included working in the presence of an observer. Strampel did not follow up to make sure the rules were followed, and several female patients of Nassar's say they were abused during the period in which Strampel failed to exercise this oversight.
The Wall Street Journal reported earlier in March that two individuals who met with Strampel in 2016 to discuss a student disciplinary issue took notes on the meeting that indicate Strampel diverged from the topic of the meeting to defend Nassar. "Patients lie to get doctors in trouble. And we're seeing that right now in the news with this Nassar stuff," Strampel is alleged to have said. "I don't think any of these women were actually assaulted by Larry, but Larry didn't learn that lesson and didn't have a chaperone in the room, so now they see an opening and they can take advantage of him."
Interim Michigan State president John Engler announced in February that he had initiated the administrative process of firing Strampel over his failure to protect "student and patient safety" and over allegations of personal misconduct that were not detailed at the time.