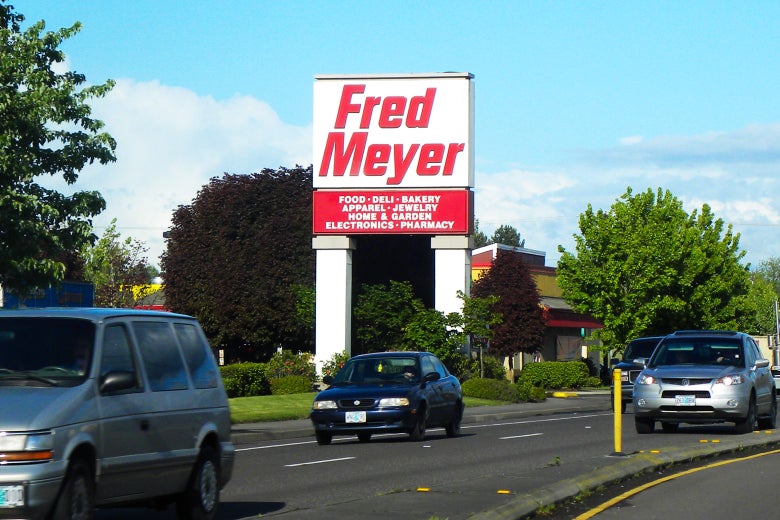 Kroger will no longer sell rifles or ammunition to buyers who are under the age of 21, the supermarket chain announced today. (As the Wall Street Journal explains, "under current law, licensed gun dealers can sell a handgun to someone 21 years old and sell a rifle to someone who is 18.") For those of us who were unaware that it was possible to pick up a lethal weapon at Kroger's alongside the potato chips, produce, and generic baguettes in little wicker baskets, the deal is apparently that the gun stuff is only sold at the 43 "Fred Meyer"-branded stores the chain owns in Alaska, Idaho, Oregon and Washington. The Alaska stores, which had additionally sold assault-style semiautomatic rifles, will also discontinue such sales, Kroger says.
Kroger, which is based in Cincinnati, makes the move on the heels of similar post-Parkland announcements by the Dick's Sporting Goods company and Walmart, which are both raising the purchase age for weapons at their stores to 21; Dick's is additionally discontinuing sales of high-capacity magazines and assault-style rifles. (The rifles were only sold at the company's 35 Field & Stream stores.)
The fallout from the Parkland shooting has also prompted a number of corporate brands—ranging from Delta Airlines to MetLife insurance to the cybersecurity company Symantec—into ending discount affiliations with the National Rifle Association. While a Morning Consult poll released Wednesday found that unfavorable views of such companies increased when respondents were told that they'd severed ties with the NRA, their unfavorable ratings also likely would have gone up if they hadn't severed ties and had been subjected to the kinds of activist campaigns that progressives have increasingly directed towards corporations in recent years. And as the Washington Post's Philip Bump has pointed out, progressive views on gun control tend to correlate with higher levels of education—and income. (The same is true of other political issues as well.) Money talks?
---