Here's a political headline of the sort you don't see every day, in the New York Post: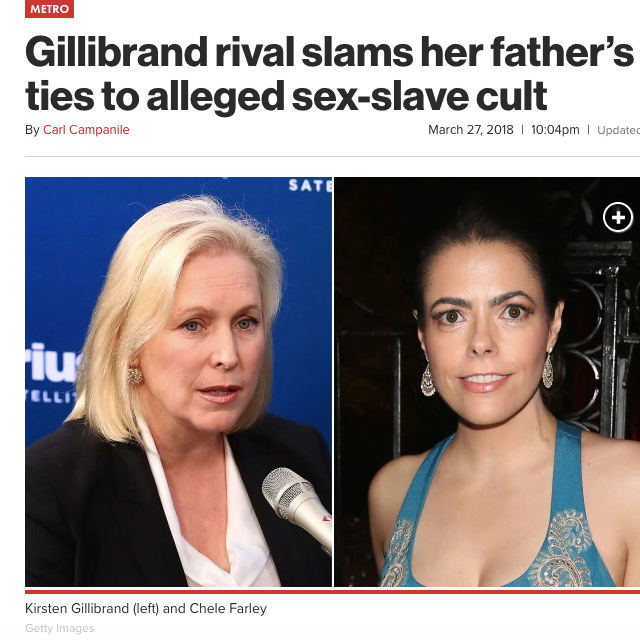 Let's unpack this.
• The woman on the right is Chele Farley, who's the Republican running a longshot 2018 campaign for Democratic New York Sen. Kirsten Gillibrand's seat.
• Gillibrand's father is Doug Rutnik, a lobbyist who married into an influential Albany, New York family, though he later divorced Gillibrand's mother.
• Rutnik's services were employed in 2004 by Nxivm, a group that describes itself as a self-help organization but which has been described by others as a cult and multilevel marketing scam.
• The founder of Nxivm, Keith Raniere, was recently arrested in Mexico and charged in a complaint unsealed Monday with blackmailing and financially coercing a subgroup of female followers, who were allegedly referred to internally as "slaves," into sex. The complaint corroborates the creepy allegation, published in a New York Times article in October, that members of the all-female Nxivm subgroup were branded (as in, marked with a hot piece of metal like cattle) with a symbol that featured Raniere's initials.
Now, TO BE VERY, VERY CLEAR, no one is suggesting that Doug Rutnik or anyone else connected to Kirsten Gillibrand had any idea in 2004 that Nxivm involved a secret sex-slavery component. But a 2003 Forbes article had already publicized allegations that Raniere's operation was a "cult," and an earlier company he'd founded had been sued in 1993 by the New York attorney general, who alleged that it was a pyramid scheme. (A settlement was reached in which Raniere did not admit guilt. ) Working for Raniere in 2004 was not an entirely innocuous endeavor.
Gillibrand currently promotes herself, with a seeming eye toward 2020, as a bold next-generation progressive. But her political career began with work for such figures as Republican New York Sen. Al D'Amato and current Democratic Gov. Andrew Cuomo, to whom she had family connections, and Hillary Clinton.* And even if her 2020 rivals don't ultimately bring up the weird story of said father's connection to an alleged sex-slave-branding cult leader, they'll certainly try their best at every other opportunity to portray Gillibrand as an establishment insider with a history of connections to powerful and unsavory special interest groups.
*Correction, March 28, 2018, at 9 p.m.: This post originally misstated that Rutnik's family had been influential for many generations. Rutnik married into a family that had been influential for one previous generation; his onetime mother-in-law Polly Noonan worked closely with powerful Albany figure Erastus Corning II. It was Corning's family that had been influential going back hundreds of years. The post also misstated that Gillibrand's father helped her get a job with Hillary Clinton's 2000 campaign, citing an Albany Times-Union story, which asserts that Gillibrand's memoir says that she was not "on the inside track" with Clinton until a cocktail-party conversation between Clinton and her father. Other accounts, however, indicate Gillibrand came to Clinton's attention by volunteering and fundraising for the 2000 campaign without any involvement by her father, and the memoir itself says that the cocktail party conversation happened after the campaign was over.