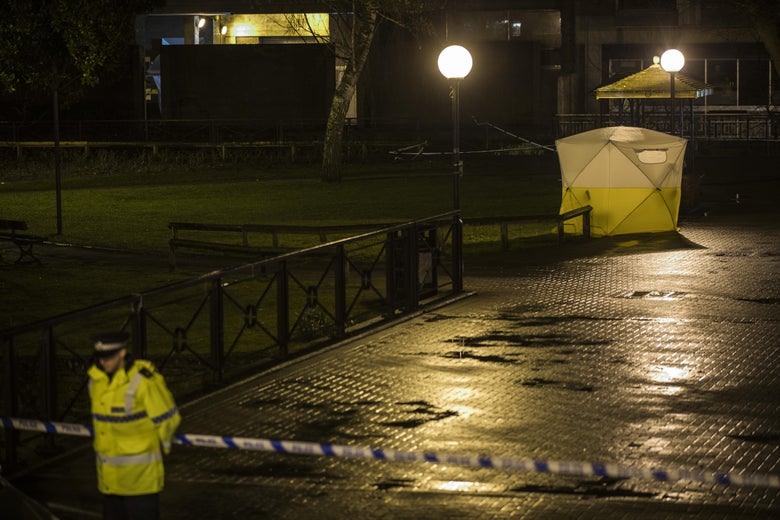 A former Russian spy is in critical condition in the U.K. after he was found unconscious on a shopping center bench in what from early indications appears to be poisoning. Sergei Skripal was discovered along with a woman reported to be in her thirties; both suffered from "suspected exposure to an unknown substance." Both Skripal and his companion were taken to the hospital; the incident took place in Salisbury, England, 90 miles southwest of London.
Details are still sketchy, but the early information of the incident bears a resemblance to the high-profile 2006 assassination of former Russian intelligence officer Alexander Litvinenko in London. Litvinenko fell ill after he was exposed to radioactive polonium in central London and died three weeks later.
The 66-year-old Skripal is a retired Russian military intelligence officer who was sentenced in 2006 to 13 years in jail in Russia for revealing the identities of Russian undercover agents in Europe to the U.K.'s MI6. Skripal only served part of the sentence and was part of a "spy swap" brokered between the U.S. and Russia in 2010, which allowed him seek refuge in the U.K. "It had been assumed that Skripal had been given a new identity, home, and pension," the Guardian reports. "However, Land Registry documents show his house was registered in his real name and was bought for [$360,000] with no mortgage on 12 August 2011, just over a year after the spy swap."
One more thing
If you think Slate's work matters, become a Slate Plus member. You'll get exclusive members-only content and a suite of great benefits—and you'll help secure Slate's future.
Join Slate Plus
Join
---