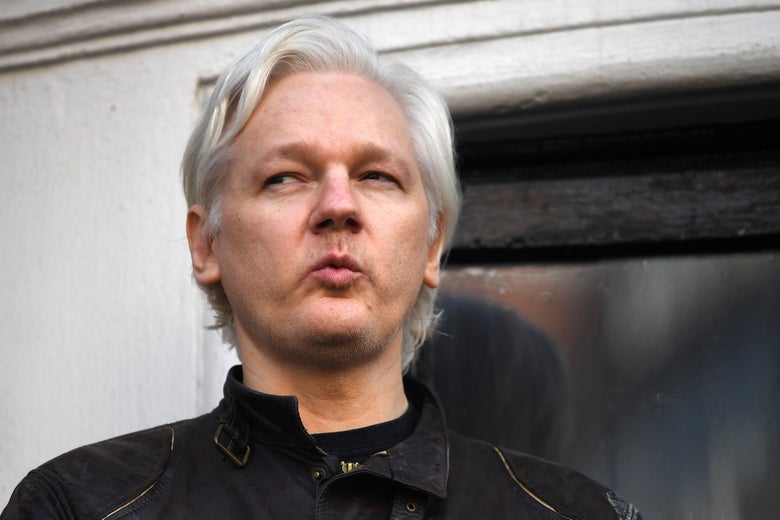 Ecuador's government announced Wednesday it had pulled the plug on Julian Assange's internet access at its embassy in London, where the WikiLeaks founder has been living since 2012. Ecuador seemed to have had enough of Assange's provocations online and appears concerned the 46-year-old's social media conduct could have real-world diplomatic consequences for the South American nation that granted Assange political asylum and citizenship. In a statement Wednesday, the Ecuadorian government said Assange's social media presence was threatening "the good relations that the country maintains with the United Kingdom, with the rest of the states of the European Union, and other nations."
The government of Ecuador said Assange had violated "a written commitment made to the government at the end of 2017 not to issue messages that might interfere with other states," but didn't specify what about Assange's social media sparked the clampdown. The timing of the move, however, indicates it is in response to Assange's recent comments on Twitter questioning the U.K.'s assigning blame to Russia for the recent nerve agent poisoning of Russian former double agent Sergei Skripal and his daughter in Salisbury, England. Assange also criticized the coordinated expulsion of dozens of Russian diplomats by the U.K, the U.S., and other European allies in response to the poisoning.
WikiLeaks and its founder have long espoused the principle of extreme transparency, leaking internal documents embarrassing to governments and companies worldwide, but the organization's operations of late have increasingly aligned with Russian interests and it is widely suspected it has received information from Kremlin-linked hackers. WikiLeaks was, of course, responsible for the leaking of tens of thousands of DNC emails that turned the 2016 election on its head.
This is not the first time the Ecuadorian government has reprimanded Assange for his outspokenness online. Assange remains a tenant at the Ecuadorian embassy even though the original sex crimes charges in Sweden that caused him to flee have been dropped. He still fears he will be arrested in the U.K. and extradited to the U.S. In October 2016, Ecuador cut Assange's internet over fears he could interfere in the U.S. election and drag Ecuador into a diplomatic standoff, although the outage did not extend to WikiLeaks. "In May 2017 the Ecuadorian president, Lenin Moreno, again asked Assange to refrain from commenting on Spain's dispute with the separatist region of Catalonia," the Guardian reports. "As part of a subsequent agreement between Assange and the Ecuadorian government, he is not permitted to send any messages that could interfere with Ecuador's relations with other countries."
Support our independent journalism
Readers like you make our work possible. Help us continue to provide the reporting, commentary, and criticism you won't find anywhere else.
Join Slate Plus
Join
---