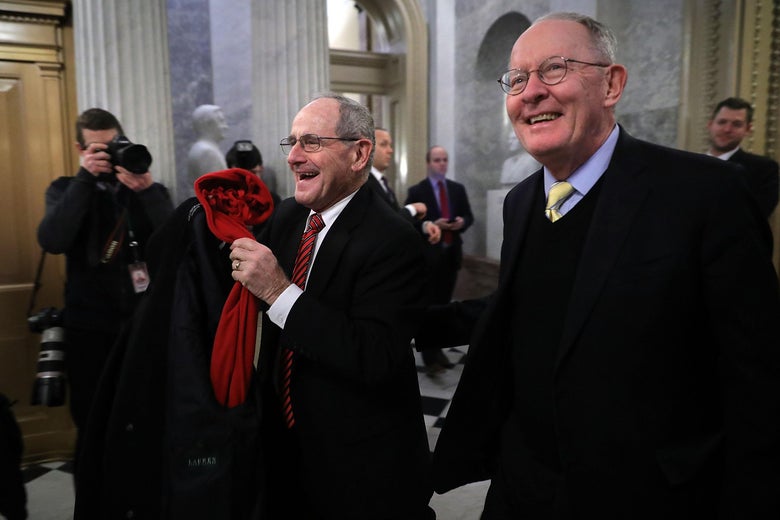 After a Monday evening meeting of House Republicans, a reporter asked Idaho Rep. Mike Simpson, an appropriator, if leaders had told the group of any decisions that had been made regarding what will be included in the $1.3 trillion spending bill they need to pass by Friday.
"Funding for the legislature is in," he said, and let out a deep laugh.
Congressional leaders hoped to file the omnibus appropriations bill, which would fund the government at spending levels set in last month's budget deal, by late Monday night, ahead of a Wednesday vote in the House. But as of late afternoon on Monday, negotiators said that some two-dozen thorny issues had still yet to be resolved and were now in the hands of the highest ranks of leadership. Members had been scrambling all weekend just to whittle the list down that far, and they would scramble into Monday night. If the timeline gets pushed back even a day, any given senator intent on holding up the chamber's activity—maybe this guy?— could push the process beyond the Friday night deadline, and into another oopsy-daisy shutdown.
The omnibus appropriations bill is much more than a simple allocation of dollars, though. It's also the last big "must-pass" bill ahead of election season. That means members will be angling to get all of their backed-up legislation into this vehicle. If your pet cause doesn't make it in? Try again in the next Congress.
There have been notable Hail Marys in the last week on two of the most prominent issues Congress failed to act on over the last six months: Immigration and health care. Few can say with certainty whether either of these charges will prove successful, in some form, by the deadline. But as of Monday, both appeared to be collapsing under the same factional weights that have felled them before.
The White House and lawmakers are still fiddling with the same formula for an immigration bill and wondering if, in the nine-millionth hour of negotiation, they can discover that golden ratio of wall-money-to-Dreamer-lives that works for everyone. You'll recall that when we left this issue last month, in utter Senate ruins, the White House wanted $25 billion for border security (including a wall) and sharp cuts to legal immigration in exchange for a path to citizenship for 1.8 million Dreamers. Over the weekend, the White House floated an offer to Democrats that would abandon the legal immigration cuts—in exchange for protecting fewer Dreamers, and protecting them only in the near term.
Democrats rejected the administration's offer of $25 billion in border security and a 2.5 year DACA extension for currently enrolled recipients and countered with $25 billion and "citizenship for the DACA eligible population," a source familiar with the negotiations said. The White House rejected that. They may still be talking, but the parties appear to have shifted into the more familiar phase of blame-allocation.
"Right now, it seems the Democrats want to use the DACA permit-holders as pawns in a political game more than trying to find a solution," Marc Short, the White House's legislative director, told reporters Monday. "If they're asking us to put aside certain things that we're asking for" on legal immigration, he said, "it's kind of unrealistic to expect that the scope of the deal would stay the same size on their end." Which means that optimism for any deal on the issue also remains unrealistic.
Remember Alexander-Murray? The bipartisan Obamacare stabilization bill that got members all het up last fall and then went nowhere, like most bills? Tennessee Sen. Lamar Alexander is back at it, and Maine Sen. Susan Collins has joined him in an effort to secure the health legislation that President Trump and Senate leaders promised her they would pass in exchange for her tax vote.
After a week of bipartisan negotiations, a Republican-only group including Alexander, Collins, House Energy and Commerce Committee Chairman Greg Walden and Pennsylvania Rep. Ryan Costello released their own stabilization legislation on Monday. It took much of the Alexander-Murray bill, including the funding of cost-sharing reduction payments and allowing more bare-bones plans to be sold on exchanges, and pooled together tens of billions of dollars for reinsurance programs to quell costs for the highest-risk patients.
But the Republican bill, which Democratic aides did not know was coming, also attached Hyde Amendment language banning federal funding for abortion to private plans offered on Affordable Care Act exchanges. Republicans, like Alexander, expressed shock that Democrats would complain about this, since Democrats "have been voting for the Hyde amendment since 1976." That doesn't mean they want it expanded, though. There was, after all, an extremely tiresome fight over this issue during the drafting of the bill in 2009 and 2010.
By Monday afternoon, House leaders had decided not to include the stabilization bill in the package because of the disagreement over the Hyde language. Alexander and Collins still hope that the Senate could, at least, offer an amendment vote for the bill in their chamber when it reaches them. But if the Hyde language is still in it, then it's not going anywhere. There may still be some last-minute attempts to tweak the language, but House Republicans will be perfectly pleased to avoid voting on any form of Obamacare "bailouts."
Just because the omnibus appropriations bill is a must-pass vehicle doesn't mean that all other issues that failed on their own must pass with it.
Support our journalism
Help us continue covering the news and issues important to you—and get ad-free podcasts and bonus segments, members-only content, and other great benefits.
Join Slate Plus
Join
---