Surprising absolutely nobody, China's rubber-stamp parliament voted in favor of a measure to change the constitution and repeal presidential term limits, essentially allowing President Xi Jinping to stay in power indefinitely. The National People's Congress said that 2,958 of the votes cast—or 99.8 percent of the 2,964 votes cast—were in favor of the change. Only two people voted against the move, three abstained, and there was one spoiled ballot. "The identifies of the five dissenters is—and will almost certainly remain—a mystery," notes the Guardian.
"I can now announce that the proposals to amend the constitution of the People's Republic of China has passed," an announcer said, starting what would be a 20-second round of applause from the people who voted to do away with one of the signature moves set up after Mao Zedong's tenure. Now the move officially makes Xi the most powerful Chinese leader since Mao himself. It isn't just that he got to scrap away term limits, the members of the National People's Congress also voted in favor of amendments that insert Xi's political theory into the constitution, "a feat no other leader since Mao had managed while in office," notes Reuters.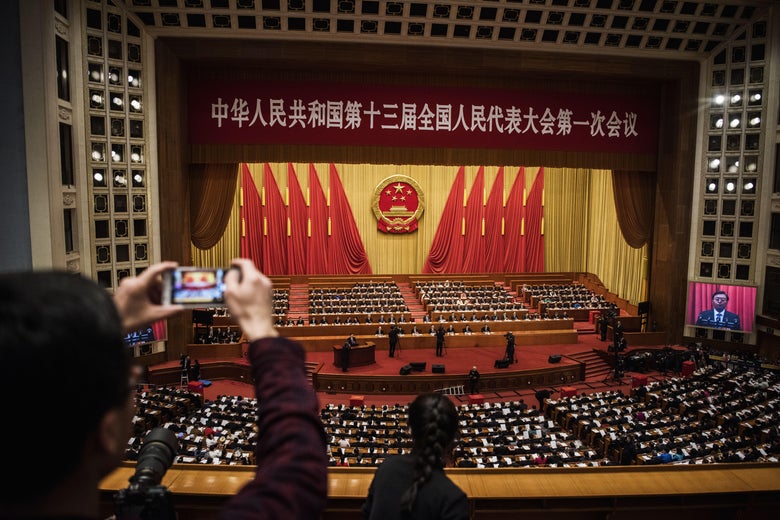 From now on it's difficult to see anyone ever challenging Xi, who has managed to change China's political structure in a few years. BBC's Stephen McDonell explains:
Only five years ago Beijing was being ruled by a collective leadership. Under ex-President Hu Jintao you could imagine differing views being expressed in the then nine-member Politburo Standing Committee.

There was a feeling that Mr Hu needed to please various factions within the Communist Party and it seemed that every 10 years a new leader would come along with their own people in a process of smooth transition.

From today all this has gone.

The constitution has been altered to allow Xi Jinping to remain as president beyond two terms and they would not have gone to this much trouble if that was not exactly what he intended to do.

There has been no national debate as to whether a leader should be allowed to stay on for as long as they choose. Quietly but surely Xi Jinping has changed the way his country is governed, with himself well and truly at the core.
Some though warn the move could actually make Xi more vulnerable in the long term. "He just dug a huge hole for himself," Li Datong, a former editor of the state-run China Youth Daily newspaper, tells CNN. "The top leader's term limits are the biggest common denominator shared by all political forces in China," he added. "Its removal could trigger political infighting— that's why this move is dangerous."
Political commentator Cary Huang also said Xi's attempt to become China's "de facto monarch" could have pitfalls. "History has shown that many political leaders who sought lifelong service have not managed to realize their vision," Huang warned in Hong Kong's South China Morning Post. "Some have been deposed … others have been assassinated by political enemies".