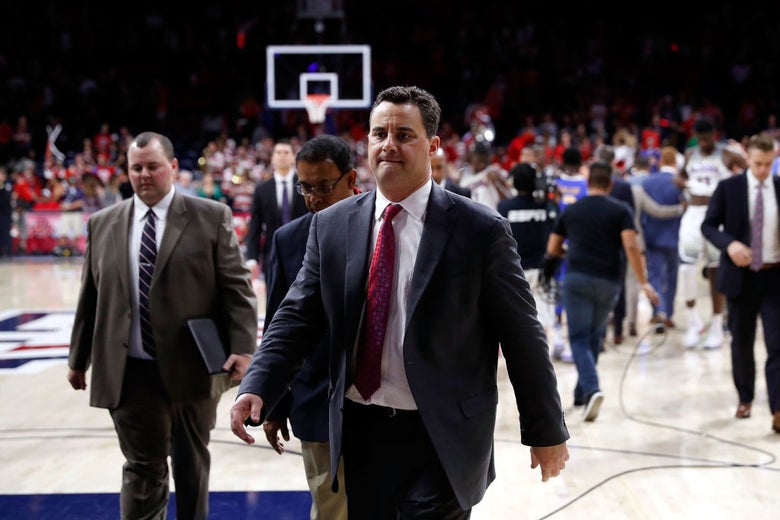 Early Monday, I published a piece about college basketball coaches called "The Real Lesson of the Weekend's NCAA Scandals Is That College Coaches Should Be Dumped in the Ocean." The premise of the piece was that new reporting indicated that a number of college coaches have been disingenuous about their involvement in off-books payments to players—and that these coaches could contribute significantly to the establishment of a new, more fair system of treatment for college athletes simply by being honest about their practices. One of my key points regarded Arizona coach Sean Miller:
Last September, when an Arizona assistant coach was arrested by federal authorities, Arizona head coach Sean Miller wrote in a statement that he had always, "to the best of [his] ability," worked to "promote and reinforce a culture of compliance" with NCAA rules that prohibit player compensation. Miller is the coach who, it was revealed Friday, was allegedly caught on a wiretap personally arranging a $100,000 payment to a player. The best of Miller's ability is apparently not very good, compliancewise.
I should now note that Miller has spoken publicly about the report, which was published by ESPN—and that not only does he deny it, a source has told ESPN's rival outlet, Sports Illustrated, that ESPN's piece was wrong for some pretty basic reasons:
… A source familiar with the college hoops corruption investigation confirmed with SI that the details of a wiretapped phone call involving Miller were inaccurately reported in a story by ESPN that said Miller "discussed paying $100,000 to ensure star freshman Deandre Ayton signed with the Wildcats."

According to the source, relevant FBI wiretaps in the investigation did not begin until 2017—months after five-star recruit Deandre Ayton had already committed to Arizona in Sept. 2016. 
Mark Schlabach, the author of the ESPN piece, does not appear to have yet commented on SI's report. ESPN wrote in an article published Thursday about Miller's denials that it "stands by its reporting on Miller and the FBI investigation."