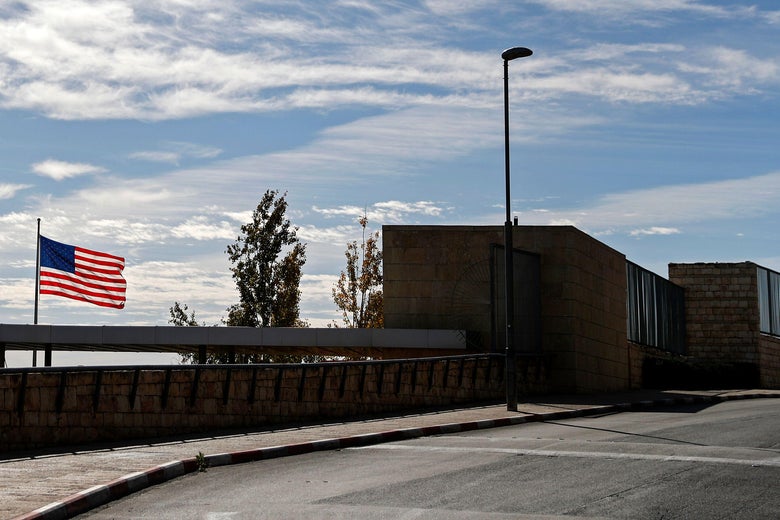 The State Department has announced that it will move the U.S. embassy in Israel from Tel Aviv to Jerusalem in May, to coincide with the 70th anniversary of the country's founding.
This is a much faster timetable than discussed in December when Trump announced that the U.S. was recognizing Jerusalem as Israel's capital. Initially, the move was supposed to take three or four years. Then Vice President Mike Pence said during his visit to Israel in January that it could happen in 2019. The new timing will further anger Palestinians, who observe May 15 as the Nakba, or Catastrophe Day, commemorating the displacement of Palestinians during the founding of Israel.
A new embassy will not be built by May, of course. That will take years. The AP reported earlier Friday that the Trump administration is considering an offer from Republican donor Sheldon Adelson, a major proponent of the Jerusalem move, to pay for part of the new embassy, which could cost hundreds of millions of dollars. Letting a private citizen, particularly one with a partisan agenda as pronounced as Adelson, pay for a U.S. diplomatic facility would be an unprecedented and it's not entirely clear if it's legal.
For now, the plan is to move Ambassador David Friedman and a small staff to a building that already acts as a U.S. consulate. Most staff will stay, for now, at the current embassy in Tel Aviv, but they can essentially hang a sign on the door of the Jerusalem building calling the consulate an embassy. While this might not seem like a big deal, it allows Trump to fulfill a campaign promise. As the New York Times reports, Trump bragged about the move in his speech Friday morning at the Conservative Political Action Conference:
You know, every president campaigned on, "We're going to recognize Jerusalem as the capital of Israel," everybody, for many presidents, you've been reading it, and then they never pulled it off, and I now know why. I was hit by more countries and more pressure and more people calling, begging me, "Don't do it, don't do it, don't do it." I said, "We have to do it, it's the right thing to do."
Never mind that it's totally unclear why this provocative move that will deal another body blow to the Mideast peace process that Trump is theoretically still committed to, with no tangible benefits for the United States, is the "right thing to do.". The important thing is that he's doing something his predecessors did not.
---