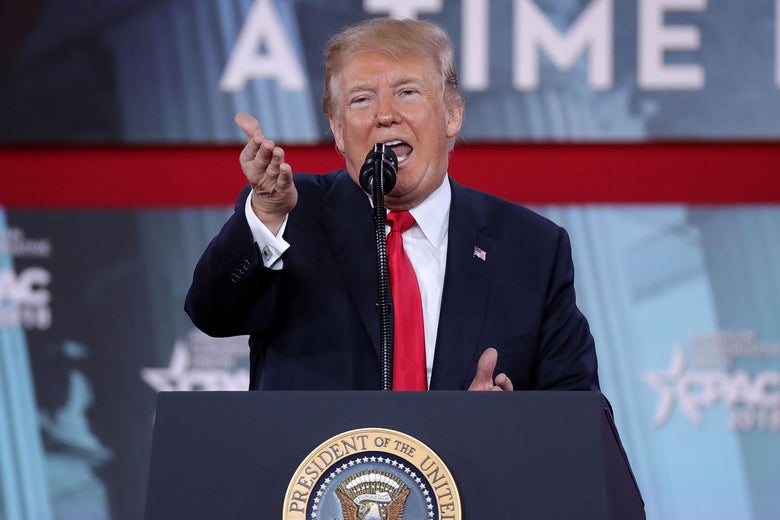 NATIONAL HARBOR, Maryland—It is always morning in Trump's America. On Friday, the president spent most of his address to the Conservative Political Action Conference presenting the evidence. Black unemployment is down. Companies are bringing piles of money back into the country. Dead industries are being revived. "West Virginia is doing great now," he said. "You look at what's happening in West Virginia."
Incidentally, what's happening in West Virginia, on Friday, is a statewide teachers' strike—the state is 48th in teacher pay as of 2016. This week, in response to the Stoneman Douglas shooting, the president proposed offering bonuses to teachers who bring guns to school, suggesting the federal money for public schools that vendors, speakers, and activists at CPAC have spent years insisting doesn't exist may well be available, at least for the project of ensuring that each American school has its own John Rambo.
Of course, CPAC is made less for advancing actual policy than riling up the conservative movement's foot soldiers in defense of loose, mostly fraudulent abstractions: the Wall. Clean coal. And, of course, the Second Amendment.
"Don't be complacent," Trump warned the crowd. "Because if they get in, they will repeal your tax cuts, they will put judges in that you wouldn't believe, they'll take away your Second Amendment, which we will never allow to happen." This was followed immediately by Trump asking the audience to choose between the Second Amendment and tax cuts. Guns won.
Callous, yes, but Trump did, about 40 minutes into his speech, try his hand at solemnity, softening his voice and slowing his cadence down to eulogize Meadow Pollack, one of the victims of the Stoneman Douglas shooting. "We wish there was something, anything we could do to bring Meadow and all of the others back," he said. "There are not enough tears in the world to express our sadness and anguish for her family and for every family that has lost a precious loved one."
This was one of the few portions of the speech that was on the prepared script Trump himself called boring less than halfway through. The president veered off it again to admonish Scot Peterson, the sheriff's deputy who was on duty at Stoneman Douglas but didn't enter the building after responding to the shooting. "He was tested under fire and that wasn't a good result," he said. "I would rather have somebody that loves their students and wants to protect their students than somebody standing outside that doesn't know anybody and doesn't know the students, and frankly, for whatever reason, decided not to go in, even though he heard lots of shots being fired inside."
This particular exercise in reductivity—what America's schools really need are burly, sharpshooting veteran teachers protecting their kids with the power of love—was topped by a re-recitation of the Al Wilson song "The Snake," back by popular demand from Trump's campaign days. Whatever Wilson's intentions may have been in writing it, it is now and forever a xenophobic immigration fable. One that rhymes. It beings with a foolish woman taking pity on a frozen snake that she finds and nurses back to health. Trump finished the story with a flourish the kids at CPAC likely haven't heard since the last time their parents tucked them in. "She stroked his pretty skin again and kissed and held him tight," he read. "But instead of saying thank you, that snake gave her a vicious bite!"
As well as this song and dance played here, it won't be of much help to Republicans facing November's midterms and voters whose view of the president's accomplishments so far are decidedly less rosy and whimsical. Trump understands this and gets that heavy losses are likely. In fact, he began his speech beta-testing a narrative to explain them. The parties of incumbent presidents do poorly in midterms, he said, because supporters get complacent. "People are sitting there, and they are saying, we just had this great victory, let's not vote, let's go to a movie," he said. "The Republican Party—we're going to do great. And then they end up losing." This is sound partial-explanation advanced to ensure that the president and his policies will remain fully blameless no matter what happens in November. And it will work. If Trump returns to National Harbor next year to deliver his third consecutive CPAC speech as president, he can expect the welcoming applause to be just as thunderous.
---