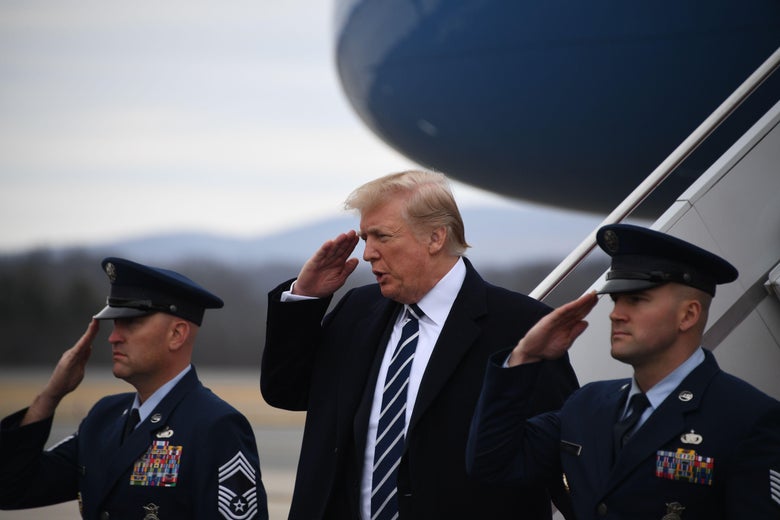 Donald Trump wants a parade. Real bad. And not just any parade, a big military one just like he's seen on TV from far off lands where usually the size of the tanks is compensating for other, more significant shortcomings. It makes sense a parade, unconvoluted in its messaging, would appeal to Trump's pervasive sense of nostalgia for a time when orchestrated displays of bravado weren't considered crass, but quaint. In fact, Trump's mused publicly about just such a military exhibition. Then, last month, the president's brain asked his mouth to make it happen.
From the Washington Post:
[A] Jan. 18 meeting between Trump and top generals in the Pentagon's tank —a room reserved for top-secret discussions—marked a tipping point, according to two officials briefed on the planning… Trump's seemingly abstract desire for a parade was suddenly heard as a presidential directive, the officials said. "The marching orders were: I want a parade like the one in France," said a military official who spoke on the condition of anonymity because the planning discussions are supposed to remain confidential. "This is being worked at the highest levels of the military."
There are questions of cost, the Post points out, but a White House official assures the news outlet all that's been completed is "brainstorming," nothing is set in stone. The bigger question is: why is the president brainstorming about this? Doesn't he have tweets to send? Under normal circumstances, this doesn't seem like something that would rise to the level of the president, but Trump needs projects to keep him occupied. The tradition of military hardware inching down capital streets might ring a wee bit totalitarian to the average American that's not on Snapchat, but Trump is, of course, the Godzilla of democracy.
The impetus behind Trump's move to stage a military parade is that he saw one that he liked and now he wants one too. Last year, during a Bastille Day celebration in France, the Post describes Trump reacting to the military parade that day much like a 7-year-old. "Trump was awestruck by the tableau of uniformed French troops marching down Avenue des Champs-Elysees with military tanks, armored vehicles, gun trucks and carriers—complete with fighter jets flying over the Arc de Triomphe and painting the sky with streaks of blue, white and red smoke for the colors of the French flag," the Post recalls. Flags! Colored smoke! Guns and tanks! Gimme, I want one. "It was one of the greatest parades I've ever seen," Trump told reporters. "It was two hours on the button, and it was military might, and I think a tremendous thing for France and for the spirit of France." "We're going to have to try to top it," Trump added.
It's not totally clear when or where the hypothetical parade will take place. "Trump officials had discussed Memorial Day on May 28, and July 4, but the Pentagon prefers Veterans Day on Nov. 11—in part because it would coincide with 100th anniversary of the victorious end of World War I and therefore be less associated with the president and politics," according to the Post. "It is unclear what role Trump would play, whether he may perhaps serve as a grand marshal or observe the spectacle from a reviewing stand." Those are just two options though. A third possible role for Trump would be tank driver.
Support our journalism
Help us continue covering the news and issues important to you—and get ad-free podcasts and bonus segments, members-only content, and other great benefits.
Join Slate Plus
Join
---