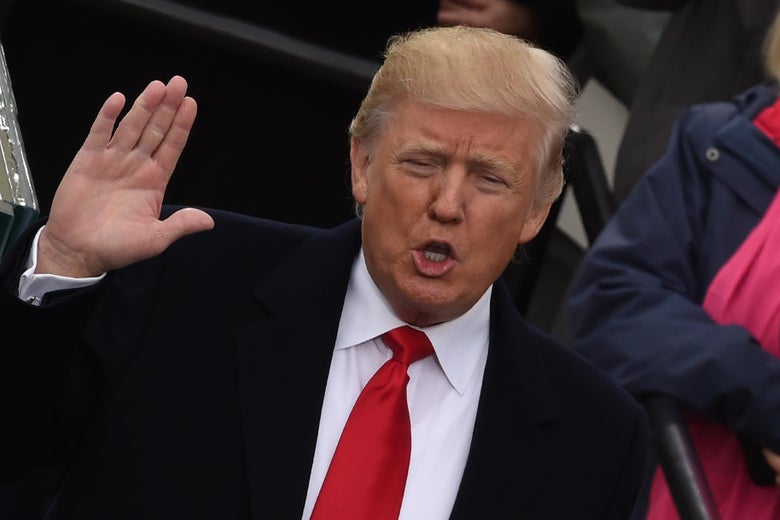 President's Trump legal approach to doing an interview with Special Counsel Robert Mueller has veered in tone from breezy compliance to no collusion! The last we heard from the president himself on the issue was 10 or so days ago when, before flying to Davos, Trump told reporters at the White House he would be more than willing to speak to Mueller; he was, in fact, "looking forward to it, actually." "I would love to do it, and I would like to do it as soon as possible," Trump told reporters. "I would do it under oath, absolutely." This was all contingent on his lawyers signing off on the idea, he added offhandedly. On Monday, the New York Times reported that Trump's lawyers are against the idea and have advised the president not to speak to Mueller.
The legal team's biggest problem with the president sitting down to a wide-ranging interview with investigators is the concern that his "history of making false statements and contradicting himself" could open Trump up to charges of lying to investigators. Put another way: Trump's penchant for lying means it's probably not a great legal strategy to put him in a situation where lying is against the law. If Trump ultimately refuses to speak to Mueller, Mueller could then subpoena the president to testify, this time before a grand jury, which would likely set off a high-stakes court battle over executive privilege. Some Trump lawyers and advisers, however, believe Mueller might be loathe to risk such a high-profile courtroom loss, likely in the Supreme Court, that could sap the investigation's momentum on a matter peripheral—though not unrelated—to its stated intent.
For Trump, another extralegal issue that could bleed into the hybrid political-legal proceedings that are the Russia investigation on the Hill these days is there could be political ramifications if he refused to speak to Mueller. It's not the pinnacle of transparency to refuse to speak to a prosecutor about the self-proclaimed nothingburger of a Russian investigation, even if it is sound legal advice. The Times story paints a picture of the preponderance of Team Trump coming down on the side of not cooperating with Mueller, including Trump lawyers John Dowd and Jay Sekulow along with aides in the West Wing. Trump lawyer Ty Cobb, who is leading Trump's legal team on the Mueller probe, has taken a cooperative approach with Mueller since signing on over the summer, and appears to be in favor of extending that compliant steak to the president granting an interview with the special counsel.
Support our journalism
Help us continue covering the news and issues important to you—and get ad-free podcasts and bonus segments, members-only content, and other great benefits.
Join Slate Plus
Join
---