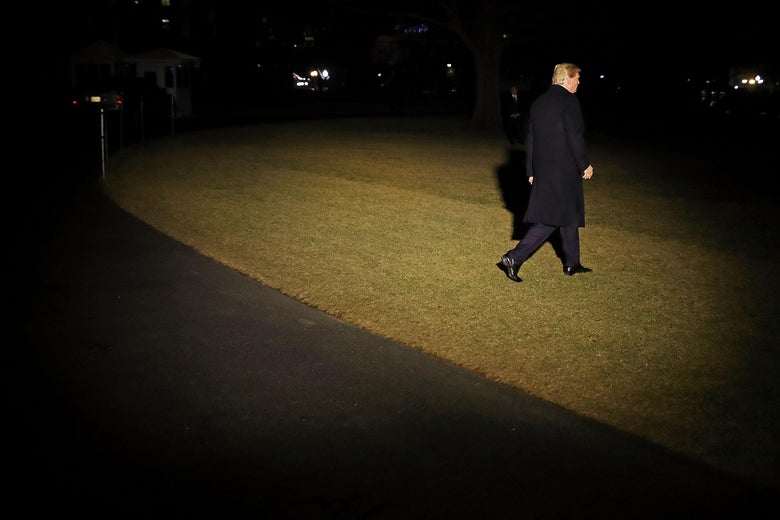 Today in Conservative Media is a daily roundup of the biggest stories in the right-wing press.
As Americans are trying to take in the latest flurry of Russia-related prosecutorial activity—from the indictments of 13 Russians and three Russian companies to reports about active Russian bots and troll farms—the country's centrist conservative media isn't buying it anymore. Any of it. Not one bit. For a sense of where the conservative center has drifted on just about all things Russia, the home page of National Review Wednesday is broadly illustrative of the growing consensus on the right that the irrevocably tainted Russia investigation has functionally run aground, should never have gotten this far in the first place, and is driven by Democratic hysteria.
Interspersed with Billy Graham tributes, were these four Russia-related stories:
"Don't Overestimate Trump's Ability to Knowingly Collude with Russia"
"Despite the indictment of 13 Russian professional social-media pranksters who worked to tip the 2016 election to Donald Trump, I remain somewhere between skeptical and agnostic on the question of whether or not Trump knowingly and secretly colluded with the Russians to win the election," Jonah Goldberg writes. "Oh, I think he's morally capable of having done it … Nor do I think Trump surrounded himself during the campaign with people who would have talked him out of collusion (save for then-senator Jeff Sessions) … But while they may have been willing to coordinate with the Kremlin, I'm not at all certain they would have been able to pull it off—and keep it a secret."
"Exit, Pursuing a Bear: With the Democrats' Russian obsession having dwindled to absurdity, President Trump can continue to move the country forward."
"It is both dismal and amusing to see the rationalizations of the diehard Kremlin collusionists after Robert Mueller's spurious indictment of the 13 Russians who will never encounter the vagaries of U.S. justice," Conrad Black writes. "The charge of conspiring against the United States is nonsense, and the whole ambiance of the investigation now is that of a phantom consolation prize for the absence of a crime, a victim, or a culprit, all amplified by the hollow sanctimony of an official America that has meddled countless times in the elections of other countries (usually for the general good of the Western alliance)."
"[I]t is specious to claim that a president can be found guilty of an obstruction offense, under federal criminal statutes, on the basis of acts that are within his lawful authority, even if the acts spring from malign motivations," Andrew McCarthy writes.
"If only Joe McCarthy had lived to see this moment, when it is suddenly in vogue to attribute large-scale events in American politics to the hand of Russia and to inveigh against domestic subversion," Rich Lowry, National Review's editor, writes. "Mueller obviously isn't a McCarthyite, and can't be held responsible for the hysteria—and hopeful expectations of an impeachment-level event—that has built up around his work." "The Russia campaign was a shockingly cynical violation of our sovereignty," he continues. "But the scale of the operation shouldn't be exaggerated. In the context of a hugely expensive, obsessively covered, impossibly dramatic presidential election, the Russian contribution on social media was piddling and often laughable."
In other news
As the debate over gun control roils a week after the Parkland school shooting, John McCormack at the Weekly Standard has some advice for gun control advocates: primary Democrats. "With every GOP senator from Susan Collins to Ted Cruz opposed to a renewed assault weapons ban, it's understandable that gun-control advocates would target Republicans for defeat," McCormack writes. "But until they go after pro-gun Democrats in primaries, particularly Democrats in blue states, it's difficult to see some of the calls to enact the assault weapons ban as little more than partisan posturing."
Breitbart went after CNN for a report the network aired about Americans who unwittingly interacted with Russian bots, saying that CNN's Special Investigations Unit reporter Drew Griffin "shamed" a Florida woman when he showed up at her doorstep to ask her about a pro-Trump political event she shared on Facebook that was organized by Russian operatives.
The woman reportedly received violent threats online after the segment aired. Conservative commentators were unimpressed by CNN thrusting a private citizen into the spotlight. "Drew Griffin and the network have not yet confronted Michael Moore, who attended a rally allegedly organized by Russians," Breitbart noted.
---