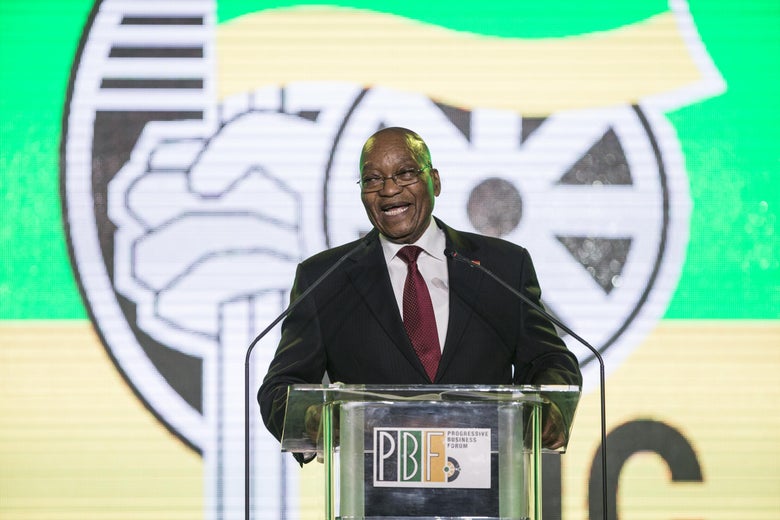 South Africa's African National Congress party moved Tuesday to oust President Jacob Zuma from office in a recall effort of a member of its own party that would see Zuma leave office well before the scheduled end of his second term in mid-2019. The 75-year-old leader, whose two terms have been marred by economic decline and persistent allegations of corruption, has resisted calls to resign as head of state despite losing control of the party to Deputy President Cyril Ramaphosa, who was elected to replace Zuma as the head of the ANC in December and is widely considered the country's president-in-waiting.
Zuma hasn't gone quietly, but the protracted battle for control appears to be coming to a head one way or another. Legally, Zuma does not have to resign at the behest of the executive committee of his party, but if he refuses to step aside, the ANC could call a vote of no confidence to remove him from office. Calling a no confidence vote on its own president and party leader until two months ago, however, shows how fractured the country's long-dominant political party has become.
"Mr Ramaphosa's elevation to the country's top job would fulfill a decades-long ambition of the former union leader," the Financial Times notes.
A veteran of the anti-apartheid struggle, the 65-year-old was Nelson Mandela's preferred choice to succeed him in the 1990s. But the ANC leadership chose Mr Mbeki, causing Mr Ramaphosa to leave mainstream politics to carve out a business career. After becoming one of the country's richest black businessmen, he returned to politics in 2012 when he became Mr Zuma's deputy in the ANC. Two years later, he took over as state deputy president, but many in the party questioned whether he had the grass roots support and the stomach for the fight that would be required to take the top job. He enjoys the support of corporate South Africa and has in recent months adopted increasingly tough rhetoric against state graft.
Zuma's refusal to step down is believed to be linked to his concerns he could face prosecution after leaving office for the myriad of corruption charges leveled against him and his family.
Support our journalism
Help us continue covering the news and issues important to you—and get ad-free podcasts and bonus segments, members-only content, and other great benefits.
Join Slate Plus
Join
---