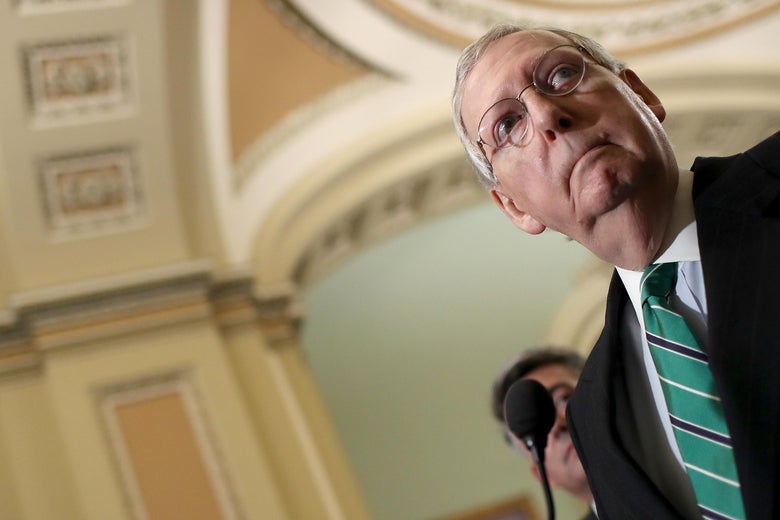 A historic immigration debate among the 100 hallowed solons of the United States Senate commenced roughly 24 hours ago, and the World's Greatest Deliberative Body seems determined to live up to its glorious potential for statesmanlike oratory. It is difficult to select which moment, thus far, has delivered the most honor to our polity. Was it the total silence that devoured most of the morning and afternoon hours on Tuesday? Or was it when the majority leader asked for unanimous consent on a stunt bill and was blocked by the minority leader, inviting recriminations between their respective staffs on Twitter?
In truth, the grand debate, thus far, has been a dud. And the rocky start does not bode well for the prospect of legislation to protect those undocumented immigrants brought to the country at a young age.
The open, neutral process was supposed to have been a throwback to an earlier era, but almost immediately ground to a halt over the usual partisan squabbling. Around noon, Senate Majority Leader Mitch McConnell came to the floor to ask for unanimous consent to consider the first two amendments: a proposal from Pennsylvania Sen. Pat Toomey titled the "Stop Dangerous Sanctuary Cities Act," and a Democratic amendment of its leader's choosing.
Senate Minority Leader Chuck Schumer objected, since a good-faith debate over the fate of Dreamers is not supposed to be used for the production of the National Republican Senatorial Committee's campaign ads. Schumer asked, instead, that the debate kick off with two other votes: Iowa Sen. Chuck Grassley's codification of the White House's immigration framework, which McConnell supports, and the much narrower McCain–Coons proposal, which most Democrats support. Both would fail to reach 60 votes. But by discarding the preferred mark of either caucus, the two sides could move towards something more manageable.
The partisan bickering that resulted has meant the grand debate over immigration is happening not so much on the Senate floor as it is on Twitter. Illinois Sen. Dick Durbin's communications director argued with Senate Majority Whip John Cornyn—not Cornyn's communications director, but the actual senator—about whether Republicans broke their word by demanding that debate be resolved this week. Spokesmen from the offices of McConnell and Schumer dueled over what transpired on the floor.
The fate of Dreamers, what to do about the Southern border, jousting over legal immigration levels, and the larger concerns over what sort of country America should look like: All secondary to the primary concern over whether and under what circumstances to yield back post-cloture time.
It is far too early for the odor of bad faith to be circulating through the Senate side of the Capitol, but here we are.
"It doesn't seem like there's much intent on the Republican side to get to an end product when you're starting with sanctuary cities," Connecticut Sen. Chris Murphy told me. "There's nothing about the way in which this place has been run for the last few days that suggests Republicans want a bill."
He added that there's no path to 60 votes on any proposal "without a Republican leadership that wants to get to 60."
There's some concern among Democrats that McConnell is reserving the Grassley bill for the end of the debate, after various Democratic proposals or bipartisan measures have failed. That would allow him to bring it up as the last train leaving the station, and the only remaining option Democrats would have for protecting Dreamers. This is part of why Schumer tried to pry it from McConnell's hands as the first proposal went up for a vote: to show that it wouldn't work, and to navigate the debate towards something more moderate.
The voting will start eventually. (They could begin late Tuesday night, in accordance with the Senate's new norm of holding everything at an ungodly hour because consent to vote at a reasonable time can't be reached.) But Tuesday's dust-ups and recriminations suggest that the good-faith nature of the debate may never materialize. If the Republican leadership doesn't want any other bill than that which President Trump has already christened to pass, then the grand debate on immigration will represent more of the gamesmanship that usually defines the chamber.
One more thing
If you think Slate's work matters, become a Slate Plus member. You'll get exclusive members-only content and a suite of great benefits—and you'll help secure Slate's future.
Join Slate Plus
Join
---